Before "The Real Housewives" and "Real Rob," there was "The Real World."
Debuting in 1992, the MTV reality series's first season saw seven young strangers sharing an apartment in New York's SoHo neighborhood for three months while cameras rolled. The footage was edited down to weekly 30-minute episodes. Critics hated it; viewers quickly made it a hit.
Fast-forward to Season 33, where the world will meet Meagan Melancon, of Prairieville, one of seven housemates ages 21-34 on the reboot of MTV's longest-running series, now airing on streaming platform Facebook Watch. In addition to seeing Melancon in new 30-minute episodes available each Thursday, snippets and stories leading up to the episode will post daily.
"I just felt like I kind of needed a change in my life," Melancon said June 6 as she settled back into country living after spending 10 weeks (part of March through May) in Atlanta starring on "The Real World."
Melancon, who just turned 24, is at a crossroads, still looking for a permanent job a year after graduating from the University of Southern Mississippi in 2018 with a major in communications and minor in sports management. She's interned in the sports department at WAFB off and on since 2017.
"Just something out of the box," she said, discussing her decision to apply for the show. "The only way you get change is to go outside your comfort zone, just see what's out there. This could open doors for me in the long run."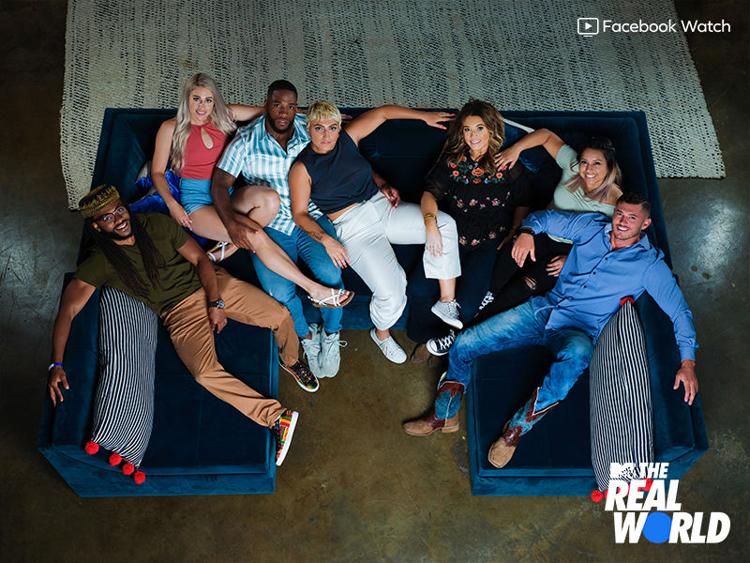 Melancon had roommates in college, so that aspect wasn't an unknown. She's also a longtime fan of "The Real World."
"I have two older sisters, so I knew about the show. I was probably way too young when I started watching it," she said. "2004, San Diego, that was probably my favorite season (14). Cameran Eubanks was on it. I just remember watching it and I loved her. I think she's one of the reasons I wanted to go on the show. She was 19 when she went on."
Eubanks, now 35 and the married mother of one, currently stars on Bravo's original "Southern Charm," which follows the lives of a cluster of socialite friends in Charleston, South Carolina.   
"The Real World," however, takes roommates to another level. 
"'The Real World' picks different people from all walks of life that you'd never meet in an ordinary day, and you're stuck in a house with them," Melancon said. "None of our paths would have crossed if it wasn't for 'The Real World.'"
And that's part of the series's big picture.
"When you take six strangers (plus herself), of course, you're going to get a lot of craziness, you know, arguments, fights, … whatever. When you have a roommate, you're always going to have your issues," she said.
Past issues in "The Real World" houses, which have changed cities with each new season, have included sex, prejudice, religion, abortion, illness, sexuality, AIDS, death, politics and substance abuse.
Each roommate brings his or her own baggage, literally and figuratively, into "The Real World" house.
In Melancon's bio, she lists self-confidence and anxiety as two of her challenges.
"I did it for myself but also for those girls out there that are younger than me and are struggling with the same things," she said. "That they can relate, and I tried so hard to be relatable because I feel like there are a lot of girls that have that struggle that I go through."
Melancon's religious faith also figures into her time in the house. She was raised Catholic, graduated from St. Joseph's Academy and attends St. John the Evangelist Catholic Church in Prairieville.
"I'm really big on my faith, and I prayed a lot," she said. "Like my family's my backbone and I have a really strong support system, so I called them every day and I prayed every day. That's really a big part of my story."
There were ups and downs for her as the weeks went on, Melancon conceded. 
"But for the most part, I stayed pretty strong in it. I was never bullied," she said.
Unlike CBS reality series "Big Brother," where roommates are hardly ever allowed to leave the Los Angeles house where they're living, the cast of "The Real World" gets to venture out often in their temporary city.
"Atlanta is so beautiful. It's the South, but it's not; it's got that like Dallas, Texas, kind of vibe to it, city living," Melancon said.
She explained that each day after breakfast, the roommates would make plans for the day and evening, such as laying out by the pool, playing pingpong, or going to eat lunch or dinner somewhere.
"Atlanta has a beautiful beltline that we were really close to, so we'd walk that. We really got to explore the city," she said. "I enjoyed it a lot, just seeing what that big city life is like."
She declined to give any specifics, or spoilers, on how the season will unfold.
"The journey is so crazy and you really have to watch to see how it all plays out. There's stuff that happened in the house that I'm really excited for the world to see. There's good things that happened from it," she said. "This is something I can't believe I went through and it definitely changed me."
---
'The Real World'
WHERE: Facebook Watch
WHEN: New episodes are available each Thursday
HOW TO WATCH: Go to facebook.com/realworldonwatch/ and click "like." Back on your home page, click "Videos on Watch," then "Shows," then "The Real World."
---
How would Melancon describe her roommates (in a word or two)?
Clint Wright (28, Potterville, Michigan): hopeless romantic
Arely Avitua (21, Joplin, Missouri): sweet, kind
Dondre Randolph (25, Houston): strong
Justin Blu (26, Atlanta): smart
Tovah Marx (27, Scottsdale, Arizona): silly
Yasmin Almokhamad (27, New York): confident