Director Deon Taylor already knew that his New Orleans-shot action-thriller, "Black and Blue," is a crowd pleaser. Even so, the electric reaction to the movie when it screened recently at the AMC Elmwood Palace 20 in Harahan thrilled him.
"Man, I felt like a million bucks," the director said. "That was one of the most exhilarating experiences I've ever had."
In "Black and Blue," British actress Naomie Harris ("Moonlight," "Skyfall") plays rookie cop Alicia West. After she witnesses a fellow cop execute an unarmed drug dealer, West puts her life on the line to expose the murder. Co-starring Tyrese Gibson, "Black and Blue" is now showing nationwide.
Taylor, given a choice of cities in which to set "Black and Blue," picked New Orleans. Harris' character, the community-minded Alicia, is a 9th Ward native and US Army vet who served in Afghanistan. The film's locations include the abandoned Market Street Power Plant on the Mississippi River, the former De Gaulle Manor apartment complex in Algiers and Lafayette Cemetery No. 2.
"Black and Blue" is the first film that Taylor, a prolific indie filmmaker whose credits include "The Intruder" and "Traffik," has made for a major studio.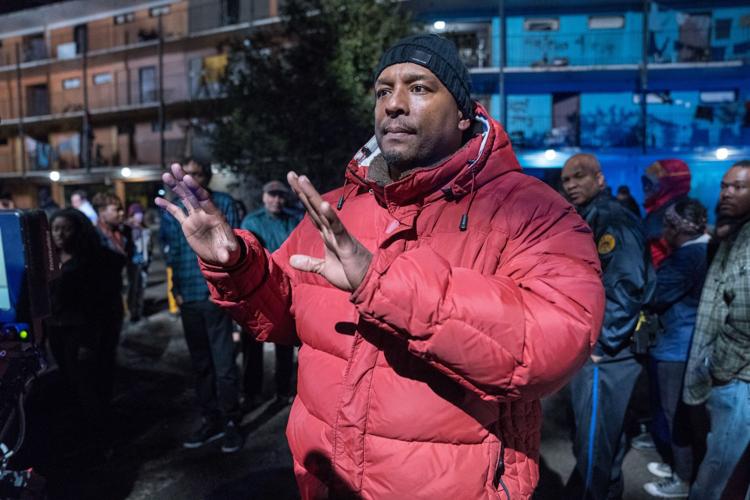 "A lot of times these studio films are angling toward a tax credit," he said. "But I, as an independent artist, pride myself on shooting movies where they belong. Once I came here to New Orleans, I was like, 'Yeah, this is the place.' Visually, tonally, it really sets up the Alicia character."
In collaboration with his favorite cinematographer, Dante Spinotti ("Heat," "L.A. Confidential," "The Insider"), Taylor worked to capture New Orleans' particular charm on screen.
"The art, the jazz, the cracks in walls, the raised houses, the bridge, the sounds of boats," he said, "that entire thing captivated us. We pushed something electric from the city into every frame of the movie."
Taylor also hired local actors and crew. The homegrown talent includes Kevin "Lucky" Johnson as gang leader Ox; Deneen Tyler as Police Capt. Hackett; and Frankie Smith as tech whiz Tez.
New Orleans "is a place where you can't fake it," Taylor said. "When Lucky Johnson came in to audition, I said, 'That's it. That's who we need. Man, if I get this guy on the film set, he can be a navigator for me. And shortly after grabbing Lucky, I grabbed seven or eight kids from here. That really helped me adapt the screenplay to the city."
Behind the camera, New Orleans native Frank Zito served as "Black and Blue" production designer. Zito selected artwork by local artist Sasha Braun Kopfler for scenes in the apartment where Tyrese Gibson's character, Milo "Mouse" Jackson, lives. Gibson, previously seen in the hit "Fast and Furious" and "Transformers" franchises, plays the artist who agrees to help Harris' on-the-run cop.
Taylor further customized "Black and Blue" by changing Harris' role in the film, originally conceived as a policeman, to a policewoman.
"This is the first time that we have ever seen a black female lead play a police officer in cinematic history," Taylor said. "Do you know how important that is right now, for young black women to see themselves as police officers? That's what we need. That's diversity."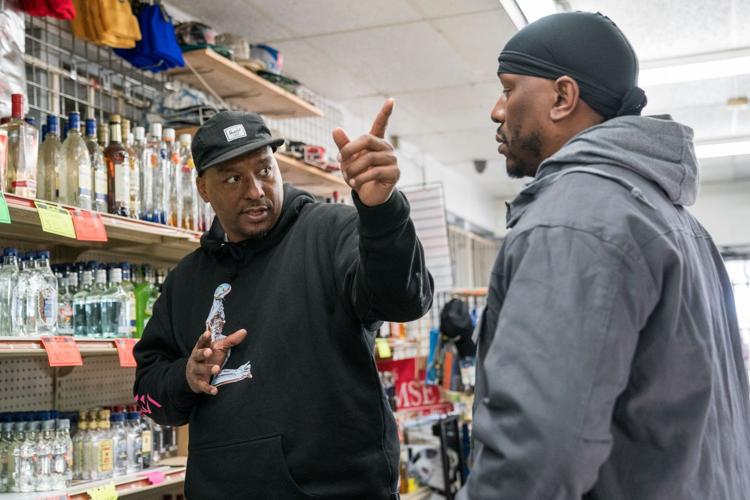 Harris, speaking in February during "Black and Blue" filming, endorsed the script's gender switch.
"Everything for me is always about the script," she said. "Does it challenge me in a completely different way? Is it a film that's impactful? And does it represent women, and black women in particular, in a different light? This movie does all of these things."
An Oscar nominee for her role in 2016's "Moonlight," Harris also embraced the film's message.
"I have so much admiration for Alicia. She says, 'This is home. I'm going to draw the line here. I am the one who's going to make a difference and put this wrong right.' That's how change happens," Harris said.