Name something the Vicknair family loves to do. Survey says:
Play cards.
Watch game shows.
Cheer on the Saints.
Win.
As of last month, winning might be in the No. 1 spot since the family earned $42,345 plus a new SUV on "Family Feud."
The Vicknairs, originally from Reserve, competed on the long-running TV game show last April in Los Angeles, but couldn't tell about their big win for months. Their five episodes finally aired in October.
"It has been really hard keeping it quiet on how we did. Everyone is always asking us. But we say, 'Sorry you have to watch to find out,' " said Karen Richoux, of Destrehan. "We have family members and friends that are just as or more excited about us being on the show. It's like they have a part in it. It was so much fun. We had a blast."
Representing the River Parishes' family of Janet Barre Vicknair and the late Edgar Vicknair on the show were daughters Angela Melancon Solomon, of Texas; Cindy DeLacerda, of Prairieville; and Richoux, along with granddaughters Anne Stubbs, of Alabama; and Abby Link, of Mississippi (Solomon's daughters).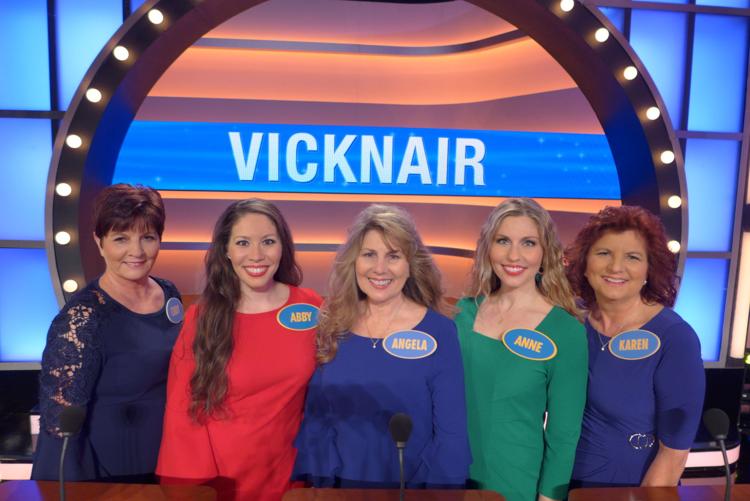 Offering moral support from back home were sisters Gail Forsythe, of Gonzales; Melanie Maurin, of LaPlace; and brother Edgar Vicknair III, of Loranger.
The rest of the extended Vicknair family is now spread across Texas, Louisiana, Mississippi and Alabama.
When she and her siblings were growing up, Richoux said they loved playing cards — Pedro and Spades were favorites — and tuning in to game shows, especially "Family Feud." That was back in 1976 when original host Richard Dawson started it all by asking two competing families to guess the most popular answers to survey questions on everything from dogs to dynamite, wives to washing machines.
So getting a chance to be on the show was more than exciting.
"We had butterflies that Wednesday anticipating the airing," Richoux said. "… We don't even remember the questions or the answers we gave."
Except for that bakery question.
It went something like this: Name something found in a bakery that a baker might nickname his wife's rear-end.
"My husband likes apple fritters, so that's what I said," recalled Richoux, laughing.
No, it didn't make the survey.
Luckily, her teammates bailed her out with answers like hot cakes and honey buns.
Meanwhile, Solomon, a retired nursery school teacher, got stumped by a question concerning kindergarten.
"Sometimes you just draw a blank," said Richoux, taking up for her older sister.
Despite a dud answer here and there, the Vicknairs kept winning and winning, five episodes straight, the maximum allowed. For each win, they got to compete in the fast-money rounds at the end of each show, with siblings Stubbs and Link cranking out many of the top answers. They won the $20,000 top prize twice and picked up the rest of the money in other rounds.
"By that fifth show we were mentally and physically exhausted," Richoux said.
But host/comedian Steve Harvey kept them laughing all the while.
"As soon as you say something, he has a comeback so quick," said Richoux.
During commercial breaks, while the producers are giving the contestants water and calming their nerves, Harvey talks to the 100-plus audience members, telling them a joke or two, Richoux said. 
"After the game, he does about 30 minutes talking to them, giving them inspirational messages. I mean, it's great," she said.
While awaiting their prize money, the Vicknairs have had time to reflect on their "Family Feud" experience.
"It's something we always wanted, but didn't really think it would happen. Well, it did," Richoux said. "Being on 'Family Feud' was truly a dream come true and an experience of a lifetime."