Like an episode of Dwayne Johnson's "Ballers," the stakes have never been higher for Netflix.
In October, the streaming service will premiere three movies, furthering its bid for relevancy as the TV subscription market becomes further saturated with options like Disney+ and the newly announced Apple TV+ and NBC's Peacock.
Of Netflix's original movies in October, "Dolemite is My Name!" and "The Laundromat" are the high-profile, buzzed about, potential award winners. The third, "El Camino: A Breaking Bad Movie," is fan service, but you'd be hard-pressed to find a better show than "Breaking Bad" to show some nostalgic love.
"Dolemite is My Name!" could signal the comeback of Eddie Murphy. In this comedic biopic from director Craig Brewer, ("Hustle & Flow") available to stream on Oct. 25, Murphy plays filmmaker Rudy Ray Moore who was known for his series of blaxploitation films. Already, critics are calling the role Murphy's best performance to date.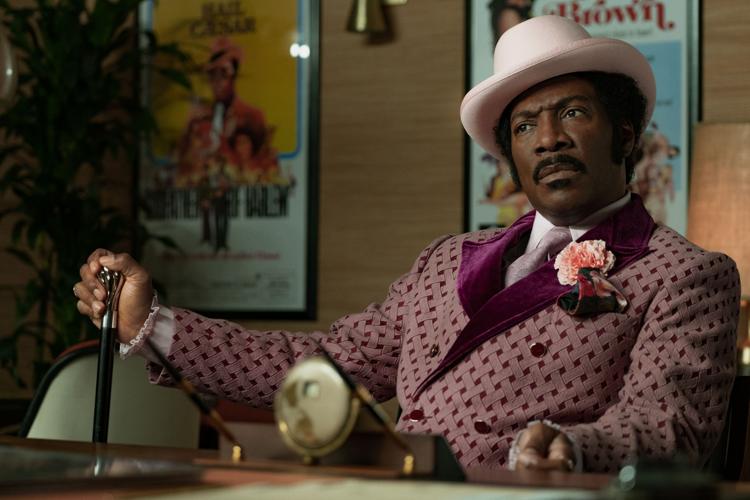 "The Laundromat" is director Steven Soderbergh's second film for Netflix, and is available Oct. 18. The biographical comedy-drama stars Meryl Streep as a widow whose dream vacation turns into a nightmare as she begins to deal with a shady Panama City law firm.
"El Camino: A Breaking Bad Movie" is a continuation of AMC's hit drama "Breaking Bad" and centers around Aaron Paul's character, Jesse Pinkman. The movie will be available on Oct. 11, and it follows Pinkman, a former meth cook who partnered with Walter White (played by Bryan Cranston).
Each of the movies have a limited theatrical run before hitting Netflix. With the talent involved, Netflix is bringing some of the best entertainment available to subscribers' homes. Even more projects, such as the November release of Martin Scorsese's $160 million epic "The Irishman," prove Netflix is willing to pay big bucks for a seat at Hollywood's table.
Releasing original content is nothing new for Netflix. The amount of original specials, documentaries and films already on the streaming service is staggering. Already, the service has more than 320 original movies, shorts, documentaries and specials — not counting the service's stand-up collection. The general quality of the movies, however, hasn't been great. 
Before this year, these originals seemed like placeholders with the occasional good movie like "The Meyerowitz Stories" sandwiched in between trash like "The Cloverfield Paradox" and "Bright." Those originals were easy to ignore and harder to pay attention to at home amid the shows and movies piling up in the queue. With these three releases, though, Netflix is finally showing signs of consistency and, knock on wood, quality; as if the service is daring cynics like me to ignore its next big release.
Soon, if not already, Netflix will have more cynics' attention. After that, Netflix will have its Oscars. Then, it'll face an entirely new problem — an audience outside the Hollywood old guard demanding to see these products on a bigger screen.
---
ALSO STREAMING THIS MONTH
On Amazon Prime: "High Life," available now; "Nobody's Fool (2018)," available Oct. 28; "In Search of Greatness," available Oct. 30
On HBO: "Black Swan," "Happy Death Day," "George of the Jungle," "Kin," "War of the Worlds," available now; "Cold Pursuit," "Upgrade," available Oct. 5; "Happy Death Day 2U," available Oct. 12; "Glass," available Oct. 19; "The Conjuring 2," available Oct. 21; "Greta," available Oct. 26
On Hulu: "Blade," "Cloverfield," "Constantine," "Event Horizon," "Pieces of April," "Saw," "The Talented Mr. Ripley," "Total Recall (1990)," "What Lies Beneath," "Winter's Bone," available now; "Missing Link," available Oct. 7; "Megan Leavey," available Oct. 9; "Little Monsters (2019)," available Oct. 11; "Little Woods," available Oct. 14; "Toni Morrison: The Pieces I Am," available Oct. 17
On Netflix: "Ocean's Twelve," "Ocean's Thirteen," "Scream 2," "In the Tall Grass," available now; "El Camino: A Breaking Bad Movie," available Oct. 11; "The Laundromat," available Oct. 18; "Echo in the Canyon," "Free Fire," available Oct. 21; "Dolemite is My Name," available Oct. 25; "Raging Bull," available Oct. 31.