"Once that patient says 'thank you,' you've done your job," the EMS team member says in a preview clip for "First Responders Live."
The new FOX series, which will shadow Baton Rouge police, fire and EMS officers, premieres at 8 p.m. Wednesday.
The unscripted series "will give viewers an unprecedented look at fearless first responders, as they answer emergency calls across the country," a news release says.
In addition to Baton Rouge, the series will feature first responders in Austin, Texas; Pierce County, Washington; Charleston, South Carolina; Lake County, Indiana, and others each week and will air with a slight delay to allow for deletion of sensitive information.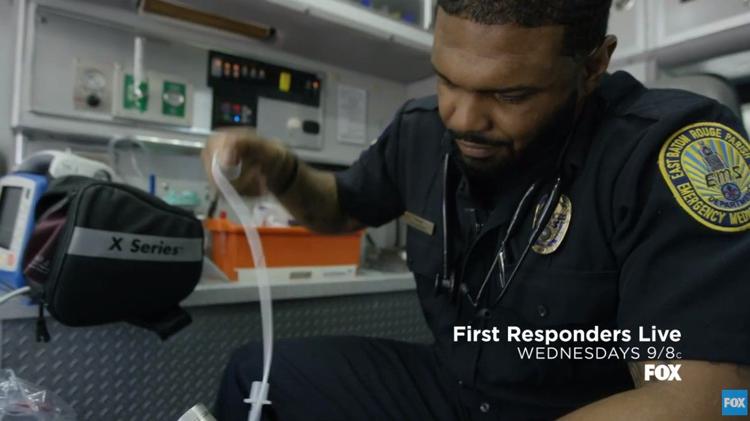 "First Responders Live" will follow a night in the life of these units. Josh Elliott (Nat Geo, CBS) "will provide live analysis and commentary, with help from a team of experts, as the show follows first-person accounts of the action," the release also says.
"I am thrilled to work with the legendary Dick Wolf on a show that will give viewers a unique look at the bravest and most courageous among us, as they jump into the fray to rescue and save lives," said Rob Wade, president, Alternative Entertainment and Specials, FOX Entertainment. "With the success of our drama, '9-1-1,' viewers have a strong appetite for stories based in this world. Watching real first responders spring into action as they answer these calls will be a thrilling, edge-of-your-seat journey for viewers each week."
The show is produced by Wolf Entertainment and 44 Blue Productions, a Red Arrow Studios company. Dick Wolf ("Law & Order"), Rasha Drachkovitch and Tom Thayer are executive producers.