What makes Baby in the 90s stand out is the friendship Mookie Darden, Reed Dunaway and Jeremiah Wilson have with one another. The three have played together in different projects for almost a decade, and there's a musical chemistry that can be described only as organic.
"We're best friends," Darden said, "even if we weren't playing together, we would still see each other every day."
The Baton Rouge indie-rock band recently hit the road on an eight-city tour throughout the Southeast. It was a successful trip, with the band playing packed house shows and meeting up with former bandmates. One of the best things, though, was "being on the road with my two best friends," Darden said. "It was hilarious. We toured in a Ford Flex — not a van. It's a little SUV with mom stickers on the back."
The car did, in fact, belong to Darden's mom.
Baby in the 90's formed in Nashville, Tennessee, in 2014 as a two-piece — Darden on guitar and vocals, and Peter Luther on trumpet. Dunaway and Aaron Ripp moved to Nashville from Louisiana to join Darden and Luther, turning the two-piece into a four-piece and filling out the sound with percussion and bass. Late that year, the band self-recorded and released its first album, "An Honest Notice."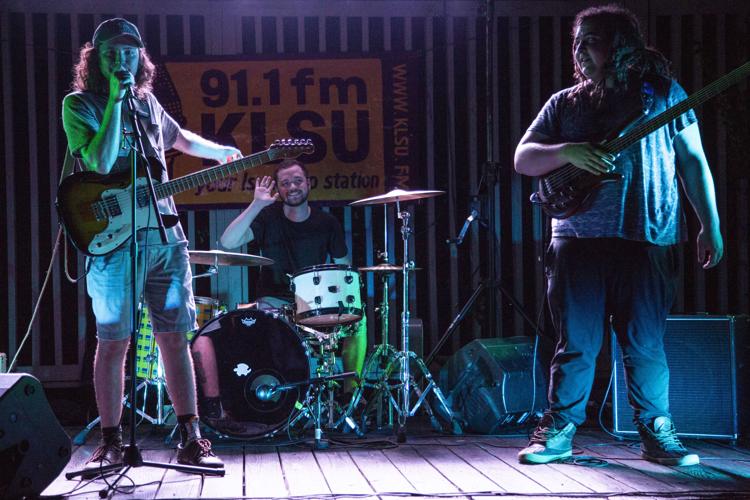 Baby in the 90s started to gain experience on the road and zeroed in on its sound, and in 2016, the band recorded a single at Glow in the Dark studios in Atlanta. The same year, Darden and Dunaway moved back to Baton Rouge. They were joined by Wilson on bass in 2017.
The members of Baby in the 90s put a lot of thought and time into capturing and sharing emotion, not just through lyrics but also in their sound.
"What I think of when I think of indie rock typically is that it has one stationary sound for each song," Wilson said. "The way Mookie [Darden] writes lends itself to putting all this emotion in one part and then we bring it back."
The trust that comes from being best friends and playing together for years ensures that those tempo changes aren't messy but natural.
"The chemistry helps put the emotion where it should be. Even if I don't know all the lyrics, I can tell from how [Darden] writes where I should dig into it, or get lighter," Wilson said.
Creating songs is a group effort: Darden takes the lead by writing lyrics and guitar work before presenting them to his bandmates who then add their own parts. Inspired by what people say around him and his own life experiences, Darden writes sad songs with a glimpse of hope and a desire to connect with people. "I write a lot of love songs, but they're not love songs where it's working out," Darden admitted.
"I would like someone to relate to the lyrics in such a way that they would feel their pain or emotion," Darden added, "to know there is someone out there who does feel the same way. It's like music counseling."
Baby in the 90s is now working on a four-song album, "Inertia," out in March. The album is recorded by J.T. O'Neal, a local sound engineer and mixed at Atlanta's Glow in the Dark Studios.
---
Baby in the 90s/Pool Kids/This Robot/Wonder Kid
8:30 p.m. Friday, Dec. 28
Mid City Ballroom, 136 S. Acadian Thruway
$8