Four-time Grammy winner Keb' Mo' thinks his 12th album, "Oklahoma," is even more special than usual.
"I always try to make a good album," the singer-songwriter said from his home in Nashville, Tennessee. "But when we listened to this one, it was like, 'Hmm-hmm. This thing is nice.' "
Released in July, "Oklahoma" presents Kevin Roosevelt Moore, aka Keb' Mo', in his full musical diversity: Driving neo-traditional acoustic blues, grooving electric blues, Latin and bluegrass touches, a love ballad plus the twang that reflects Moore's past nine years in Nashville.
Moore also writes lyrics from the perspective of a man who watches the world with a thoughtful gaze.
"Yeah, I try to weigh in on what I'm hearing," he said. "And I try to be an ambassador for the blues as well, trying to push it forward in the most authentic way I know how."
Keb' Mo' will perform in downtown Baton Rouge on Monday, Sept. 9, at the Manship Theatre. Detroit R&B and soul singer Alicia Michilli will start the show at 7:30 p.m.
The lyrics to the title song of Moore's new album simultaneously address the heartland state's spunky determination and tragic history. Moore juxtaposes the multidimensional words with a Latin groove, bluegrass banjo and a chorus that rises like a cheer.
The lively music in another new song, "Don't Throw It Away," helps make the song's anti-plastic pollution message go down smooth. Taj Mahal, Moore's duet partner for the Grammy-winning 2017 album "TajMo" joins in. The album's other guests include Rosanne Cash and Robert Randolph.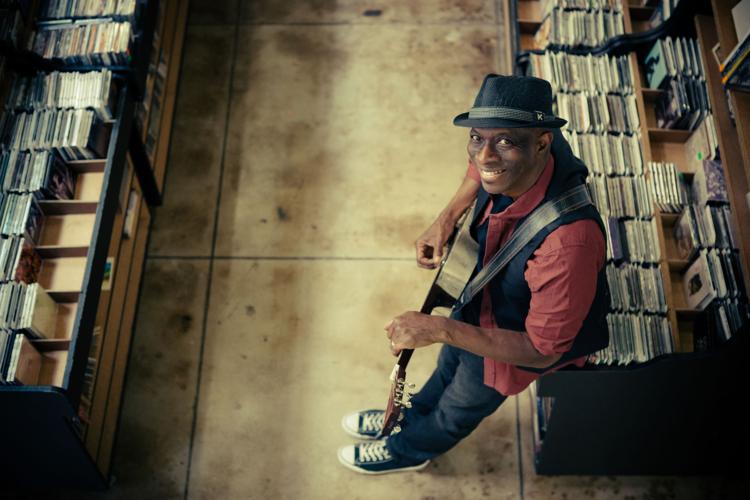 Among Moore's most poignant new songs, "This Is My Home" tells the story of a woman from Mexico and a man from Pakistan who immigrate to the United States, meet, fall in love and build a life together. In "I Remember You," he turns to more conventional popular song material — sex. The song pairs lusty lyrics with juke-joint rhythm.
"The Way I" tackles another tough topic: depression. "Heaven, don't you let me down," Moore sings in the aching ballad. "My angel's got a broken wing."
"It's coming to light how many people are suffering from depression," Moore said. "My wife had some depression. And Jerry Seinfeld — who has one of my favorite shows, 'Comedians in Cars Getting Coffee' — he has depression. 
"But it has nothing to do with if you have a happy life or not. It's clinical in some kind of way."
Reflective of his topical songwriting, Moore has strived to write lyrics with depth since the early 1990s. He wrote many songs before then, and even signed a record deal, but didn't have much success.
"I thought my songwriting was OK, but there was something missing," he recalled. "I didn't know what it was. But when I got a relationship with the blues, the side effects were that my songwriting got more heartfelt. And that was the difference."
Indeed, 2019 is the 25th anniversary year of Moore's self-titled album debut.
Moore's parents come from the blues country of northeast Texas and northwest Louisiana. A native of Compton, California, he grew up with three sisters and a single mother who played jazz records at home. He dedicated his new album to his mother, Lauvella Cole, who passed away a year ago this month at 91.
"She shaped our character," Moore said. "If we got out of line, she was fierce — like a mama lion."
His mother always believed in him, Moore said, even before his late-coming break in music arrived at 41.
"When I was a boy, the others were like, 'Mama likes you best,' " he said. "And I was doing the worst for most of the time. She was proud anyway."
Moore and his wife, Robbie Brooks Moore, recently bought the house in Compton he grew up in. The couple will split time between Nashville and the Los Angeles area.
"It's a tight little house in the heart of Compton," Moore said. "Compton has a little trouble here and there, but it's a great place where greatness lives, where things happen. It's a very upbeat, creative community."
---
Keb' Mo' / Alicia Michilli
7:30 p.m. Monday, Sept. 9
Manship Theatre, 100 Lafayette St.
$63-$152