Many musicians would be just fine with earning the kind of success seen by Lost Bayou Ramblers. The Grammy-winning Cajun band melded brothers Louis and Andre Michot's traditional music heritage with heavy rock, producing a huge repertoire of original songs beloved by their fans.
But Louis Michot's creative spirit can't be satisfied. Even as he helps shape the genre's present and future, he's reviving a lost world of Cajun music.
"I have hundreds of other songs I want to play," Michot said from his home in rural Arnaudville. "Classic Cajun songs, obscure Cajun songs, all these different things that have almost never been played by modern bands."
Inspired by 1920s recordings by the likes of Blind Uncle Gaspard and Delma Lachney, Michot founded Michot's Melody Makers. A fiddle band, the group plays ballads and dances that feature rhythms and melodies unlike the common, accordion-based vein of traditional Cajun music. In the early 20th century, Michot explained, before accordion became Cajun music's dominant instrument, the lighter, melodically versatile fiddle held sway.
But the Melody Makers uses electronic instruments and modern, rock aesthetics to reinterpret those traditional, fiddle-focused Cajun songs.
On Friday, July 19, Michot's Melody Makers will play a Dyson House Listening Room show at Zeeland Street Market.
The group released its debut album, "Blood Moon," last September. Korey Richey — the former Lost Bayou Rambler who's now a member of the Brooklyn rock band LCD Soundsystem — produced and engineered the project at Dockside Studios in Maurice.
"Blood Moon" blends traditional fiddle and triangle with sampling, electric guitar, electric and acoustic bass and drums. In "Two-Step de Ste Marie," Michot's passionate singing and furious fiddle echo through a reverb well. Studio electronics and distortion transfigure "La Lune Este Croche" into Cajun rock. "Dans Les Pins," despite the new sonic vision Richey and the Melody Makers apply to it, preserves its old Cajun soul and bracing regret.
"Not everyone is going to listen to the same music that their parents and grandparents listened to," Michot reasoned. "To me, 'authentic' is doing what comes naturally, and that keeps things current."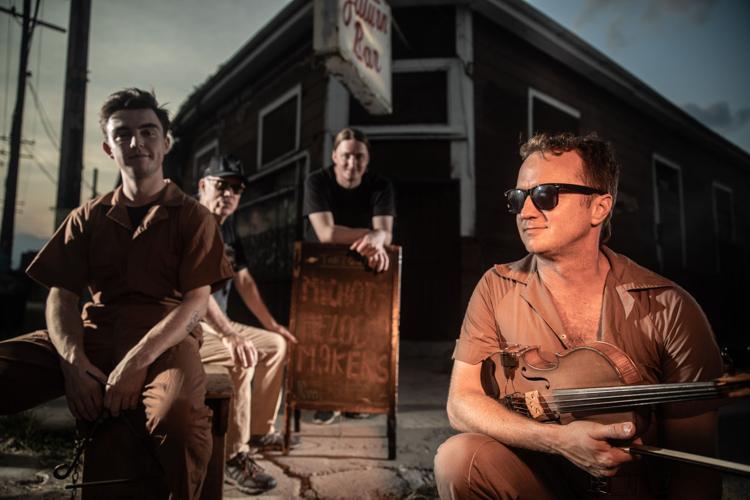 Michot started the Melody Makers in 2015, working with a flexible lineup. By spring 2016, a core trio of Michot, bassist Bryan Webre and drummer Kirkland Middleton had developed. In 2018, after guitarist, producer and engineer Mark Bingham sat in with the band at Bayou Teche Brewing in Arnaudville, he became the fourth Melody Maker.
"Mark had never played Cajun and Creole music in his life, but he had recorded (zydeco musicians) Boozoo Chavis and John Delafose, all kinds of people," Michot said. "Because he has such a great ear and he's familiar with the music, he fit in amazingly."
Bingham joined the Melody Makers in time for the band's July 2018 residency at the Saturn Bar in New Orleans. Michot originally planned for the Melody Makers' first album to feature recordings from the residency.
The weekly shows at the Saturn Bar simultaneously helped the band solidify its set list and become even more adventurous. The Melody Makers' artistic reach and audience grew each week.
"But the first gig, there was almost no one there," Michot recalled.
With little need to please an audience, the Melody Makers ended their opening night at the Saturn Bar with an impromptu jam. Because it felt so good, they began every subsequent night of the residency with a jam.
"We've been doing that ever since," Michot said. "Every time we play a gig, I bring new songs and we just play them."
Consistently introducing new material to the band is one of the ways Michot pushes his own horizons.
"To me, it's all about this being my time and my place to learn and explore and make my own music," he said. "That's why I find it important to have multiple outlets."
When Michot and the Melody Makers concluded their Saturn Bar residency last year, they knew they were on to something.
"Every week the audience picked up tremendously," he said. "By the end of the month the place was rocking."
---
Michot's Melody Makers
7 p.m. Friday, July 19
Dyson House at Zeeland Street Market, 2031 Perkins Road
$20-$35