Samantha Fish greets backhanded compliments — things like "Pretty good for a girl," "You play like a guy" — with a challenge: "Plug in your guitar, man. Let's go."
With a decade of touring, many awards and blues chart-topping records on her resume, the singing, songwriting, producing, guitar-brandishing Fish earned her stripes. Confident and versatile, she spans the roots-music spectrum.
"A woman with an instrument is in a position of power," said the New Orleans-based musician. "Women who come to my shows see that. They say, 'Wow, that's inspirational.' "
At her career's start, the then-teenage Fish saw few women anywhere in music.
"It almost kept me from starting sooner," she said. "But I had to dig. You're not hearing (women) in the mainstream much, but there are some, like Heart, Joan Jett."
As the years passed, Fish saw more women on stage and behind the scenes. "You see female drummers and bass players, singers," she said. "You see female managers and sound crew and roadies."
Fish's father introduced her to music. He played guitar and sometimes jammed at home with his friends. Later, Fish, a native of Kansas City, Missouri, and her dad attended shows at the eclectic Kansas City music venue Knuckleheads.
After she played drums in her early teens, Fish moved to guitar at 15. Knuckleheads and the touring artists there who invited her on stage — including Louisiana's Tab Benoit and the Texas-based Mike Zito — introduced the shy teen to public performance. Meanwhile, she developed a passion for songwriting. Her original material is a blues-based amalgamation of rock, rhythm-and-blues, soul and country.
"Everything I do is based in this thing that I've been seeking for so long," she said. "When I started playing music, blues was all I listened to. But I grew up listening to classic rock on the radio. When I first picked up the guitar, it was all about Angus Young and Mike Campbell and Keith Richards. But all these guys, they're primarily influenced by blues."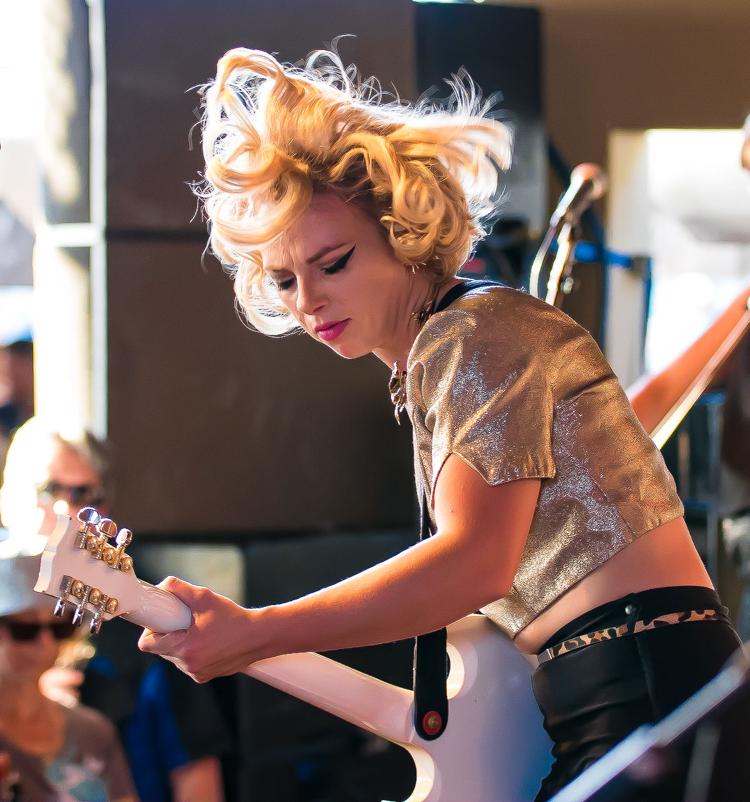 The aspirational Fish formed a band, hustled gigs, met peers and began touring. Zito gave her a boost when he recommended her for the 2011 concept album "Girls with Guitars" (featuring Fish, Cassie Taylor and Dani Wilde), from Germany's Ruf Records. Zito also produced her 2012 record, "Runaway," the first of Fish's six solo albums for Ruf. She's been knocking doors down and audiences out ever since.
Fish's big repertoire encompasses straight-up blues-rock ("Turn It Up"), bittersweet country ballads ("Belle of the West") and lashing Southern rock ("Bitch on the Run"). Depending on the song, her singing can be sensitive and soulful or fiercely direct.
In November, Fish signed with the great American roots-music label Rounder Records. Grammy-winning producer Scott Billington helmed sessions for her Rounder debut in Memphis and New Orleans. A release date has yet to be announced.
When Billington first heard Fish on record, she impressed him mightily.
"And when I saw her show a few months later," he said, "I knew she was one of the most original and dynamic voices to come from the blues world in a long time. It's exciting to be working with her at this juncture of her career. She's pushing boundaries. She's at the top of her game on every front."
Previewing her Rounder album, Fish said it contains some pop elements, "but it's not a Top 40 record. It's rock 'n' roll, blues, soul and R&B, with a tinge of Americana and a lot of guitar. I'm proud of it."
Even as Fish's career keeps growing, she's co-founded a record label, Wild Heart, with her manager, Rueben Williams. She's also produced the label's first two albums — a self-titled release by Baton Rouge's Jonathon Long and an upcoming project by Nicholas David, a soul-oriented singer-pianist in St. Paul, Minnesota, and finalist during the third season of "The Voice." Fish is also a guest for Long's upcoming second album for Wild Heart, an in-concert project recently recorded at Phil Brady's in Baton Rouge.
In the studio, Fish said, "my role as producer is to see what the artists want to be and help them get to that. And be somebody who knows when to walk away and say, 'That was a great take.' "
Fish approaches Wild Heart Records with altruism, practicality and a healthy measure of humility.
"I've had a good stride the past couple of years and been very fortunate," she said. "The best way to celebrate that is to bring in more people who really deserve some spotlight. Jonathon and Nicholas deserve that. These guys really are the truth and they mean what they're doing."
---
10 p.m. Saturday, Feb. 9
Mid City Ballroom, 136 S. Acadian Thruway
$20 door