Trumpeter John Gray, one of the frontmen for the Michael Foster Project brass band, places a high value on consistency when producing a concert.
The Michael Foster Project's Funkin' With Friends concert series, normally held at the Varsity Theatre, has become a signature show in Baton Rouge music, helped in large part by Gray's steadfast commitment to the details. The show's format has remained steady over the years: an hour-plus set by The Michael Foster Project, video mixing from DJ Marquis, comedian Howard Hall hosting and a few hundred patrons dancing, networking and enjoying their fair share of spirits.
On Friday, Dec. 28, Funkin' With Friends will celebrate a decade of audiences grooving to the sounds of The Project with a special anniversary edition at the Varsity. Doors open at 8 p.m., and the show starts at 9 p.m. Tickets are $12 to $15 in advance and $20 at the door.
Funkin' With Friends' familiar blend of live music, turntablism and funny cultural commentary has created repeat supporters. But Gray recalls how the Varsity's then-talent buyer, Chris Lundgren, took a gamble on hosting a new Gray-produced event after a not-so-successful previous show.
The first live music event he organized at the Varsity "was not a good look," Gray said. "The audience was slim and I lost a considerable amount of money that night."
But when Gray presented the Funkin' With Friends concept, a curated show that included artist friends of The Michael Foster Project and a live DJ, Lundgren booked it — there was already a secured audience that would ensure that there would be bodies on the dance floor.
"There was an annual banker's convention in Baton Rouge and they wanted to have their closing party at the Varsity," Gray said. "So Chris gave me that night so that I could have a crowd already in place."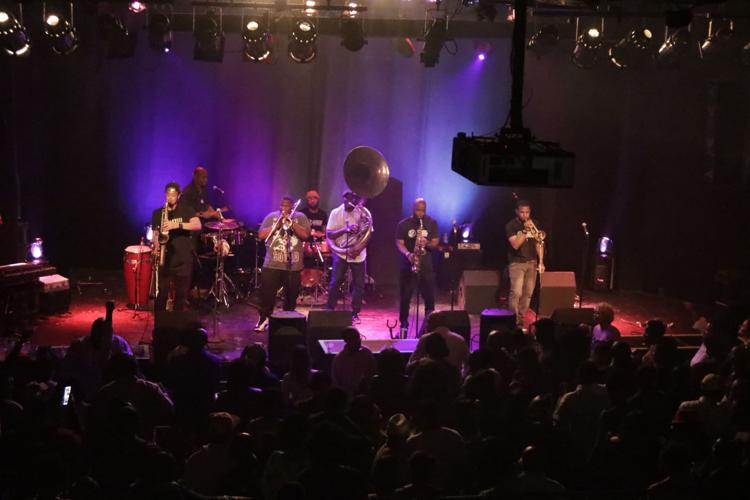 The first Funkin' With Friends was a hit, and it foreshadowed the series' potential. "The energy was really good, the folks who were from out of town got to experience a live south Louisiana brass band," Gray said.
But before even attempting the show, Gray needed the go-ahead from the band leader, Michael Foster.
"I would have to say that The Michael Foster Project had already been very visible and successful at the inception of Funkin' With Friends," Foster said. "It was designed to use the band's popularity to bring success to the event. What I didn't anticipate happening was Funkin' With Friends helping to cross over to a new audience 10 years later."
In the early years of the series Gray experimented with a few different show hosts and event DJs, eventually finding the right mix of talent with Baton Rouge comedian Howard Hall and DJ Marquis, a radio veteran.
"I had a few different hosts in the past and guest DJs as well, but this formula we have now with this combination of The Michael Foster Project, Howard Hall and DJ Marquis is the winning formula," said Gray. "People know what they can bank on."
Audiences have come to bank on a consistent event featuring top quality musicians. And the show ends up "serving different things for different people." Gray said. "Some people are gonna come out to celebrate their birthday. Some people are coming out to reconnect with old friends because they know the event brings out people they don't normally see."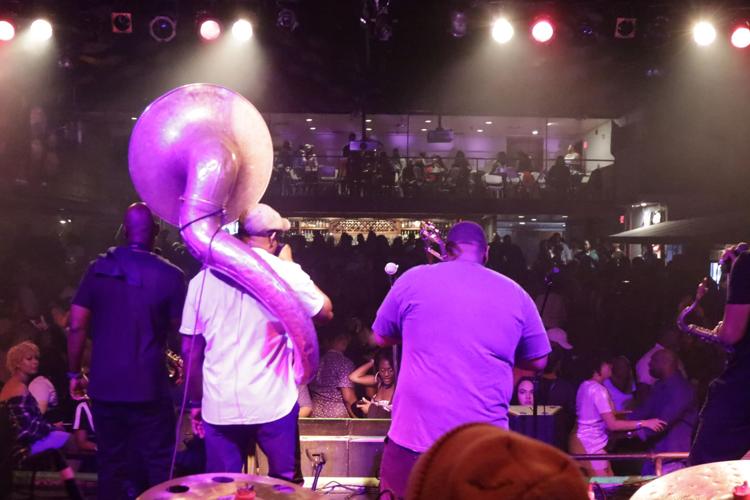 Gray admits that the series also functions as a "tightening up" for the seasoned musicians in The Michael Foster Project. Funkin' With Friends usually brings out 300 to 500 attendees, Gray said, and many of them are not regulars to local live music events.
"It furthers our development because we are put in a situation where we have to prepare for a show," Gray said, "and as many Top 40 bands and regular working bands around Baton Rouge can probably identify with, you really don't get a lot of time to rehearse as a band."
The series however has largely benefited from the "friends" aspect in its title. The last 10 years has featured some of Baton Rouge's most talented musicians, such as U4Ria, Soul Jukeboxx and Universal Language. Each has shared a co-headlining bill with The Michael Foster Project. In 2011, a "Rock N Soul" edition of Funkin' With Friends featured the Juke Joint Band, headed by international touring drummer TaRon Lockett.
The 10-year anniversary will highlight some of the band's favorite musician and vocalist friends, but the spotlight will still belong to The Michael Foster Project.
"The music is going to be exceptional," Gray said. "You've got seven musicians who play all acoustic wind instruments with the exception of the drummers and [the band] is the highlight of the night."
And what can first-time Funkin' With Friends attendees expect?
"It's just fun," Gray said. "Everything from the line dancing to the back-and-forth call and response with the DJ and the band. It's exciting to be in an atmosphere with so many people who've had a shared experience, culturally and just to be there even if you haven't had those same experiences."
---
Funkin' With Friends
Featuring The Michael Foster Project, DJ Marquis and Howard Hall
8 p.m. Friday, Dec. 28
Varsity Theatre, 3353 Highland Road
$12-$15 advance; $20 door