Dr. Rani Whitfield has so far lived out a fair share of his dreams. Affectionately known as The Hip Hop Doc — a title he's also trademarked — the Baton Rouge native and general practice physician has played a little college basketball, created a comic book series, "The Legion of Health," learned the bass and co-founded the band U4ria with his friend, Merrel Porché Jr.
After completing medical school at Meharry Medical College in Nashville, Tennessee, and his residency in Dayton, Ohio, Whitfield returned to Baton Rouge to open his practice. By that time, he had started using rap lyrics to promote health and wellness, a knack he discovered while studying medicine.
It wasn't long before Whitfield would become a staple on the Baton Rouge social scene as well as involved in several local health- and community-focused initiatives. He has also appeared as a medical expert on BET, CNN and MSNBC, and Whitfield once even received a personal invitation from acclaimed actress Cicely Tyson to deliver a speech at the Cicely Tyson School of Performing Arts in East Orange, New Jersey.
His plate is full, so it's hard to imagine that he'd have time to flex his bass-player hobby. But on Friday, March 8, his band, U4ria, will celebrate a decade of concerts — and it will be Whitfield's 50th birthday.
U4ria played its first gig in Baton Rouge on Feb. 27, 2009. In its current form, U4ria is a band of musical hobbyists who spend their days working professional careers and their nights under hot stage lights, sometimes in front of thousands of people — like the band's April 2011 Live After Five concert, which brought out more than 7,000 attendees, according to the Downtown Business Association, who organized the concert series.
"That day was just the perfect storm," Whitfield said. "By the time we finished people were still at the foot of the stage. It was like being at Woodstock, and then everything just started happening organically. There were years where we were playing on weekends for like three, four months straight."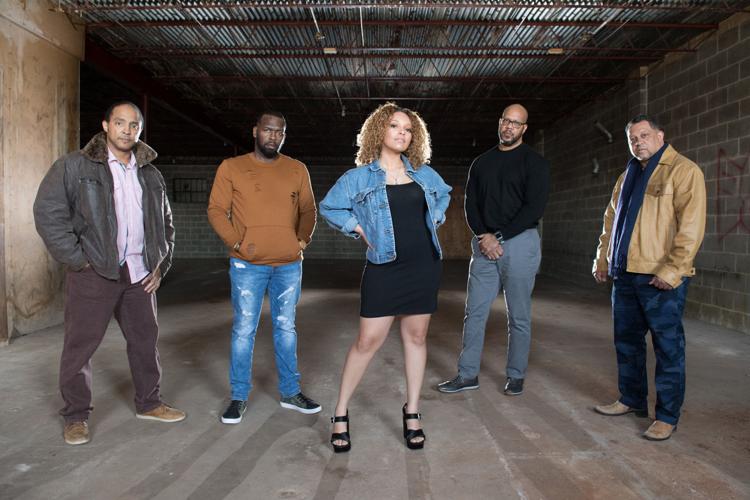 Whitfield found his talent on the bass while studying at Meharry. A friend had left the instrument at Whitfield's house.
"I really liked the way it felt in my hand and I just always wanted to play a musical instrument," Whitfield said. "So I went to the store and bought this country music bass kit — it was a bass, an amp, a book and VHS tape. Then I lost the tape, so I called the number on the back of the booklet, and the guy who created the kit answered the phone. He said, 'Listen, if you practice and focus on country music and gospel, you'll be able to play any music.' "
U4ria is made up of a doctor on bass; a civil engineer on drums, Merrel Porché Jr.; a foreign exchange analyst on lead vocals, Cypress Whyman; a rail logistics coordinator on keyboards, Clifford "Ray" Wilbert; and a process operator on lead guitar, keyboards, talk box, vocals and sound, Sean Griffin. Past members include lead singer Arianne Deruise Thomas, lead singer Jinyoung Park, vocalist Britney Hurst Temple and keyboardist Kurt Howard. The band's deep repertoire includes R&B and soul, blues, contemporary pop, funk and a few Louisiana standards.
"As a group of working professionals who just love to play music, everything we bring in is lagniappe — that's why the love we receive is so important," Whitfield said.
Aside from performing all around the capital region, U4ria has performed gigs as far away as Seattle, and opened for national recording artists, such as Mint Condition, Akon, Chrisette Michele and Alexander O'Neal.
On Friday, U4ria will celebrate its 10 years together as a band and officially introduce Whyman as the new lead singer. The band will showcase some new original music along with the cover songs for which they have become known. The evening will be hosted by comedian AO is Comedy and The Michael Foster Project will perform a closing set.
U4ria will also recognize a few loyal fans — Blake Oubre, Cortalya Muse, Tedra Patterson, and Juanita Coverson — with Lifetime Back Stage Pass awards. And "Friends of U4ria" guitarist Michael Guerin and saxophonist Eric Whitfield will receive Lifetime Honorary Member Awards.
"The night is all about us loving Baton Rouge and telling the city thank you for all the love on this ride," Whitfield said. "And it's my birthday, so it's a new start for me. I'm making 50 look like 30 again."
---
U4ria
10 Year Celebration
7 p.m. Friday, March 8
The District, 150 Mayflower St.
$15 general; $150-$175 VIP