John Broven, while living in the South of England during the 1950s and '60s, loved American blues, rhythm-and-blues and swamp pop. He later documented the music in a trio of essential books, including the newly revised "South to Louisiana: The Music of the Cajun Bayous."
Readers embraced "South to Louisiana," published in 1983, as well as Broven's first book, 1974's "Rhythm and Blues in New Orleans." The two definitive accounts of Louisiana music made their way to schools, libraries, museum shops, tourist destinations and Louisiana music lovers around the world.
Despite the richness of south Louisiana music, "so many people in Louisiana don't appreciate just how adored the music is overseas," Broven said from his home in Long Island, New York. "My interest stemmed from collecting the records in England all those years ago."
An updated, second edition of "South to Louisiana" has recently been issued by Pelican Publishing Co. in Gretna.
The book includes stories and analysis about early Cajun recording artists Joseph Falcon ("Lafayette") and Harry Choates ("Jole Blon"); Baton Rouge's swamp-blues musicians and nationally charting pop stars John Fred ("Judy in Disguise") and Jimmy Clanton ("Just a Dream"); Abbeville singer-songwriter Bobby Charles ("Walking to New Orleans," "See You Later, Alligator"); Montel Records, the Baton Rouge label that released Dale and Grace's No. 1 hit, "I'm Leaving It Up to You"; and high-charting Acadiana swamp-pop singers Johnnie Allan, Tommy McLain and Rod Bernard.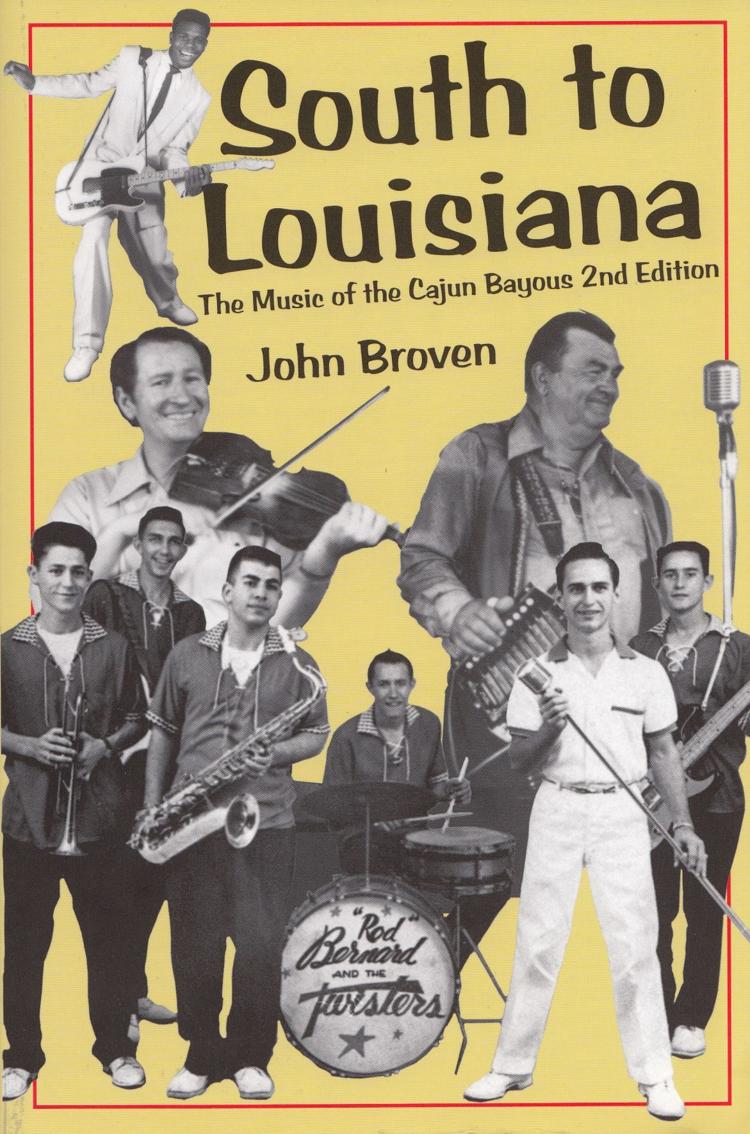 In 1983, "Cajun, zydeco and swamp pop were all showing signs of revival," Broven said. "I'm delighted to cover the ensuing 36 years and show the strength of the scene as it really is."
Broven noted such 1980s and later developments as the Baton Rouge Blues Festival; the scene-setting Tabby's Blues Box and Heritage Hall; the Slim Harpo Music Awards; and new generations of swamp-pop artists.
"Swamp pop almost died in the '60s, after the early hits," Broven said. But then Johnnie Allan, a Rayne musician who sang "Lonely Days, Lonely Nights" and "The Promised Land," arranged an all-star concert of surviving swamp pop artists.
"From then on, new artists came in and, instead of dying, swamp pop is stronger than ever," Broven said.
Neither "South to Louisiana" nor "Rhythm and Blues in New Orleans" has ever been out of print. Pelican published a revised second edition of "Rhythm and Blues in New Orleans" in 2016.
Broven's third book, "Record Makers and Breakers: Voices of the Independent Rock 'n' Roll Pioneers," published in 2009 by the University of Illinois Press, veers from Louisiana to the important, early rock labels: Modern Records and Specialty in Los Angeles; Chess Records in Chicago; Detroit's Motown; Sun in Memphis, Tennessee; and Atlantic in New York City.
Broven based his American music triptych largely on first-person interviews he conducted with the artists, producers and record company owners.
"I interviewed wonderful people like Jerry Wexler and Ahmet Ertegun," he said. "They all had wonderful stories. In 'South to Louisiana,' J.D. Miller (the Crowley producer of Slim Harpo, Lazy Lester and Lightnin' Slim), what a great man he was. He wasn't without controversy, but that's the nature of the independent record business. You'll never please all the people, all the time."
Broven is planning to return to Louisiana later this year to promote "South to Louisiana." Now 76, he doesn't expect to write more books, but he continues to craft liner notes for album releases and work as a copy editor at Times Beacon Record News Media in Long Island, New York.
Broven's collection of American music 45 rpm and 78 rpm recordings, taped interviews and memorabilia is housed at the Library of Congress National Audio-Visual Conservation Center in Virginia. Many of his Louisiana interviews are also at University of Louisiana at Lafayette's Center for Louisiana Studies' Archives of Cajun and Creole Folklore.
"I've done my bit, particularly in documenting the golden age of the independent record labels," he said. "These books summarize that great era."
---
'South to Louisiana'
Find the book online at johnbroven.com