In late June, Moon Honey announced that things had come to an end.
The Los Angeles-based band that started in Baton Rouge has said goodbye and left behind a bittersweet parting note: its lovely third album, "Dreamlet."
At the core of Moon Honey had always been the musical partnership of vocalist Jess Joy and guitarist Andrew Martin, a relationship that had also been a long-term romantic one. Writing for "Dreamlet" coincided with the couple's breakup, but the duo, along with drummer Logan Baudean, initially intended to keep the band going, Joy said.
Still, in the middle of recording and mixing "Dreamlet" with producer Greg Saunier — the drummer for Deerhoof and a longtime Moon Honey supporter — Joy and Martin came to the realization that things had changed and it was time to let Moon Honey drift away.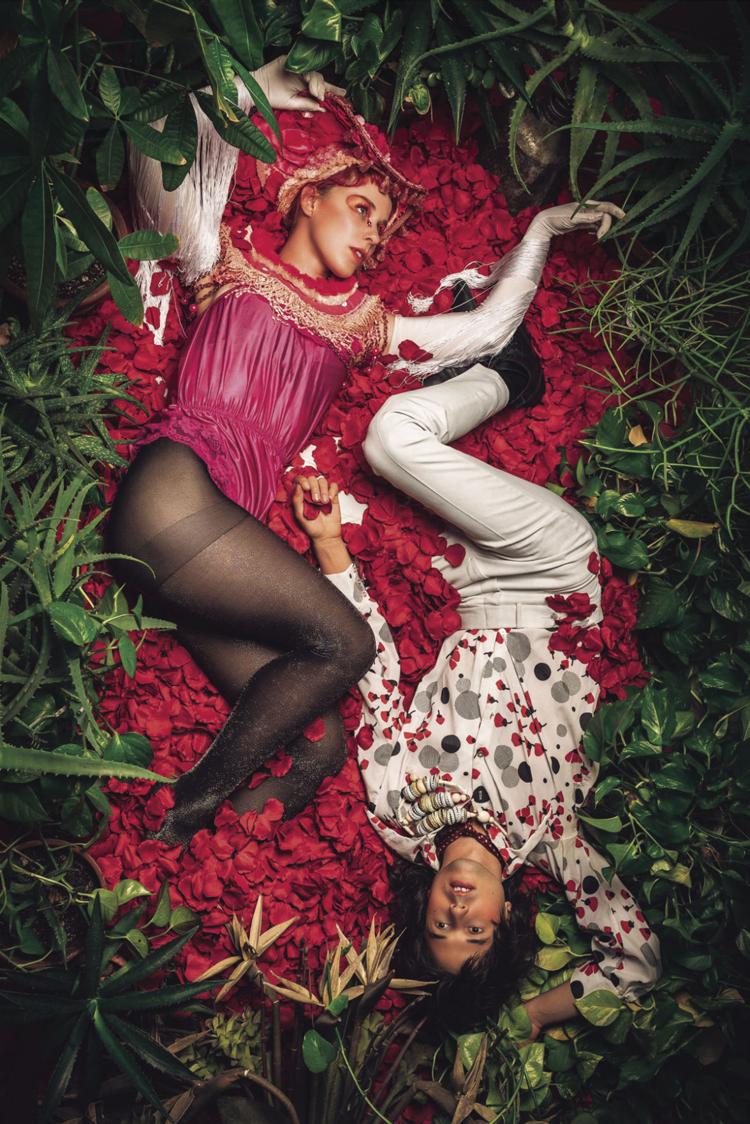 "Dreamlet" is a record about love, loss and coming to terms with the end of a deep romance. The spectrum of emotions involved with a complex, fading relationship can be heard on the seven-track album, like the painful weirdness of cheering on the successes of your former partner ("Sideline"); personal realization ("Just Joy"); and thoughts for an uncoupled future ("What Will"). The title "Help Me Save Our Love" is rather self-explanatory.
But in many ways, "Dreamlet" encompasses more — the ending of an intense artistic connection, the finale to a decadelong project, satisfied reflection on what has been created and the transition to an unknown future. In Moon Honey, love and art had always mixed.
On the band's first two albums, 2013's "Hand-Painted Dream Photographs" and last year's "Mixed Media on Woman," Moon Honey leaned heavily into the frenetic, kaleidoscopic pace of psychedelic rock — challenging time signatures, evolving song structure, hazy concepts. "Dreamlet" stays within Moon Honey's beloved psych-rock sphere, but the band occupies a more serene, peaceful space. That's not to call it slow; there are parts — especially Martin's guitar work and Joy's vocals — that soar. It's that "Dreamlet" sounds more understanding, more comfortable, smoother.
Moon Honey — and before it, Twin Killers, the Baton Rouge band Moon Honey sprang from — embraced music-making as art, playing with song structures and expectations. And further, the band leaned into the theatrical.
Years ago, Twin Killers organized a dazzling multimedia show at the Manship Theatre and again a few months later at the Louisiana Art & Science Museum's planetarium. Moon Honey's costumes, stage show and music videos were always deliberate.
In the past, Moon Honey's artistic decisions always felt methodical and minutely constructed — careful planning to express a range of genuine emotions — but "Dreamlet" seems to be relatively stripped of that.
When they reached a decision to end Moon Honey during the middle of work on "Dreamlet," Joy said, "we agreed we both still wanted to release the work, be it shorter than desired and unfinished, just the way it was. We loved the songs."
A lot of the recording, Joy added, was done separately and somewhat disjointed, like how Joy recorded the vocals for the track "Love Leech" in her sister's living room while crashing on her couch, or how Martin worked on his guitar arrangements in different locations. (Joy also calls Baudean the band's "rock," a steady friend to both her and Martin during a tough time.)
The song "Univibe" is a strong example. Martin had written the instrumentals for the song, but Joy was stuck on the vocals, so she asked Saunier for a writing prompt. He felt the song sounded like being alone. Joy went home, she said, and "I was alone and extremely lonely in my bedroom.
"I did one draft and it was finished. While recording the vocals, Greg asked me to try to not sing well, to imagine myself as actually half asleep, yawning, unaware, inside the naive confusion of waking. Nothing impressive. I've always aimed for maximum animation/aliveness in my voice, verging on the edge of ridiculous, so this was a good experience."
That restraint, the use of first drafts, the chaotic nature of recording "Dreamlet" led to an album that's intimate and honest. "Hand-Painted Dream Photographs" and "Mixed Media on Woman" showed Moon Honey as the way Joy and Martin wanted the project to be seen, but "Dreamlet" is Joy and Martin as they are. And it may display their raw talent better than anything else Moon Honey has produced.
The members of Moon Honey will continue to make music in Los Angeles: Joy is working on a new album with musician Mike Byrne, Martin is touring with rock band Palaye Royale, and Baudean is playing drums with several people in L.A.
Moon Honey's "Dreamlet" is available on all major streaming platforms and at moonhoney.bandcamp.com
---
Are you a Baton Rouge-area musician with a new release? Let us know at red@theadvocate.com.