Lt. Ken Albarez was crossing the Interstate 10 bridge Monday morning returning to Port Allen after a work trip across the river when he slowed to a crawl behind a line of slowing vehicles. A woman had abandoned her van and was clinging to the other side of the railing that guards against a 130-foot drop above the Mississippi River.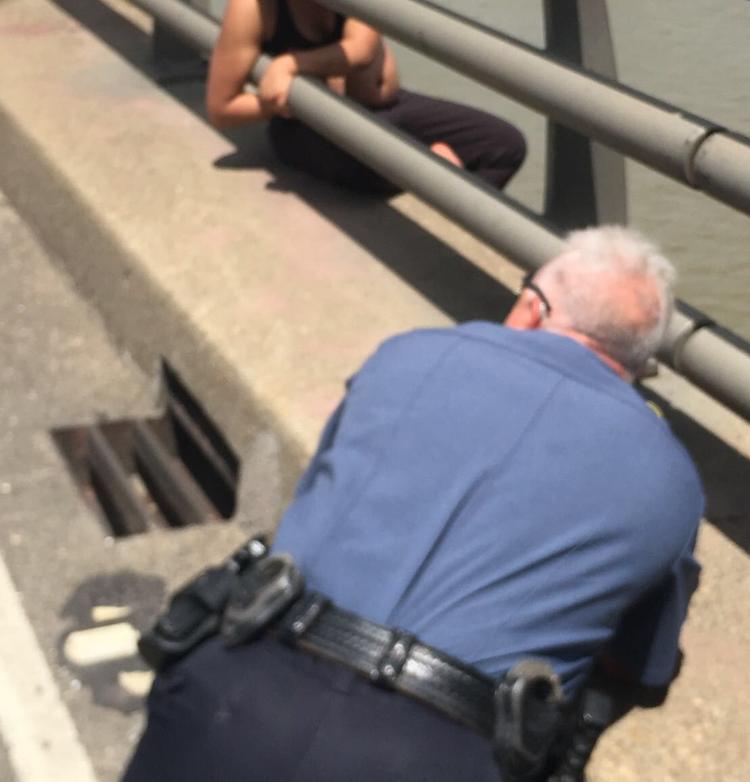 "She had one thing in mind: that was jumping in the water," said Albarez, a 27-year veteran deputy with the West Baton Rouge Parish Sheriff's Office.
He learned that she was seven months pregnant and that she had been having recent relationship troubles with her boyfriend.
Albarez said he slowly inched closer on his hands and knees as they continued to talk, hoping to buy time while emergency crews converged on the bridge. During their conversation, which he said lasted about 40 minutes, the woman warned him not to get any closer, at least once threatening to jump and a few times let go of the rails but didn't fall.
"God, you need to be with me," he said to himself finally, before lunging to grab the woman's hand. He gripped it tightly from the opposite side of the guardrail as other responders rushed to hold on to her.
They pulled the woman through to safety and eventually brought her to the hospital for treatment. Authorities didn't identify her due to medical privacy rules.
The latest available data from the U.S. Centers for Disease Control and Prevention shows the number of suicide deaths has steadily increased in Louisiana between 1999 and 2017, a rise that mirrors national figures. The West Baton Rouge Sheriff's office doesn't keep statistics on suicide attempts from bridges along the river.
Albarez estimated deputies respond to someone threatening to jump from either the I-10 and the U.S. 190 bridges on a monthly and sometimes twice-monthly basis. But he recalled two or three recent times that deputies arrived only to find the person had already jumped.
He speculated she might have suffered the same fate had he not been driving back right then from his work errand.
"I just thought, we aren't going to lose two lives," Albarez said. "Not Today."
The National Suicide Prevention Hotline is 1-800-273-TALK (3255).