Hurricane Ida was so powerful that it was still savaging parishes to the East of Baton Rouge with hurricane-force winds 16 hours after it made landfall.
A ship in Port Fourchon clocked a staggering wind gust of 172 as the storm came ashore Sunday morning as a strong Category 4 hurricane around 11:55 a.m., according to preliminary data from the National Weather Service. It took more than half a day to weaken to 74 mph winds and become a tropical storm, at 4 a.m. Monday.
By that time, Ida was in Mississippi. It had left hundreds of thousands of people without power and several people were dead.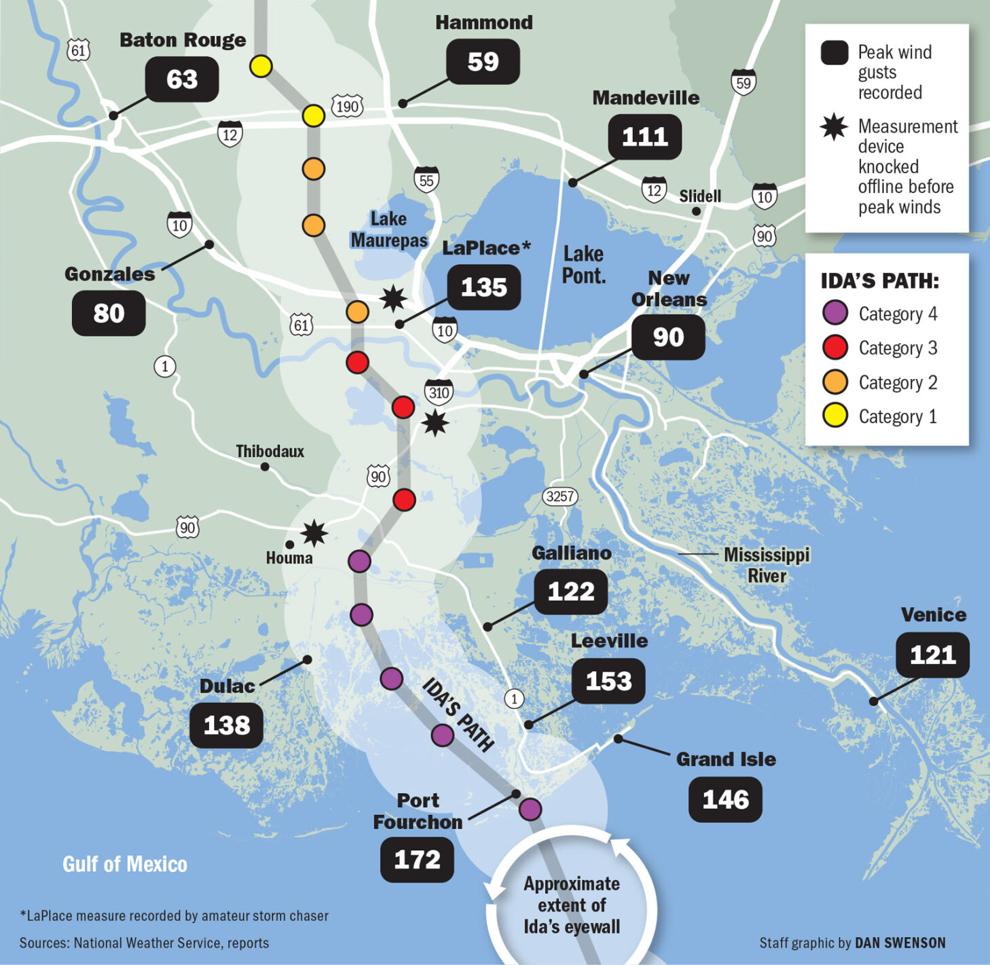 Ida's fury lasted so long because of the geography of the Louisiana coastline, said Julie Lesko, senior hydrologist for the NWS in Slidell.
"The main parishes all along the Louisiana coast are mostly uninhabitable marshland with a lot of warm water," Lesko said. "When it starts making landfall, it did it hit land, but it technically moved back over marshy areas. Because the marshes and bayous are very warm, it's not like hitting another state where you hit dry land and the storm begins to deteriorate more rapidly because of that interaction with land. It's almost unique to the Louisiana coastline."
The marshlands powered Ida for hours. The storm didn't downgrade to a Category 3 storm, with maximum sustained winds of 129 mph, until its eyewall had moved past Houma.
Bradley Jackson Jr., a 37-year-old Houma resident, said the mobile home he was riding out the storm in with seven other family members was completely blown off its raised foundation by the force of the winds.
"It was up high on bricks for water, but it just fell down on the ground," Jackson said. "Then, the wind came and knocked in the walls. We had to hold dressers against the windows so it didn't fly in."
Storm chasers reported gusts over 130 mph in the town of 33,000 people, and many wind measurement devices were knocked offline by the force of the storm before peak winds arrived.
Telephone poles were split in half, left dangling from their wires in the air over city streets, and entire building walls were ripped away by the wind.
Ida then maintained its Category 3 status until it reached the Mississippi River near Luling. Winds in Luling were so ferocious that a NWS device to measure wind speed was knocked offline before the peak winds arrived.
Category 2 Ida moved north past Lake Maurepas through the eastern edge of Ascension Parish with maximum sustained winds of 110 mph. A gust of 80 mph was measured in Gonzales.
As the storm raged, a man was killed Sunday evening in his home along La. 621 in the Duplessis area, between Gonzales and Prairieville, when a tree fell on it, Ascension Parish officials said.
Ida wasn't downgraded to a Category 1 storm until it crossed I-12 in Livingston Parish.
A gust of 63 mph was measured in Baton Rouge, and a gust of 59 mph was measured in Hammond. Winds outside the Livingston Parish Emergency Operations Center were "howling" as Ida moved overhead.
St. Helena Parish was the last Louisiana parish Ida's winds battered. Buildings were damaged and a massive tree at the Pine Grove cemetery in the southern part of the parish was split in half.
"Storms can stay longer after making landfall (in Louisiana)," Lesko said. "Louisiana has its very unique coastal terrain."
Staff writer James Finn contributed to this report.