Less than two days after voters in the southeastern corner of East Baton Rouge voted to create the new city of St. George, discussions in some circles turned to how to avoid joining the parish's fifth municipality.
While rarely used, there is a two-step provision within state law under which a portion of an incorporated area could break away and either remain unincorporated or later seek to join another city, said John Gallagher, executive director of the Louisiana Municipal Association.
Nearly all areas east of Stumberg Lane and Pecue Lane within the boundaries of the proposed St. George voted to create the city. Most areas west of those roads within the boundaries voted against incorporating a new city of 86,000.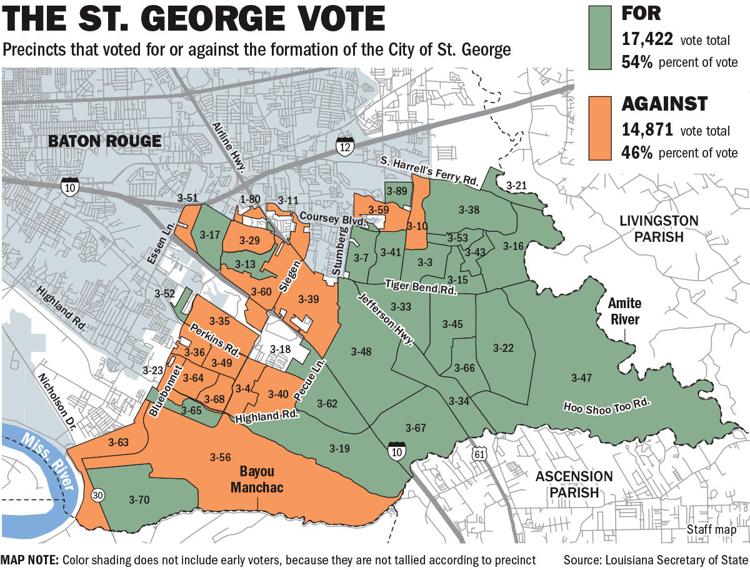 The leaders of at least one political group opposed to St. George fear the incorporation vote will cause a domino effect of separations and annexations that could force the deconsolidation of city-parish government.
"We've been told those discussions are intensifying (and) we don't support it," said John Mathis, treasurer and chairman of Put Louisiana First.
The Republican-leaning political action committee on Monday morning posted a tweet from the organization's official Twitter account stating that factions were meeting to discuss how they could separate from "the influence of non-Baton Rouge areas like St. George."
The proposed city of St. George took a large step toward incorporation with Saturday's election, and a breakdown of select precincts show a cl…
At a press conference Monday, Darryl Gissel, the city-parish's chief administrative officer, said there's "some uneasiness on all ends" following Saturday's election before echoing a statement Mayor-President Sharon Weston Broome released asking constituents to "just sit back and stay calm."
"At this point, I want to reassure you that nothing will change in the immediate future," Broome's statement reads. "Guard your hearts and minds against negative and misinformed narratives about this issue. We will address our future together and I will always have your best interests in mind."
Officials in the city-parish's Planning Commission also revealed that one homeowner's association has asked that a moratorium be placed on all zoning decisions and actions within the St. George boundaries until the new city has established its own planning department.
That request was forward to the Parish Attorney's Office.
Gissel also said they've been asked by dozens of people about the possibility of having their homes or businesses annexed into the City of Baton Rouge.
The vote to incorporate behind them, St. George supporters still face daunting challenges ahead as they go about setting up East Baton Rouge P…
It was a question Gissel didn't have an answer for Monday afternoon, but he noted that Baton Rouge can accept annexation petitions only from areas that share a common border with the city.
That could apply to several areas along St. George's borders. More "no" votes were counted in areas along Bluebonnet Boulevard, Highland Road, Perkins Road and Siegen Lane, and in some areas near Bayou Manchac west of Interstate 10, according to complete but unofficial election results.
Only registered voters within St. George's boundaries, more than 54,000 people, were allowed to vote on the incorporation measure. The vote broke down with 54 percent voting in favor and 46 percent voting in opposition. Those in opposition, and city-parish leaders, have called it unfair that the 17,421 yes votes could potentially have adverse effects on the 441,000 residents of the entire parish.
Gallagher said Louisiana Revised Statute 33:176 spells out the procedure by which the boundaries of a municipality could be contracted. That statute basically says residents and property owners in an area seeking de-annexation would have to follow the same procedure the state's laws outlines for annexations, as also stated in a 1997 Attorney General's opinion.
That opinion reads, "the governing body of a municipality does not have the power to enact an ordinance to de-annex property unless there is a petition or request from a majority of the registered voters and/or designated property owners within the area to be de-annexed."
That means people and property owners would have to go through two steps to leave St. George. First, the area would have to become unincorporated again, and then its residents and property owners would have to petition the city of Baton Rouge to seek annexation.
R.S. 33:172 states that de-annexation petitions must be presented to the governing body of a municipality (in this case St. George), and contain signatures from a majority of the registered voters and/or property owners within city limits.
Anyone within the city who opposes the de-annexation, however, can contest the matter, under the law.
The de-annexation must then be approved by the governing body, in this case St. George's future City Council. And if the residents and property owners of that area want to then become part of Baton Rouge, they'll have to repeat the process with the East Baton Rouge Parish Metro Council.
When he was told Monday about the chatter regarding some residents and property owners now wanting to get out of St. George, Drew Murrell, attorney and spokesman for St. George, shrugged off any concerns.
"If they want to be a part of Baton Rouge, we encourage them to apply for annexation," he said. "They've always had the ability to get annexed into Baton Rouge. The process has been around for 40 to 50 years."
Conversely, Murrell said they've received an overwhelming number of inquiries from outlying neighborhoods and businesses wanting to be annexed into St. George following Saturday's election.
Murrell indicated he was referring to many of the areas St. George proponents had carved out of the map they included in the petition that led to Saturday's vote. Those areas had been part of the first map during the failed attempt four years ago to get the incorporation on the ballot.
Those areas had large concentrations of black voters. In its early stages St. George would have been 80 percent white, but a tweak in the boundaries ahead of Saturday's vote made a city that is 88 percent white.
"They weren't included this time around because of lack of support," Murrell reiterated to reporters Monday. "This time it looks like support has increased in those areas."
But Murrell would not say what neighborhoods or businesses had made the inquiries.
Instead he outlined how organizers are proceeding with the incorporation following their win Saturday.
Up first is a meeting Friday with Broome's administration about transition details; meanwhile, the election results need to get certified and the governor has to appoint an interim mayor and five city councilmen for the new city.
But those plans could be delayed if threats from the opposition about legal challenges come to fruition.
"We're hopeful any parties … that intend to pursue litigation will reflect upon the vote … and reflect upon the damage that could be done to the community because of the additional litigation," Murrell said. "We've become a fractured and divided community and it's time for us to begin the healing process with St. George."
Advocate reporter Blake Paterson contributed to this report.
Can't see video below? Click here.