LSU officials received at least two specific warnings over the past three years about problems at the Delta Kappa Epsilon fraternity, records show, despite the university's recent announcement that key administrators had no prior credible information about hazing at DKE that could have triggered an investigation.
The administrators' halfhearted response to the reports they received about DKE raises new questions about the school's level of commitment to investigating allegations of misconduct in the Greek system. It's not the first time such questions have been raised.
LSU received multiple specific warnings in 2016 that the Phi Delta Theta fraternity was out of control. Administrators decided to slap the fraternity with a five-week interim suspension of activities, a relatively mild punishment.
A grandfather who saw hazing wounds on his grandson while the LSU student was swimming demanded the investigation of the Delta Kappa Epsilon f…
A year later, pledge Max Gruver died after a night of heavy forced drinking at Phi Delta Theta, and the fraternity was shut down for good.
DKE appears to have gotten off with even less scrutiny from the university in the wake of complaints — at least until the national organization shut down the fraternity last month and nine members were arrested. University officials appeared to do little if any investigating on their own, and no discipline was meted out. In fact, the records show that LSU leaned on DKE's alumni chapter to police problems inside of the fraternity, ranging from complaints about "hell week" to questions about DKE's infamous gameday banners.
Former LSU vice president of student affairs Kurt Keppler prepared a report in 2016 in which he said a woman called him and told him the stress of pledging DKE had triggered her son to leave LSU. Even after he left, members of the fraternity continued to taunt him on social media, she said.
"Members believed her son was a 'rat' who exposed their actions," Keppler's report states. "The mother begged me not to report the situation (no names were given) as she believed it would make the matter worse for her son, because the organization would know who it was."

The report wasn't the only one to reference a deep culture of silence at DKE. When police investigated the house this year, they noted the chapter room on the third floor had a threat emblazoned on it: "all narcs will die."
The woman who called Keppler also said she suspected rampant drug use in the fraternity and said she had received little assistance from DKE alumni and the national chapter. The national chapter's report to LSU Police this year backed that up, saying pledges were being forced or coerced to consume marijuana and alcohol.
But if the woman's phone call led to any major investigation or sanctions for the fraternity, there's no evidence of it. LSU did not document any investigation in its report or in its online Greek score card, which aims to make infractions and punishments for fraternities and sororities easily available to the public.
"I suggest we keep our eyes and ears open for similar complaints about drug usage," Keppler wrote after memorializing the complaint.
The former longtime executive director of the national Delta Kappa Epsilon fraternity says the national organization has known for at least 30…
Asked about how LSU administrators responded to the reports, university spokesman Ernie Ballard said LSU "uses every tool at its disposal to follow up on allegations." But he also said others share responsibility for ensuring Greek organizations follow the rules. 
"Most Greek Life organizations have national oversight bodies, local oversight bodies, and at least one adviser to ensure the rules are being followed," Ballard said. "These individuals all have more access to the students and activities within the chapter than the University does." 
Ballard added that LSU needs "credible, actionable information" that a law or policy has been broken to intercede. 
"The email records you obtained are only a small portion of the process that takes place with these cases," Ballard said. "There are discussions, conversations, investigations and all this may lead to organizational or individual sanctions."
ANOTHER WARNING
The mother of another DKE pledge called LSU last March after she noticed her son's bank account was overdrawn. When she asked him about it and suggested he find a job, he responded by telling her he couldn't because it was "hell week," but assured her it would be over soon.
She told LSU's Director of Greek Life Angela Guillory that her son had also mentioned that he expected his initiation into the Friars — a subgroup within DKE — would be even more difficult than initiation into DKE. DKE's national organization wrote in its report to LSU police this year that they suspected students were required to be branded as part of their initiation into the Friars.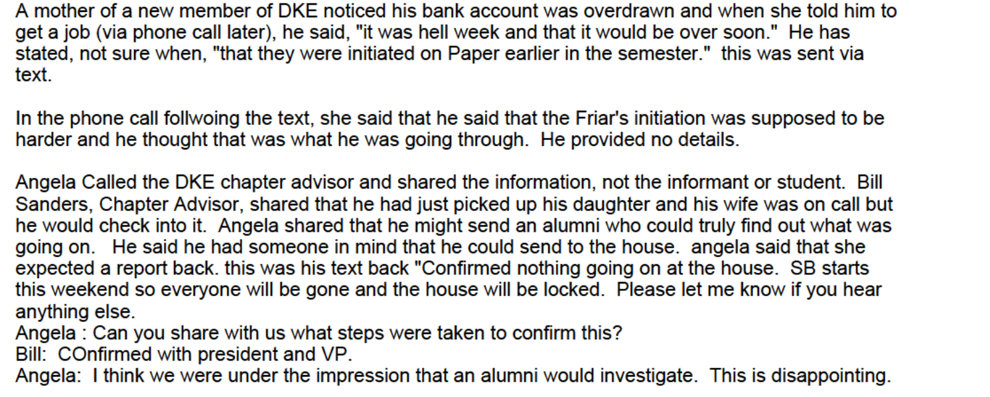 Guillory called DKE's chapter adviser about it. Bill Sanders, a Baton Rouge commercial real estate broker, was DKE's president in 2005 when he was an LSU student. He told Guillory he would look into it, the report states. 
But Sanders later texted Guillory that he "confirmed nothing going on at the house," according to LSU's complaint. When Guillory asked how he determined that, he said he had checked with the president and vice president.
"I think we were under the impression that an alumni would investigate," Guillory responded, according to the report. "This is disappointing."
---
Can't see video below? Click here.
---
While Guillory professed disappointment, it does not appear that she or anyone else at LSU took further action to investigate the woman's complaint. LSU did not answer The Advocate's questions about why such an investigation would be farmed out to alumni affiliated with the fraternity. Ballard did say that student organizations require partnerships between LSU and the organization itself, which is run by adults and has rules and policies consistent with those at LSU.
The report says that the case was assigned to Guillory. LSU's Greek Life score card does not record any punishments against DKE from 2018, when the complaint was made.
The Advocate also contacted Sanders. Doug Stewart, the treasurer for DKE's alumni association, responded on his behalf.
Delta Kappa Epsilon boasts more past presidents among its members than all other American fraternities — a list that includes Theodore Rooseve…
"It has always been our understanding that LSU conducts its own investigations of potential student conduct violations," Stewart said. "We believe the report you have referenced may not reflect all that was communicated between the fraternity and LSU. The Executive Board was under the impression that LSU was satisfied with the measures taken to accurately confirm that no such incident took place in the Spring of 2018."
Stewart said it would be "improper" to provide more details about the incident because of ongoing criminal and university investigations involving DKE's chapter.
RECORDED REPRIMANDS
LSU administrators did keep a more detailed paper trail about one recent allegation about DKE: that the fraternity had hosted an event with beer during rush, while potential new members were present, violating university rules.
Guillory emailed DKE members and the former alumni president Ben Gibson about the allegation on Sept. 4. Fraternity leaders responded with an incident report, in which they called the accusation "misguided" and said that a DKE member had gone to an off-campus event with a pledge, and that beer had been served there. It was an admission of a violation, but a much less serious one.
Four months later, DKE national Executive Director Doug Lanpher asked Guillory about the allegation via email. The allegation had come across Lanpher's radar while the national chapter was investigating hazing allegations at the fraternity. Lanpher wrote that he did not remember hearing about the alcohol violation from September.
"We didn't have enough evidence to find them responsible," Guillory responded. "Therefore we had to accept the report."
LSU's Greek Life score card, which has not yet been updated to reflect DKE's closure, does includes two letters of reprimand that the university issued to DKE. One stemmed from a 2015 code of conduct violation that's vaguely described as a violation of university rules. The other, from 2017, and says DKE had an alcohol violation along with a code of conduct violation related to "endangerment." Letters of reprimand do not result in any forfeitures of privileges, according to LSU.
LINGERING QUESTIONS
More recently, LSU engaged the Taylor Porter law firm to investigate whether administrators had properly dealt with earlier hazing allegations at DKE in the wake of students being arrested this month. The university placed at least three officials on leave — including Guillory — while they investigated.
But LSU announced last week that the on-leave administrators, whom the university never named, had been "fully exonerated" by the investigation. The Advocate filed a public-records request for the results of the investigation, but LSU officials said there is no written report on its conclusions and that the only other record in LSU's possession is protected by attorney-client privilege. 
LSU placed multiple administrators connected to Greek life on leave Friday, a month after the university quietly parted ways with another top-…
Ballard said Taylor Porter delivered the results of its investigation orally to LSU's general counsel, and LSU's human resources department followed that up with phone calls to the administrators to tell them they had been reinstated.
It remains unclear whether Taylor Porter reviewed the prior reports LSU officials had received and memorialized before it exonerated the officials.
"It was found that the accusation that some administrators had previous knowledge of potential hazing at Delta Kappa Epsilon was unsubstantiated," Ballard said.