Census data released this week show that more than 18,000 people moved out of East Baton Rouge Parish between 2010 and 2018, with the pace of departures picking up since a devastating flood across the region in 2016.
Two years removed from the 2016 flood, the three worst-affected parishes in the Baton Rouge area have had mixed population changes, with East …
Since 2010, East Baton Rouge was second-worst in Louisiana for the number of people leaving for new homes inside or outside the state, the new data show. Only Caddo Parish in northwest Louisiana saw more people leave over the same period. 
Due to the losses, the city-parish's population is largely where it was in 2010, while suburban Ascension and Livingston trend upward. According to census estimates released Thursday, 18,284 people had migrated from East Baton Rouge since 2010, while 14,474 had moved into Ascension and Livingston parishes over the same period.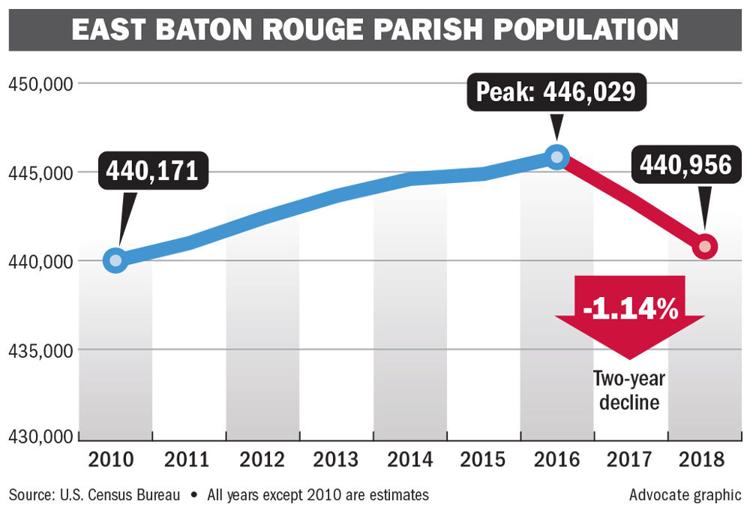 Tim Slack, an LSU sociology professor whose work focuses on demography, said the migration numbers "suggest a pretty big flood effect," but that the real reasons might not be known until results are in from the 2020 census.
"Is this some kind of … momentary disruption … that where we'll sort of come back to baseline? Or, have these people moved away," Slack asked. "Or into the neighboring parishes? Presumably if people are coming back, they'll be back by 2020."
Leaders of a proposal to create a new city of St. George in the southeastern part of East Baton Rouge Parish say the estimates demonstrate the need for a new municipality. Voters in the region encompassing the suggested new city will vote Oct. 12 on whether to create it.
"I think it's a reaffirmation of what the previous census numbers have said, that, 'East Baton Rouge Parish, you're dying,'" said Andrew Murrell, a Baton Rouge lawyer and spokesman for the effort. "Population is leaving and the only reason the numbers are flat or a slight decline is because of the success of Central and Zachary, which is exactly what we want St. George to be." 
A vote on the incorporation of a new city of St. George will happen in October, the governor's office has confirmed.
The movement, which eventually wants to create a new school district, too, has drawn fire from city leaders and other Baton Rouge community groups who see it as a threat to the well-being and cohesiveness of East Baton Rouge Parish, the city-parish government and the public school school system.
East Baton Rouge Parish Mayor-President Sharon Weston Broome didn't return a message for comment Thursday on the new census data. City-parish offices were closed Thursday for bad weather and Friday for Good Friday observances.
Slack said he couldn't say if the success of the St. George incorporation effort would hasten or slow migration from East Baton Rouge Parish but Murrell said success of his group's initiative should force the city-parish to rethink how it operates.
Sixty percent of the migration from East Baton Rouge this decade — an estimated 10,972 people — has happened since about a month before the August 2016 flood.
The cumulative census estimates say the losses actually accelerated between mid-2017 and mid-2018 when an estimated 7,182 people moved out of the parish, the most for any one year at least since the 2010 census, the new data show.
Slack added that the migration losses aren't at a crisis level for East Baton Rouge but any time the core of a city is losing people, it should be a concern.
"I think that it suggests East Baton Rouge needs to take a look at what it is that makes an attractive place for people to live," he said. 
Local leaders are already pushing for Baton Rouge residents to participate in the 2020 census, especially residents of the parish's largely bl…
The U.S. Census Bureau released its latest population estimates Thursday. The new figures are for July 1, 2018, more than nine months ago. 
Until the flood, the parish had had enough births and few enough deaths to overcome the losses through migration. As of mid-2018, the parish's population was 440,956 people, just 785 more people than were counted in the 2010 census, the new census estimates show.
Livingston's population came back in 2018 after a fall in 2017 following the flood. Ascension's population, however, never stopped growing, though growth is modest, the new data show.
The new census data don't say where the people who are leaving East Baton Rouge are moving, but the latest IRS migration data, which is based on changing addresses on tax returns, offer a strong hint that supports what local residents and leaders have known anecdotally for decades about Baton Rouge's leading bedroom communities.
Between 2010 and 2015, the top two destinations for people leaving East Baton Rouge were Ascension and Livingston parishes. West Baton Rouge Parish was in the top six in that period, the IRS data show.
As of July 1, 2018, Ascension Parish was the fastest-growing parish in the nine-parish Baton Rouge metropolitan statistical area both since the flood and since last year. East Baton Rouge and East Feliciana parishes were in a virtual dead heat for the fastest population losses, though small.
GONZALES — When former Ascension Parish President Ronnie Hughes went to the public in 2006 to pitch a half-cent sales tax for roads, he pointe…
Ascension was also the fastest-growing parish in the state between 2017 and 2018, slightly ahead of St. Bernard Parish. Livingston was slightly behind in third with growth of 1.1 percent, the data show.
Ascension's population grew 1.3 percent since mid-2017 and nearly 2.6 percent since July 1, 2016, rising to 124,672 people from 121,520 in mid-2016.
All the population growth has also created struggles for Ascension and Livingston, which are now trying to improve planning and change how they build in low-lying areas, where new growth is expected to head. Seventy percent to 75 percent of the two parishes' land areas are inside the 100-year floodplain, the area most at risk for flooding. 
Livingston Parish President Layton Ricks said he expected a rebound in population in the second year after the flood.
The parish had seen its population drop 1.4 percent between 2016 and 2017, falling from 139,970 to 138,038. In 2018, the parish recovered almost all of that loss, growing to 139,567 people, the new data show.
Ricks said home building and school population numbers have been back up recently. He said expects growth to accelerate in the coming years because of the same fundamentals: good schools, low crime, lots of land and more jobs from the expansion of chemical plants along the Mississippi River. 
"I just don't think the flood has hampered that. It did for a while, but I don't think it slowed down where we originally thought we would be in years to come," he said.
More than a decade of uninterrupted growth in New Orleans' population that accompanied the recovery from Hurricane Katrina has ended, accordin…
West Baton Rouge and West Feliciana parishes were the only other parishes in the nine-parish Baton Rouge statistical area to show population growth since 2016, increasing by 2 percent and 1 percent, respectively.
West Baton Rouge had 26,427 people as of mid-2018, while West Feliciana had 15,460. 
West Baton Rouge Parish President Riley "Pee Wee" Berthelot Jr. said available land for homes, solid schools and a desire by plant workers to avoid Mississippi River bridge traffic are leading people to his parish.
Berthelot's parish grew last year by slightly less than a percentage point but that was enough to rank it seventh in the state in terms of rate of growth year-to-year.