Baton Rouge residents looking for another way to get around the city will have a new option this fall when the city's first bike-share program launches.
The first of three phases will focus on downtown, LSU, the university lakes and Southern University with 500 bikes and 50 docking stations, Baton Rouge BikeShare Director Lindsey West said.
Sometime after the program is launched, it will expand to Mid City and the hospital district. Eventually, there will be 800 bikes in 80 dock locations.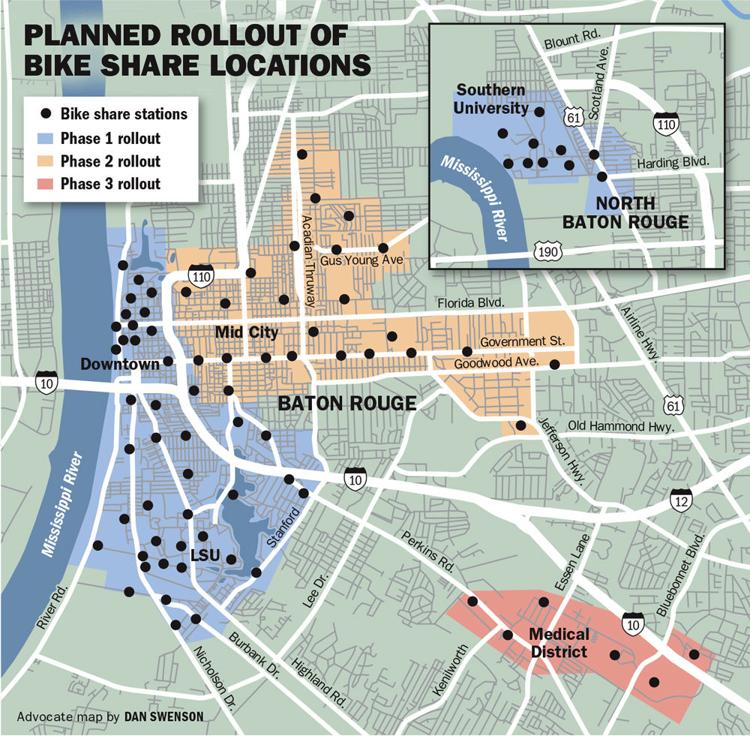 "As you can imagine, building a bike-share program that impacts the community takes some time," West said. "It's just like building a building. There's a process that needs to be followed.
Customers will be able to unlock bicycle stands by using a long-term membership key fob, a remote unlocking device or a short-term membership pin code found on a temporary card. Customers will be able to register for the program or make a reservation online through an app or at a limited number of kiosks.
West said her team is still considering options for a pricing structure, but they are currently looking at a $75 annual membership, which would entitle the member to unlimited 45-minute rides. There will also be daily use fees.
Rides are limited to 45 minutes each, but bikes can be docked at any station and then checked out again, West said.
The feasibility study for the project was completed in 2015 and the Baton Rouge Area Foundation then conducted a business and implementation plan.
West moved to Baton Rouge to run the project's nonprofit business after launching a similar project in Birmingham, Alabama. That system saw 63,051 bikes checked out with 81,000 miles of use in the first year.
A report from the Environmental Protection Agency about the possibility of creating a bike-s…
The Baton Rouge program will be able to gather similar numbers through GPS devices installed on every bike.
Not only can those devices track bikes if they are stolen, but they will also collect data on when, where and how far they are ridden. Those numbers can then be shared with different city planning organizations.
"We are actually providing a source of data that these entities have never had access to for infrastructure planning," West said. "We're then making more informed decisions."
Officials in New Orleans held a preview launch for the NBA All-Star game last week. The New Orleans and Baton Rouge programs, though operated by different systems, will be the first of its kind in Louisiana.
Residents and tourists will be able to get a taste of the city's new bike share program over…
West said she is exploring some type of connection between the new systems.
Bike-share programs came to the U.S. in 2011 and spread to 12 cities by 2012, West said. Now, she says, close to 150 cities have a program and the trend is especially booming in the southeast.
"Collectively, all of the work we're doing makes us a more mobile bike-friendly community," West said. "BikeShare is a tool in this tool kit. You're going to see this become a catalyst (for change)."