As two more apartment complexes with hundreds of affordable units prepare to go up on opposite sides of Plank Road, north Baton Rouge leaders continue to wrestle with how to draw more middle-income homeowners to the area, lure amenities and break up blocks of poverty. 
Late last year, the planning commission green lit a new low-income apartment complex near the Airline Highway-Plank Road interchange. In their last meeting, a proposal came up for another complex on the other side of the interchange. A decision on that second project was postponed for two months so developers could meet with a local legislator who objected to more low-income housing at the location, but it also sparked a discussion of how to address development in a different way across north Baton Rouge.
Broadly, the goal is two-fold: entice more middle-class families to move into neighborhoods north of Florida Boulevard, and disperse government-subsidized housing amidst market-rate houses and apartments. Some efforts are already underway, though area officials and advocates have called for more ambitious designs.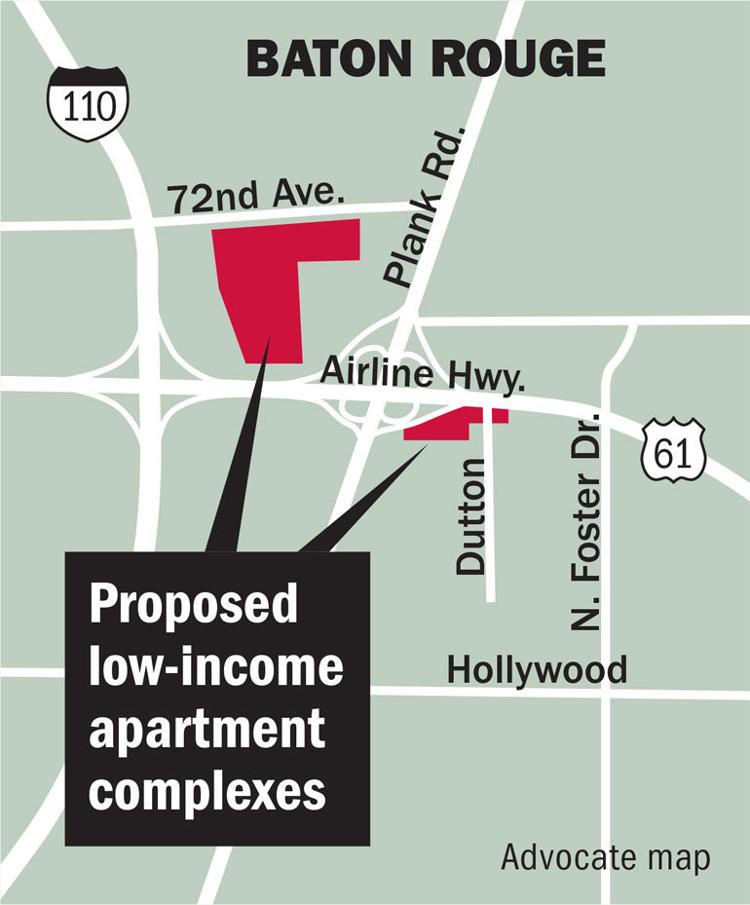 At the same time, however, some political leaders are cautious about focusing exclusively on so-called mixed-income projects, noting the many Baton Rouge residents are still scrambling for affordable rentals 10 months after last year's devastating floods. 
Housing strategy
On Peerless Street in Zion City, families live in most of the single-story houses, though a couple others appear abandoned and some lots are vacant altogether. At the end of the street, though, are brand-new brick town houses with for sale signs out in front.
Brian LaFleur is one of two developers building new units. His townhomes are located on land claimed by the city's Redevelopment Authority when property owners did not pay their taxes.
LaFleur's company kicked in $1.1 million, and he received $2 million in federal grants through the city-parish to build 19 townhomes that will list at $100,000 and $125,000, he said. Five properties will be market rate, and the others will be set aside as affordable housing for families whose income is 80 percent or less of the median.
Samuel Sanders wants the city-parish to scale up its operations and think more about housing across East Baton Rouge Parish. The executive director of the non-profit Mid City Redevelopment Alliance is working with the administration of Mayor-President Sharon Weston Broome to come up with a housing strategy. In the past, developers have focused on their own projects in their own neighborhood, which has had led to work Sanders compared to scattering pebbles in the ocean.
"Right now it feels very disjointed," he said.
By the end of the year, he wants to create a parish-wide neighborhood housing plan that identifies blighted property and residential density. Then, authorities can determine which areas need single-family versus multi-family homes and where to focus on rentals or ownership. The goal is to show the city-parish which areas have greatest need so everyone can concentrate their resources, such as federal housing grants, Sanders said.
There's also a need for private investment, said Rinaldi Jacobs, acting director of the new North Baton Rouge Economic Development District.
He's promoting "scattered site infill," in which developers buy vacant or adjudicated land in existing neighborhoods and build single family houses. A single person or partnership could secure a loan to build four to eight houses at a time, but if banks and builders teamed up they could cut down costs and construct more houses.
Jacobs sketched out the math — 20 lenders who put up $3 million each could finance 480 houses at $125,000 each. The plan would work if each lender could sell a house per month for two years, and they'd be located in different parts of the city, not all grouped together, he said.
There is a desire for quality homes in north Baton Rouge, said Metro Councilwoman Chauna Banks. Baby Boomers who grew up in in the area would like to move back closer to home to help care for their aging parents and be among the church community where they were raised, but "there are no options ... for decent housing," she said.
Banks said the city-parish should consider a moratorium on low-income housing north of Florida Boulevard until the middle-class housing stock has a chance to catch up.
"North Baton Rouge is prime any time you want FEMA trailers, low income housing or industry, but we aren't good enough for middle-class housing, grocery stores or the BREC zoo," she said, referencing discussions about moving the public zoo to the south part of the parish.
"I think we've made our fair contribution. ... I say enough is enough."
New Orleans mayor Mitch Landrieu has suggested one tool to address affordable housing in his city. When developers build new housing properties with at least ten units in wealthier neighborhoods, they would have to set aside at least 12 percent for low-income tenants for between 50 and 99 years. The rule, which has yet to be signed by the City Council, would apply to areas including the Central Business District, Lakeview, Mid-City, Marigny, Bywater, Algiers Point, Uptown and parts of Gentilly.
Broome's administration has expressed interest in a similar idea.
Elsewhere in the country, places like Massachusetts have statewide provisions for developers who set aside units for low-income families, pointed out public policy and administration Prof. Leslie Taylor-Grover of Southern University.
The controversial Massachusetts rule, which that state's bar association once referred to as "the anti-snob zoning statute," allows low-income developers to bypass some local zoning, subdivision and wetlands ordinances if they rent at least 20 percent of their units below market value to families that make 80 percent or less of the median income.
Reform is needed to correct decades of wrong-headed federal policy that intentionally concentrated poor people in minority neighborhoods and areas with less access to services, Taylor-Grover said.
"Housing policy ... has been an abject failure since its inception," she said.
And while Baton Rouge is not unique, it is representative of the larger failure, the professor remarked.
Post-flood needs
The city is in a particularly tight spot since the flood. Councilwoman Erika Green, who represents the district where the latest low-income development near Plank Road is on hold, said she's supportive of mixed-income development but also has to consider people who need a place to live right now. 
Councilwoman Tara Wicker represents the area where the other complex — almost 400 units near 72nd Street and Plank Road — is planned. Asked if the city-parish should discourage low-income housing, she said the community needs to look at both affordable and market-rate homes to address the post-flood housing crunch.
The planning commission is not technically supposed to consider tenant income, proposed rents or housing price points when a proposal comes across their desk, said assistant planning director Ryan Holcomb. In fact the first of the two proposals "kind of sailed through the planning commission" when it came up, he recalled.
The company building the Howell Village development off 72nd Street did not return calls seeking comment. A developer with the second company — which is proposing a 160-unit complex south of Airline Highway called Commodore Pointe — declined to comment until he had a chance to talk with state Sen. Regina Barrow, who requested that they meet before moving forward. She also could not be reached for comment.
When backers of the latest project went before the planning commission, they defended the complex by saying that Baton Rouge's market has a demonstrated need for low-income housing, which they're trying to address.
The problem is that few companies want to move a store into an area where all the residents have a low income, which is why north Baton Rouge is served by Dollar Generals instead of real grocery stores, explained James Gilmore, the mayor's assistant chief administrative officer. The 380-unit development off 72nd Street has called for 70 apartments for seniors, but he questioned what doctors or pharmacies are nearby to serve them.  
Raymond Allmon develops land on behalf of Full Gospel United Pentecostal Church, where his father was once pastor. Over the years, the church has acquired several dozen acres and built a community physical fitness center, with designs on adding a health center and boys' school.
"The more rooftops we have in north Baton Rouge the increased opportunities for retail, restaurants and people to service in our Mackey Center. However, we must be smart and understand that hundreds of low income housing residents in a community that lacks resources can be setting our citizens and those tenants up for failure," Allmon said in an email. "To be direct, we need mixed income units that welcome people from all walks of life to our community."