On a steamy August afternoon 30 years ago, then-Vice President George Bush rode the steamboat Natchez across the Mississippi River to New Orleans, where a boisterous crowd greeted him during what was then the most important week of his political career.
Minutes after arriving at Spanish Plaza, with then-New Orleans City Council member Peggy Wilson serving as the master of ceremonies, Bush surprised the throng by revealing that he had chosen Dan Quayle, a young senator from Indiana, to be his running mate.
A day later, delegates at the Republican National Convention nominated Bush as their presidential candidate. The day after that, Bush stood inside the Louisiana Superdome and accepted the nomination with the ill-fated pledge, "Read my lips. No new taxes." In November, Bush carried 40 states, including Louisiana, and was elected as the 41st president of the United States.
No recent president has had a stronger connection to Louisiana than George Herbert Walker Bush, who died Friday at age 94. (The nation's 12th president, Zachary Taylor, lived near Baton Rouge for 25 years, though he was not born in Louisiana.)
Bush grew up in Connecticut as the privileged son of a wealthy banker who was elected twice as a U.S. senator. After serving as a pilot during World War II and later graduating from Yale, Bush moved to Texas to enter the oil business.
George H.W. Bush, a patrician New Englander whose presidency soared with the coalition victory over Iraq in Kuwait, but then plummeted in the …
He traveled throughout south Louisiana in the 1950s to acquire drilling rights for his Texas-based oil company, developed close relationships with Louisiana members of Congress in the 1980s while he was vice president and then president, and throughout his career became friends with a long list of people from Louisiana. Bush's friends, in Louisiana and elsewhere, inevitably received personal notes from him at one time or another.
What none of his Louisiana friends remember was Bush expressing fondness for a specific New Orleans restaurant or Louisiana-style dish.
"He was a meat and potatoes guy," said James Davison, a prominent businessman in Ruston, who was friends with Bush for years and attended his 90th birthday party.
'An extraordinary man'
One of Bush's last connections to Louisiana came after Hurricane Rita devastated southwest Louisiana in 2005. A year later, he went to Cameron Parish with a $2 million check for a hospital destroyed by Rita, and he returned three years later, with his health beginning to fail, to tour the reopened facility.
"I'm a dyed-in-the-wool Democrat, but I love President Bush," said Jennifer Jones, who helped organize the two trips and is now Cameron's district attorney. "He made me a fan for life. He's an extraordinary man."
Bush sent her a signed photo of the two hugging at the 2009 event and in his inscription called Jones "my little dynamo."
Cameron held a special meaning for Bush, as he told the crowd in 2006, because of another hurricane, Audrey, which struck the parish in 1957 and left a trail of death and destruction. Bush remembered visiting immediately afterward to check on his oil company's operations and while there helping to load drowned victims in body bags onto a barge.
"Bush loves the people from that part of Louisiana. It goes back to 1957," said Richard Zuschlag, the chairman and chief executive owner of Lafayette-based Acadian Companies, who became close to Bush because of the post-Rita recovery efforts.
At one point in the 1950s, Bush came to New Orleans to meet with Alden "Doc" Laborde, who had pioneered a new rig that made it easier to drill for oil offshore.
Bush, as Laborde remembered in a 2012 interview, "owned an onshore drilling company and he wanted to build an offshore rig. So I helped him get started, and he launched a company called Zapata Offshore. He sold it a few years later and got a few million dollars and used that to go into politics. The rest of the story is obvious. I still hear from him from time to time. He was a really class guy."
Alden's brother John, who founded Tidewater Marine in the 1950s, regularly visited Bush in Houston when Laborde went there to hustle for business.
In 1994, when Laborde retired, he got a handwritten note from George and Barbara Bush that he framed.
"He's a typical blue blood who didn't exercise his full prerogative," Laborde said. "He never lorded over anybody."
'Never two-faced'
Bush was elected to Congress and spent four years there, from 1967 to 1971.
After being elected vice president in 1980, he frequently returned to Capitol Hill to play paddleball in the House gym with former colleagues. One of those friends, Rep. G.V. "Sonny" Montgomery, a Democrat from Mississippi, began inviting a young congressman from Bossier Parish, Buddy Roemer, to join the matches.
Roemer was also a Democrat, but he headed a group of rural lawmakers known as the Boll Weevils who frequently crossed party lines to support President Ronald Reagan. That, recalled Roemer, was one reason he got a regular invitation to play. Another was that he was good enough to keep the games competitive for Bush. That mattered, too.
"It wasn't an idle game," said Roemer. "It was a game for winning or losing."
Afterward, they would talk shop, with Bush frequently asking Roemer about Louisiana politics and about the state's flamboyant governor, Edwin Edwards. Bush and Edwards had served together in the House.
In 1991, when then-Gov. Roemer decided to switch to the Republican Party, one of his first calls went to then-President Bush.
"He was ecstatic," Roemer remembered. "He was pleased the Republican Party had gotten a guy like me."
Roemer, however, lost his re-election campaign that year as Edwards was returned again to the Governor's Mansion. Roemer, afterward, received a consolation note from Bush.
Henson Moore, who had been a Republican House member from Baton Rouge, spent the first three years of the Bush administration as the deputy secretary of energy. He usually sat in for the secretary during cabinet meetings led by Bush.
"He ran it like a CEO, with department heads reporting to him," said Moore, who is now retired in Baton Rouge. "He called everybody to order in a congenial way and then he listened. The meetings were very collaborative. He knew the issues. He was a very studied person. You really wanted to be prepared because you knew the president would be prepared."
In 1992, Moore became Bush's deputy chief of staff, which meant he worked directly with the president.
"I got to see him very up close," Moore said. "What the public saw is what he was in private. He was never two-faced. He was a very noble, well-meaning individual who had a high regard for everyone."
Friends across the aisle
"Everyone" also included Louisiana's two Democratic senators at the time, John Breaux and J. Bennett Johnston.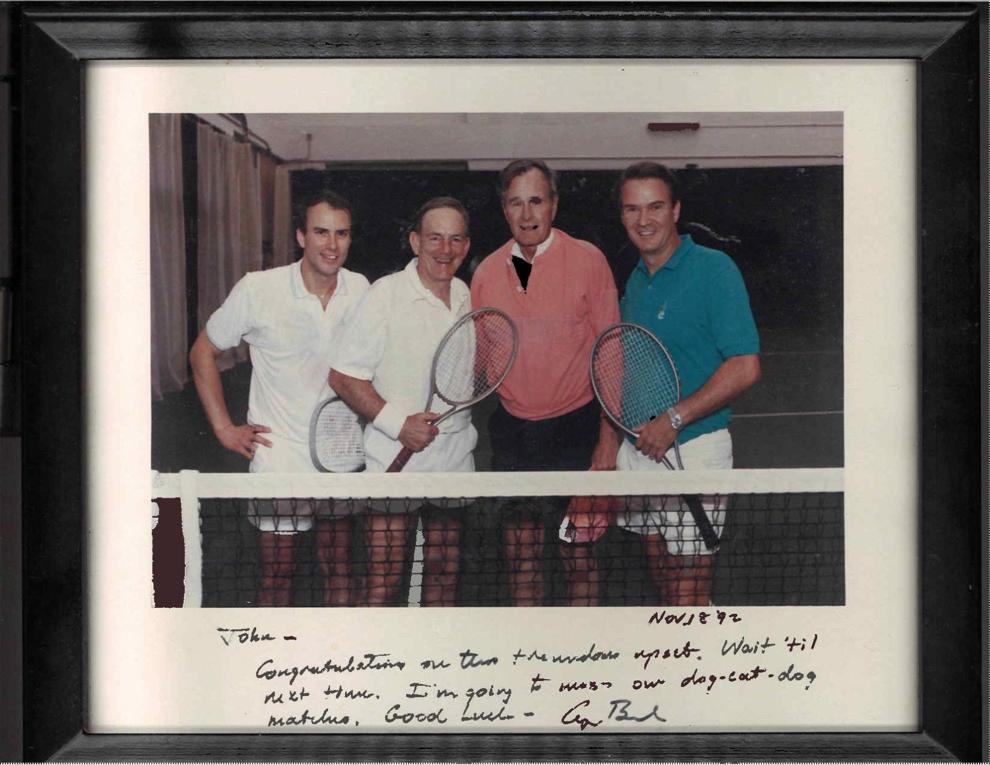 As with Roemer, he connected with them through sports, in this case tennis. Bush and a partner frequently played doubles with the Louisiana senators, at the vice president's home and at the White House.
Breaux and Johnston said they never went easy on Bush. "He would have never allowed you to let up," Breaux said.
Johnston and his wife Mary were invited three times to spend Memorial Day with several other couples at the Bush family's compound at Kennebunkport, Maine, while Bush was vice president.
One day, they decided that the losers of the tennis match had to jump into the chilly swimming pool. Johnston and his doubles partner lost.
"They had all kinds of games at Kennebunkport," Johnston said, adding that the activities continued into the evening. "One of his friends from Houston was a piano player. We'd gather around the piano and sing. It was a lot of fun."
The Bushes were so fond of Johnston that Barbara once told someone close to then-Rep. Bob Livingston, a Republican from Metairie, that she hoped Livingston wouldn't challenge Johnston for his Senate seat.
"She didn't want any Republican running against him," said Livingston, who in fact preferred the House.
After Bush was elected president, the tennis games continued at the White House.
"I told him once, 'This is like Olympic Village,' " Breaux said. "You have a swimming pool, a tennis court, horseshoes, a basketball court, the jogging track, a putting green."
"Ain't it great?" Bush replied.
Loved to govern
To be sure, politics played a role in the friendships, since they contributed to Johnston and Breaux supporting President Bush's agenda.
"Bush got a lot done with a Democratic Congress," said Boysie Bollinger, a major Republican donor and businessman who became friends with Bush. "It's much easier to negotiate with those kinds of folks when you know them. I wish we had more of that today."
On the last night of the 1992 campaign, with polls showing that Arkansas Gov. Bill Clinton was likely to defeat him, in part because Bush had broken his no-new-taxes pledge from 1988, the president made a campaign appearance at Baton Rouge Metropolitan Airport. Among those who greeted him was James Davison.
" 'Things don't look good,' " Davison recalled Bush telling him. " 'We need to get behind Bill Clinton. Let's help Bill Clinton be the best president he can be.' You don't find Democrats saying that to Republicans today or Republicans saying that to Democrats. He's a real patriot."
Ten days after the defeat, Bush went to Capitol Hill to play doubles with Breaux and Johnston on the Senate tennis court, even though the two senators had stuck with their party and supported Clinton.
"John, congratulations on the tremendous upset," Bush wrote on a photo that he sent to Breaux afterward. "Wait until next time. I'm going to miss our dog, catch, dog matches. Good luck, George Bush."
Said Breaux: "Friendship was more important than partisanship."
Bollinger was visiting Kennebunkport once when the former president learned that the Louisiana businessman was in the habit of emailing three jokes to friends every day. Bush insisted that Bollinger add him to the list.
At one point, several years ago, an aide to Bush suggested that Bollinger discontinue the practice since the former president was getting up in years. Bollinger emailed Bush to let him know.
"Don't you dare," Bush told him and added, "You can send the dirty ones, too."
One of Bush's top aides was Mary Matalin. He told her a few years back that he didn't mind her bringing her husband, James Carville, with her on one trip to Kennebunkport, even though Carville was a rabid Democrat who had been a key adviser during Clinton's 1992 campaign.
"Oh, my heavens, what are you doing here?" Barbara Bush said archly when she saw Carville, but the former president greeted him warmly.
"He compartmentalized politics, almost to an extreme," Carville remembered. "He'd say, 'Oh, that's just campaign stuff.' He clearly loved to govern. How much he liked campaigning, I don't know. He had a campaign mode and a non-campaign mode.
"I don't know of anybody who personally dislikes him," Carville added. "Retrospectively, his presidency looks better in history."