GONZALES — Several Ascension residents and business people are questioning a new restriction expected to come with pending changes to federal flood insurance rate maps for the southern part of the parish.
Known as the "floodway," the new designation, widely used in other areas but new to Ascension, will apply generally to the land near waterways in the area with new maps and is expected to greatly limit the ability of landowners to build on their land.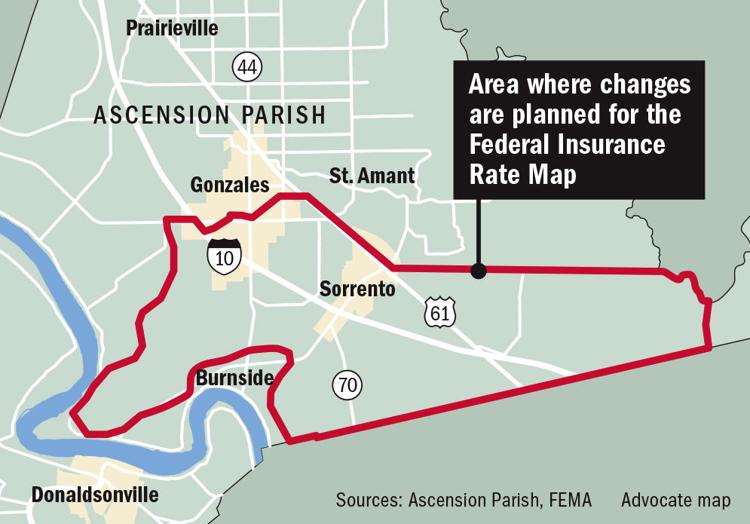 Residents, at least one with his lawyer, peppered a parish consulting engineer during a Thursday night meeting in Gonzales to explain the map changes about how the floodways were determined, what data were used, and whether the implementation could be delayed for appeals.
Others aired complaints about insufficient notice about the changes and about the cost of making appeals, which have since turned out not even to be an option because a key deadline already passed more than a week ago.
In addition to adding the floodways, the map changes, which take effect May 15, are expected to lower insurance rates for more than 1,200 property owners in southern Ascension but put another 340 property owners in more-expensive, higher-risk categories.
The Federal Emergency Management Agency is making the changes after a parish-funded study analyzed flood risk in Sorrento and areas south of Gonzales in the Boyle Bayou, Bayou Conway and the Panama Canal watersheds. FEMA issued its determination for the changes Nov. 26, the agency said Friday.
At Thursday's meeting, Charles Deville, operations manager of Chem Spray South Inc., told parish officials the new maps put his business off La. 44 in Gonzales inside the new floodway and also 27 acres of nearby raw land his company bought in 2014 for a planned expansion.  
He asserted the company's property, which is near Boyle Bayou, hasn't flooded at least since 1971 but the new designation will require him to prove to FEMA that any new construction or additions will not cause water levels to rise for other properties in the watershed.
"I mean, if we didn't impact anything for all the times, all the hurricanes, Katrina, 2016, why is the onus on us to do that?" asked Deville, whose 15-employee company with a half-million dollar payroll is a regular parish government contractor.     
Parish officials didn't have an answer for that question, though Melissa Kennedy, the consulting engineer with HNTB who led the map effort, had said earlier that residents can seek what is known as a "no-rise certification" from FEMA to build in the floodway. 
According to FEMA, landowners seeking that certification must provide their own analysis, supported with "technical data and signed by a registered professional engineer," to show their planned construction in the floodway won't raise water heights upstream during a 100-year flood. 
As opposed to flood zones, which cover broad swaths of land, the floodway is the main channel of a waterway and its adjacent lands affected by the waterway's flow in a 100-year flood.  
A 100-year flood, despite the name, is not limited to one flood every 100 years but is a flood that has a 1 percent chance of happening in any given year. It is the National Flood Insurance Program's benchmark around which risk and insurance requirements are built.
Others on Thursday objected to the speed with which the changes are coming and that they had only recently received notice from the parish by mail about them. 
Missy Jackson, 53, who lives in the Hodgeson Road area, jumped on this point after Kennedy said her firm, HNTB, had been working with the parish for "many, many, many months" on the map changes.
"And how long have y'all given us to do the model to prove you … inaccurate?" Jackson asked.
"Not long," a man jumped in.
"Five minutes," Jackson rejoined. "And that's not something we do on a regular basis and … we're going to have pay for it all ourselves?"
It turns out Jackson didn't even have five minutes because the chance for an appeal had already passed, a point not disclosed Thursday night.
In a statement Friday, FEMA officials said the deadline for the 90-day period ended March 6, after required legal notices were made in local newspapers. FEMA added that it can't delay implementation of the floodways now that the appeal period has ended.
While there was some suggestion from speakers Thursday that the parish may have been required to implement the floodways, FEMA officials in Dallas on Friday would not definitively say that was the case. 
Instead they pointed out in a statement that the floodway data were included in the parish submission to revise the flood maps and that "all affected communities signed off" on using that data to update the maps.
"After reviewing the data, FEMA determined that the data should be used to update the maps," the statement adds. "The floodway will provide the communities with an important tool to prevent flooding from getting worse."
Parish Councilman Bill Dawson, who pushed for the flood map analysis as a way to lower insurance rates and who represents the affected area, told the group Thursday that parish officials weren't prepared for the number of questions about the floodway and promised another meeting in about a week.