Purple and gold flecked the customary funeral black at the Saturday services for LSU basketball player Wayde Sims, who was fatally shot on Sept. 28 after stepping in to a fight to defend his friend.
Family and friends wore purple stickers with Sims's jersey number 44 adorned with angel wings. His golden LSU jersey was framed and placed next to his casket at the front of Healing Place Church, where more than 700 people gathered to pray and mourn.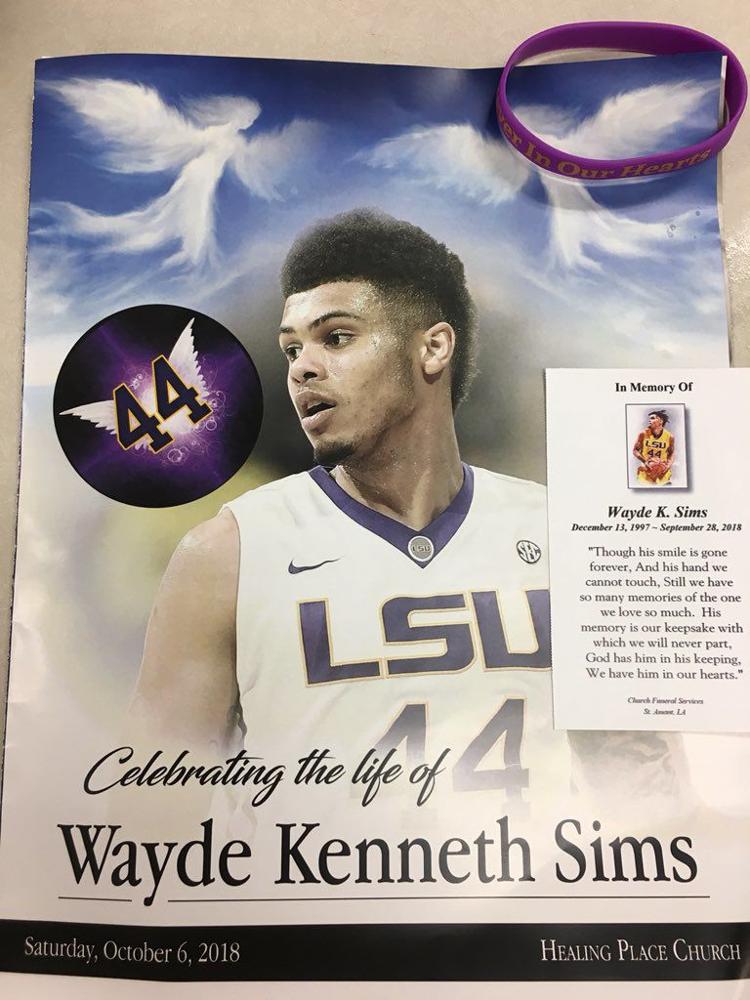 Sims had been following in the footsteps of his father, Wayne Sims, by playing basketball at LSU and wearing number 44. As coaches and childhood teachers spoke about Wayde Sims on Saturday, they focused not just on his athletic accomplishments, but also his magnetic personality and the family that backed him, without fail, at every game.
"He wanted to wear number 44 because he was passionate about his dad," Sims's cousin and former LSU coach Johnny Jones said. "You talk about that — LSU, it being on the front of your jersey, you want to make sure you represent it well. ... Well that name on the back meant something to him. That 44 that he put on every night, it meant something to him. It gave him that extra drive."
The 20-year-old was just hours away from the first official practice of his junior season when he was fatally shot by 20-year-old Dyteon Simpson, investigators have said. Simpson was arrested the next day and confessed to the shooting, Baton Rouge police said.
Before Sims wore number 44 at LSU, he wore it at University High, where Coach Joe Spencer recognized him as a leader from the start. The team had made the playoffs, but they had to face a team that beat them by 27 points earlier in the season. Sims kept reminding his teammates of that number, pumping them up for the big game.
"He was really being vocal and I thought, 'Okay we've got something here,'" Spencer recalled. "His leadership was really shining through as a freshman."
Several recognizable figures spoke at a candlelight vigil Tuesday night for Wayde Sims.
The team lost the game by a few points, but Spencer recalled they never again lost a playoff game while Sims was on the team. He said he never had to worry about his players being too uptight before a big game when Sims was in the room to set the mood.
In addition to the coaches' stories, Sims's childhood Bible study teacher, Marva Hasting, and his seventh grade English teacher, Barbara Benton, also shared stories about Sims from when he was young.
Hasting, carrying a basketball on to the stage, remembered Sims walking in to her Bible study for the first time. She was convinced that Sims, standing more than six feet tall, was mistaken because she taught the 11 and 12 years old. But 12-year-old Sims was in the right place.
Over the years, she kept in touch with him, watching him play basketball and texting him before and after his games with a reminder to pray.
Can't see video below? Click here.
"Life without you will never be the same again," Hasting said. "It has left a hole that will never be filled. Here on Earth you never had wings, but you could fly through the air and dunk that basketball. ... Now you have your wings and lay that basketball down before Jesus's feet."
Benton painted a picture of Sims as a seventh grader, consistently doing his English homework and participating often in class. When his classmates used the wrong set of supplies, Sims gently and jokingly instructed them on what they should be doing instead.
When LSU basketball coach Will Wade followed Benton, it was clear that Sims's character had not changed much in the several years between studying English and playing basketball for the Tigers.
"Not one time in a year and a half has he missed a practice, not one time," Wade said. "Not one time did he miss a workout. ... He was going to show up and he was going to give you a great day's effort."
Now when the LSU basketball team does weight workouts, they will end with an exercise in 44 repetitions, in memory of Sims, who would "never cheat a rep," Wade said. Over the summer, the LSU basketball team had tough workouts on Friday mornings called "road games," Wade explained.
"His team won every road game this summer," Wade said. "We had guys on our team begging to be on his team because they knew he was going to lead his team and his team was going to win."
Sims was repeatedly described by his coaches and teachers as a "unifier," someone who brought others together. He didn't just do that for his teammates over the years, Jones said, he did that for the entire city of Baton Rouge, which he loved enough to have its area code, 225, tattooed on his bicep.
"He was passionate about his city," Jones said. "His city meant something to him. He united this city a week ago because it gave us all an opportunity to think again, what is it that we can do? What type of impact can we make to make Baton Rouge a better city? That's what he allowed us to do in bringing us here today and bringing us together."