The five children killed in a fiery Florida highway crash on their way to Walt Disney World have been identified along with the two truck drivers who also died.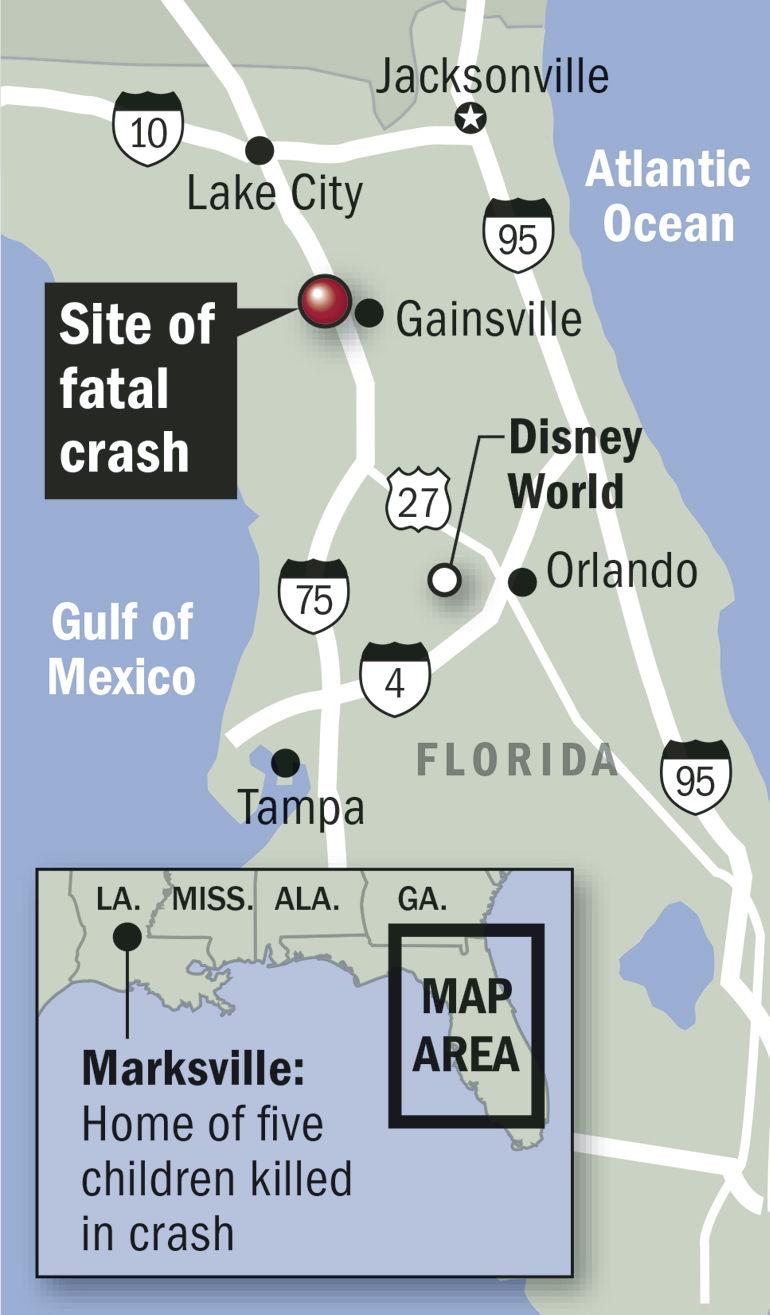 The Florida Highway Patrol said Friday that the children were 14-year-olds Joel Cloud and Jeremiah Warren, 13-year-old Cara Descant, 10-year-old Briena Descant, and 9-year-old Cierra Bordelan. All were from Marksville, Louisiana, and were in a Pentecostal church van headed to the theme park when the accident happened Thursday afternoon outside Gainesville.
One of the children killed was the granddaughter of Eric Descant, a pastor at Marksville's Pentecostal church. Descant was not present, though his wife, Karen, suffered broken ribs, a broken collarbone, multiple bruises, according to reports. 
The truck drivers were 49-year-old Douglas Bolkema of Albuquerque, New Mexico, and 59-year-old Steve Holland of West Palm Beach.
Court records show Holland was ticketed between 2000 and 2014 in Florida, Pennsylvania, Ohio, Indiana and Virginia for violations including speeding, driving an unsafe vehicle, driving an overloaded vehicle and not carrying proof of insurance.
The highway patrol said Friday that Holland was traveling north on Interstate 75 near Gainesville on Thursday when he veered into another car, lost control and went through the center divider, striking a southbound church van from Louisiana and another truck. Five children from ages 9 to 14 in the van died.
Disney World spokeswoman Jacquee Wahler said Friday that "there are no words to convey the sorrow we feel for those involved."
FORT LAUDERDALE, Fla. (AP) — The church van packed with children was headed south — with just an hour to go to Walt Disney World — when it got…
---
Can't see video below? Click here.
---
One woman injured in the wreck was pregnant, but the baby is expected to be OK. A message was posted on the Facebook page of the Louisiana district office of the United Pentecostal Church International and signed by Kevin Cox, the church's Louisiana district superintendent.
"Please pray for the healing of those physical injuries. And, perhaps even more so, pray for the church and families that have been so massively affected by this tragedy," read a message from Cox.
An unnamed volunteer at the Avoyelles House of Mercy church in Marksville said the congregation lost "half of our babies" in the crash. The volunteer was quoted on the Facebook page of U.S. Sen. Bill Cassidy.