Historically, Louisiana's vaccination rates for children entering school has been a point of pride for a state often at the bottom of health rankings, coming in at or above the U.S. average of 94%.
But many parishes have slipped over the last few years, and some schools now have dangerously low vaccination rates, state data show. As diseases such as polio start appearing in places like New York, health experts worry that low rates will allow long-dormant diseases to spread.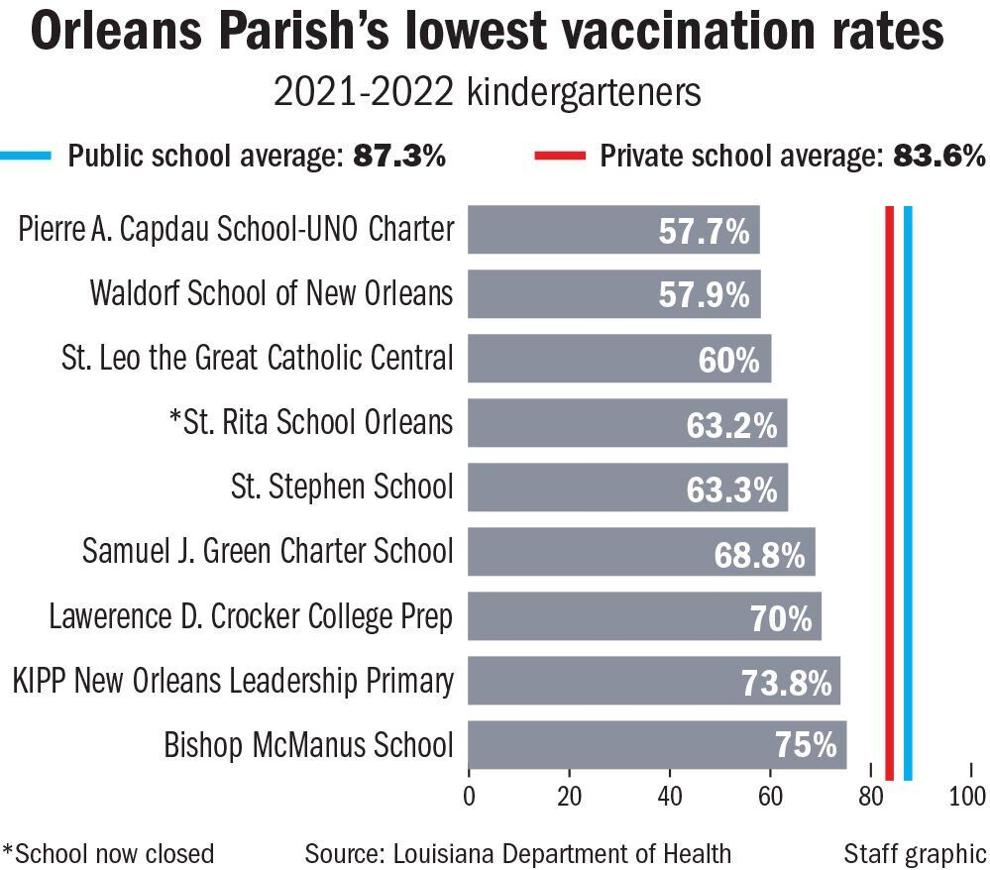 Low vaccination rates on some campuses could be due to parents avoiding doctors' offices during the height of the pandemic. But doctors also worry that anti-vaccine misinformation campaigns that took hold during the pandemic are having lasting effects.
"I can't help but believe one of the collateral effects of COVID is going to be hesitancy where other vaccines are concerned," said Dr. Mark Kline, physician in chief at Children's Hospital New Orleans.
Private schools report lower rates
According to Louisiana law, all children entering Louisiana schools must have standard vaccinations such as measles, mumps and rubella; hepatitis B; polio; diphtheria, tetanus and acellular pertussis; and varicella, or chickenpox. Parents can opt out for medical reasons or if they provide written dissent.
Rates of compliance for required vaccinations vary by school type, with Louisiana private schools having significantly lower rates than public schools.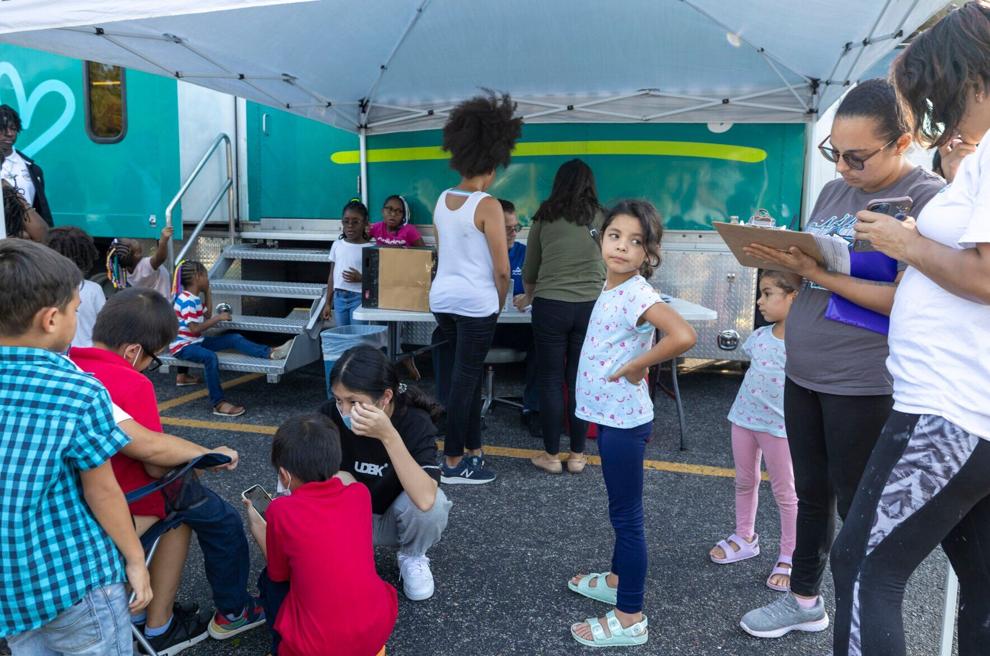 In Orleans Parish, public schools had an average of 87% coverage in the 2021-2022 school year. In Jefferson Parish, the school average was 92%. And in St. Tammany, the average was 91%.
Private schools in all three parishes were lower than their public school counterparts, averaging 84% in Orleans, 89% in Jefferson and 74% in St. Tammany.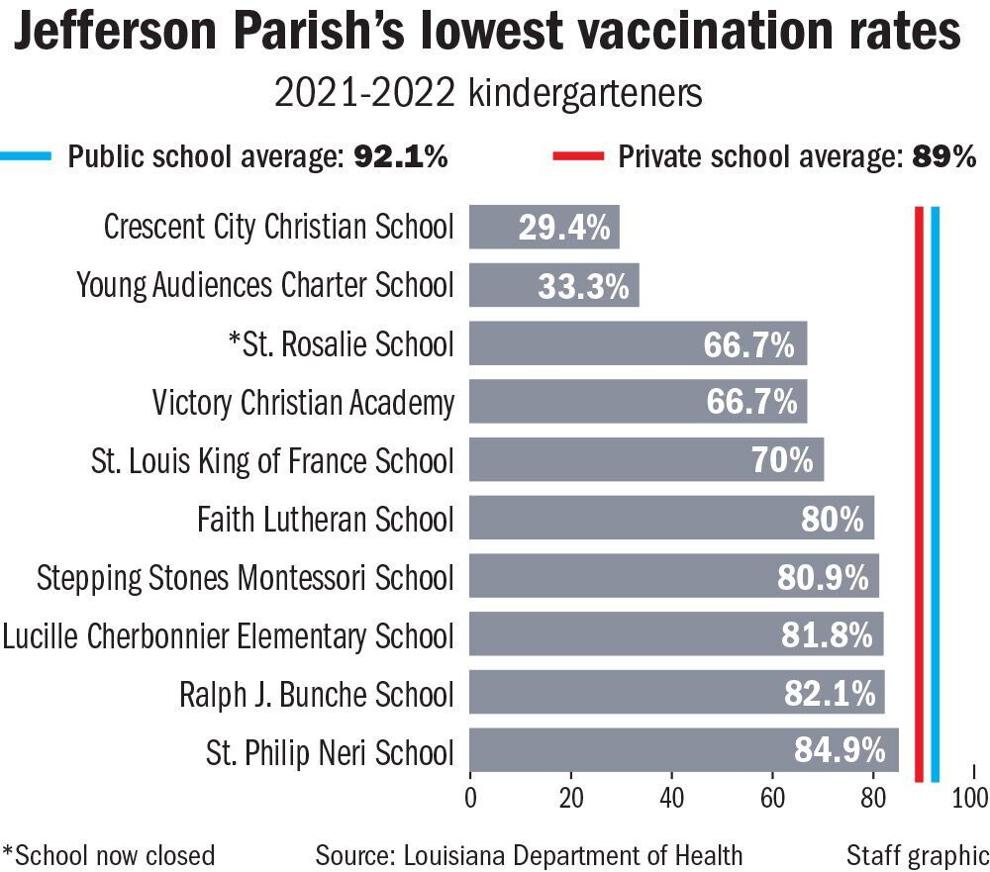 Both public and private averages mostly dropped in those parishes in 2021-2022 compared to the previous year. Among the highest decreases in vaccine compliance was in Orleans Parish private schools, which dropped 7 percentage points, and St. Tammany Parish private schools, which dropped 15 percentage points. 
Enforcement falls to schools
Pediatricians and schools enter the vaccination records into the Louisiana Immunization Network, or LINKS. Every year, the state generates a report for each parish and school within those parishes. Although vaccines are required in both public and private schools, enforcement is largely up to the school.
Standing outside the Children's Hospital vaccination bus in a Rouse's parking lot this week, several parents said they were getting their kids up to date because it was a requirement.
"In order to start, you have to have vaccines," said Rajonae Monroe, a 29-year-old mom of two who will be enrolled in one of the Einstein Charter Schools in New Orleans. Monroe just moved here from Las Vegas and was told she needed to get her 7- and 5-year-old immunized before they could start school.
Other schools don't seem to have the same strict policies.
The Times-Picayune | New Orleans Advocate contacted over 30 schools with lower-than-average vaccination rates. Few responded with corrections or explanations of their vaccination policies.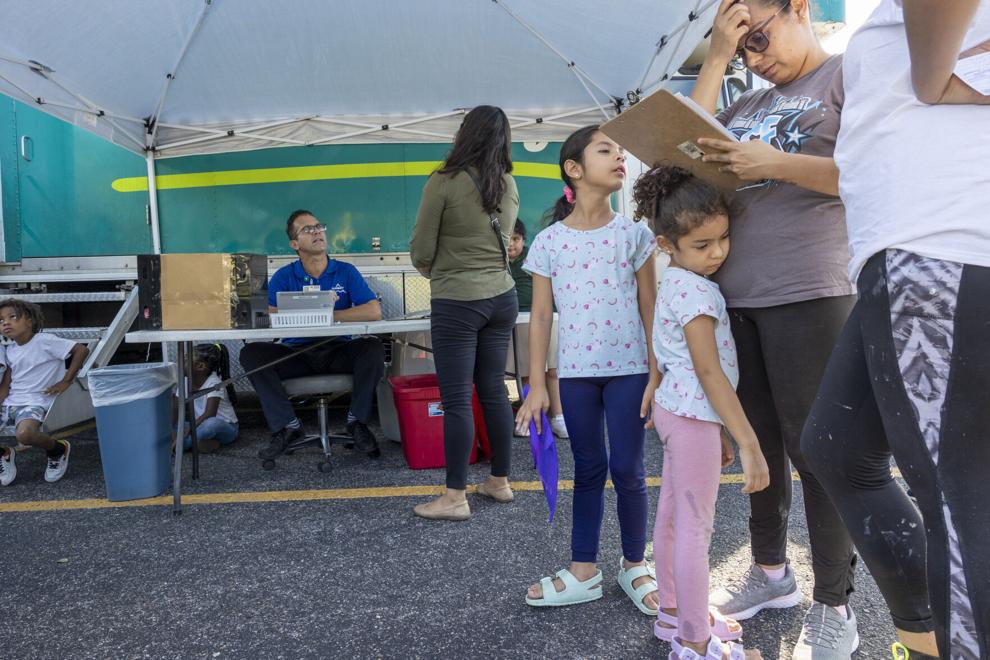 The two lowest rates in Jefferson Parish, Young Audiences Charter School at Kate Middleton in Gretna and Crescent City Christian School in Metairie, reported that just 33% and 29% of kindergarteners were vaccinated last year.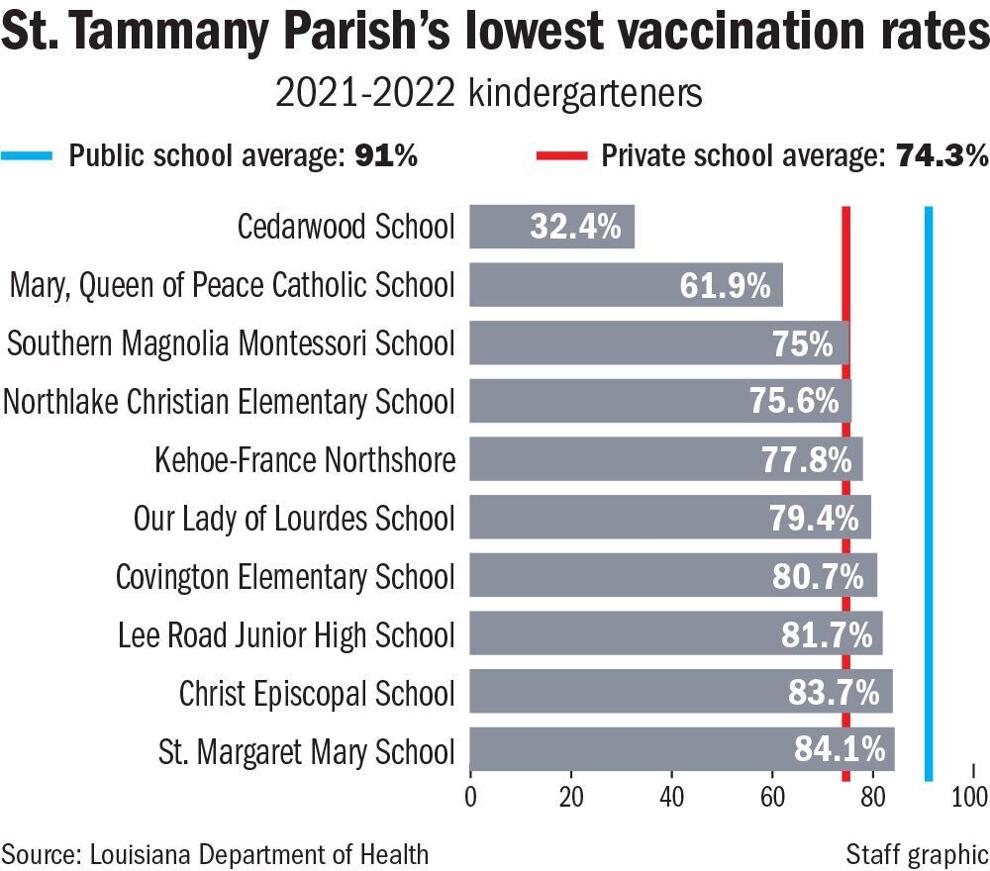 Pierre A. Capdau School, an InspireNOLA school located in Gentilly, reported about 57% vaccination rate among incoming students, the lowest in Orleans Parish excluding schools who responded with corrected rates. The Waldorf School of New Orleans reported similar rates. 
In St. Tammany, Cedarwood School, a private school on the Northshore, was the lowest, with a recorded a 32% completion rate among kindergarteners last year.
Low rates can lead to reemergence of diseases
Such low rates put entire schools in jeopardy of an outbreak. 
"Those are ticking time bombs," said Kline, who specializes in pediatric infectious disease. "A single case of measles introduced into one of those schools would just run rampant."
Even schools with higher rates could experience outbreaks. Measles is so infectious that a 95% coverage rate is necessary to reach herd immunity, as demonstrated by outbreaks in New York, California, Minnesota, Washington and Arizona in recent years. Polio, which was recently diagnosed in a person in the U.S. for the first time in nearly a decade and has been detected in wastewater in New York, requires about 80% to 85% of the population to be vaccinated in order to stop disease transmission.
The reemergence of these diseases is frustrating for researchers. 
"We were agonizingly close to (eliminating) polio," said Charles Stoecker, a health care economist at Tulane University who studies vaccine policy efficiency.  Until recently, polio cases were limited to just a couple of countries. "Now we've taken steps backward."
Stoecker said outbreaks of other infectious diseases have followed targeted campaigns of the anti-vaccination movement, often in private or religious schools. That's what happened in the early 2000s with pertussis.
"We started seeing pockets of outbreaks of pertussis, or whooping cough," Stoecker said. "Those outbreaks were largely in private schools."
The role of COVID
Part of the reason for the drop at some schools may be due to the lapse in care COVID created.
"This isn't just vaccines; all preventative care kind of took a hit," said Stoecker. "Kids just weren't going in."
In a study of Louisiana children with Medicaid insurance published in the journal Vaccine in 2021, Stoecker and a team of researchers found a 28% reduction in the uptake of the measles, mumps, and rubella vaccine, a 35% reduction in the human papillomavirus vaccine and a 30% reduction in the tetanus, diphtheria, pertussis vaccinations in 2020 compared to previous years. That lapse has rebounded but has not completely made up the gap.
"The pandemic is going to have lingering effects on other diseases as well," said Stoecker.
Some schools on the state's list, available online, provided corrections to the state's data. Those schools said faculty transitions and other factors led to the numbers not being updated.
At. St. George's Episcopal School in New Orleans, for example, a recorded 44% vaccination rate was due to the transition of a school nurse last year, according to a representative. The school actually has a 96% vaccination rate for last year's kindergarten class.
St. Paul's Episcopal School in New Orleans was listed as 52% on the state's list, but the school nurse said not every child was entered last year because Hurricane Ida closed the school. The actual vaccination rate for last year's kindergarteners was 85%.
Other lower-than-average vaccination rates may be influenced by class size. For example, Stepping Stones Montessori School in Metairie has a vaccination rate of 81%. But the school only has 12 to 15 kindergarten students each year, said Joan Navarro, school principal.
"If we see a student has a 'now due' or 'past due' for any immunizations we send out a notification to the parent giving them a date to have the immunizations brought up to date," said Navarro in an email. She noted some parents do provide letters of dissent.
For doctors and researchers who see vaccines as one of the greatest accomplishments of modern medicine, it's difficult to contemplate needing to divert medical resources to diseases that have long been preventable.
"You've got those tombstones of the settlers where there's an infectious disease and a whole family dies, and those days are gone," said Stoecker. "But now here we are back."