Following the recent release of bodycam footage showing Ronald Greene taking his last breaths after being brutalized by Louisiana state troopers, activists and attorneys on Thursday amplified calls for criminal charges against the officers.
A full day of meetings and media briefings ended Thursday evening with about 200 people marching from the Louisiana State Capitol steps to the governor's mansion.
Members of the Greene family linked arms and led the protesters through downtown Baton Rouge.
The group included relatives and friends of several other victims of police brutality, from across Louisiana and other states, all expressing deep frustration over what they consider a pervasive lack of accountability.
They called for the immediate arrests and prosecutions of the troopers involved, along with a review of State Police actions.
"Let's be clear," Greene family lawyer Ron Haley said. "If you inflict great bodily harm or have the specific intent to kill, that is murder."
After the main rally thinned out toward the evening, a breakaway procession of protesters briefly halted traffic by blocking the I-110 offramp at North Ninth Street. 
The May 2019 incident that left Greene dead is part of an ongoing federal civil rights investigation.
State Police said the question of criminal charges falls to a federal grand jury, but attorneys for the family are also demanding charges at the state level, which falls under the purview of Union Parish prosecutors. 
Officials have yet to provide a timeline for when those determinations might happen.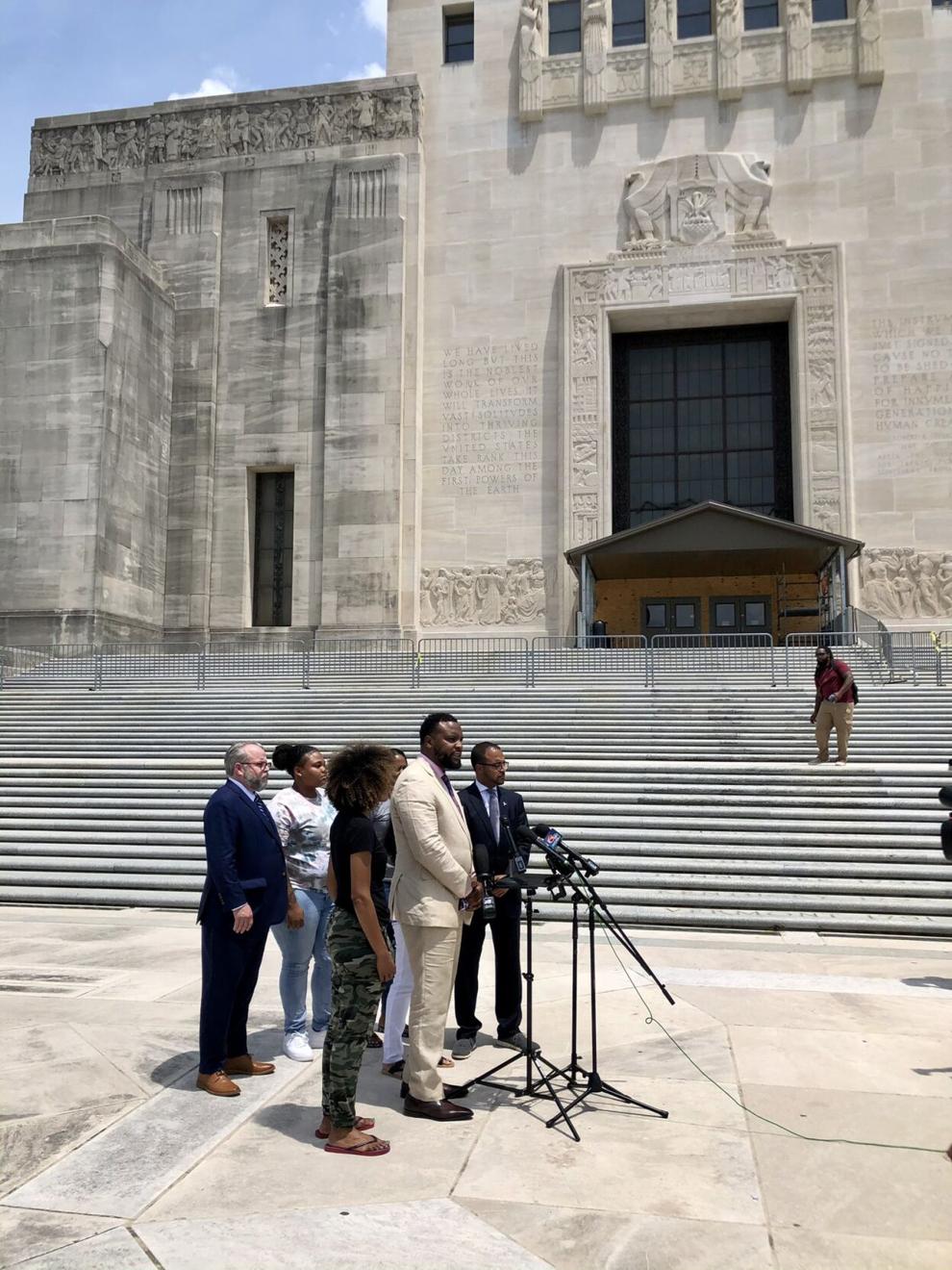 "Mr. Greene was killed by these state troopers," national Urban League President Marc Morial said. "After seeing that video, no reasonable person could come to any other conclusion other than a crime has been committed, by Louisiana state troopers."
Morial, the former mayor of New Orleans, participated in a media call Thursday morning with attorneys and advocates before staging the press conference outside the Capitol.
"We are not interested in another apology, handholding or a kumbaya moment," attorney Lee Merritt said then. "We want justice for the family of Ronald Greene."
The family and their attorneys met with Gov. John Bel Edwards at 1 p.m., before the late afternoon protest. Their demands remained consistent throughout the day: criminal charges for the troopers involved. 
So far, one of the troopers — Chris Hollingsworth, who was caught on tape saying he "beat the ever-living f---" out of Greene — died in a car crash last year hours after learning he would be fired for his actions. Another trooper, Dakota DeMoss, faces termination, and a third, Kory York, received a 50-hour unpaid suspension earlier this year for kicking and dragging a handcuffed Greene. 
The highest-ranking trooper on the scene, Lt. John Clary, misled internal investigators about what happened, saying a shackled Greene was still a flight risk and denying the existence of his own bodycam footage, the Associated Press reported earlier this week. State Police said an internal inquiry is still trying to figure out "why those videos were not identified during the original criminal investigation."
Officials initially told the family Greene died from injuries sustained in a car crash following the long police chase that ended on a dark Union Parish road, according to their attorneys. But slowly more horrific details about the encounter started emerging.
Months after the family sued State Police last year, the agency arrested four Monroe-based troopers accused of using excessive force in two unrelated incidents, also involving Black suspects, during traffic stops in 2019 and 2020. The additional incidents have raised significant questions about cultural problems at Troop F, which patrols a dozen parishes in northeast Louisiana. 
As Ronald Greene lay gashed and spitting up blood on a dark Union Parish road, he took his last breaths surrounded by a group of Louisiana sta…
The Greene family and their supporters want to know why those cases have resulted in criminal charges while the Greene investigation has not.
State Police released all known video evidence from the encounter last Friday, only after most of the footage had already been leaked to the Associated Press. 
"We're over two years," Greene's mother Mona Hardin said. "I don't know how I can say it any louder. It doesn't even seem rational to even speak any more of this because of what we know, what we have on hand. … We need someone to be arrested. We need them to be indicted."
Speaking on the Capitol steps, Hardin said she wants to see the governor show he has a heart. 
Edwards, for his part, released a statement after meeting Thursday afternoon with the Greene family, calling the actions of troopers in this incident "deeply unprofessional and incredibly disturbing." 
"The officers seen on the bodycam footage of Mr. Greene's arrest do not represent what we aspire to in the state of Louisiana," he said. "I am disappointed in them and in any officer who stood by and did not intervene during the arrest.
"Law enforcement officers must hold themselves to the highest standards at all times. I certainly do."
Edwards also said he promised the grieving mother that "Louisiana State Police is cooperating fully with the Union Parish District Attorney and the U.S. Department of Justice in their investigations and that under the leadership of a new state police superintendent, change has already started at the agency."
Hardin was not convinced.
Haley, one of her attorneys, said the meeting was just "more of the same," more talk and no substantive action. 
Merritt said he met with John Belton, the Union Parish district attorney. The prosecutor said his office had only recently received the complete investigative file from State Police, and was going over the evidence with the intent of presenting it to a state grand jury, Merritt said.
Given that extreme delay and lack of action thus far, Merritt accused Louisiana leaders of having no taste for justice, saying they seem more committed to upholding a power structure designed to keep Black communities oppressed.
Beyond pushing for arrests from both federal and state investigations, advocates argued for a broader federal review of State Police.
Merritt suggested the kind of "pattern or practice" investigations into local and state police agencies that Attorney General Jeff Sessions shelved in the early days of the Trump presidency, but which President Joe Biden's administration has restarted.
Eugene Collins, NAACP Baton Rouge branch president, said the limited discipline that State Police have handed down over the incident showed an agency that hasn't proven "the ability to do the right thing by themselves yet."
"Receiving 50 hours of discipline for dragging a man is just wild," he said, "(and) to think somebody thought that was good enough."
Some calls from advocates targeted Louisiana Attorney General Jeff Landry, arguing he should step in and enforce state laws. But Landry issued a statement Thursday saying that would violate the rules, unless the Union Parish district attorney recuses himself. 
Staff writer John Simerman also contributed to this report.