In a bid to reduce the number and severity of traffic accidents, state highway crews plan to set up blinking yellow left-turn arrows at more than 150 intersections across East Baton Rouge.
Once those are up, the city-parish intends to put up even more under the voter-approved MovEBR transportation program.
The city-parish, citing Federal Highway Administration data, said this week that converting left-turn-on-green signals to flashing yellow lights can reduce left-turn crashes by 35 percent.
In the Baton Rouge area, the Louisiana Department of Transportation and Development installed flashing yellow left-turn lights in 2017 on Hooper Road at Mickens Road in East Baton Rouge Parish, and in Ascension Parish at the the intersection of Airline Highway and La. 621; details of their effectiveness weren't immediately available Friday.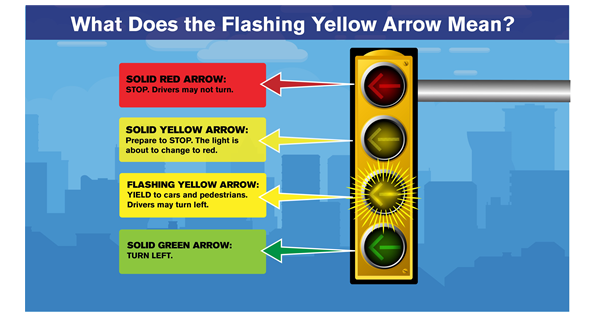 The blinking yellow lights signal that a driver can make a left-hand turn after yielding to any oncoming traffic or to pedestrians. The blinking signal will be added as a fourth to lights that currently have a solid green arrow (okay to turn), a solid yellow arrow (stop if you can do so safely) and a solid red arrow (stop, do not turn).
Currently, left turns are protected with a static green arrow and unprotected with a solid green light. Typically green means "go," but at left-turn lanes they don't. Changing to yellow is intended to convey that caution is necessary.
Traffic data from the Baton Rouge Police Department shows a 17% decline in the number of collisions between 2019 and 2020, leading to a dip in…
The state Department of Transportation and Development says the signals will become standard on roadways throughout Louisiana where a single turn lane is protected by a left-turn signal. 
A 2006 analysis in the Manual on Uniform Traffic Control Devices noted, "For many years, some engineers have had concerns that drivers turning left on a permissive circular green signal indication might inadvertently mistake that indication as implying the left turn has the right of way over opposing traffic." A seven-year study conducted before the report found there was a "high level of understanding" of what a flashing yellow arrow would mean.
East Baton Rouge voters in 2018 approved the MovEBR program aimed at improving traffic in all corners of the parish.
---
East Baton Rouge Parish provided this list of intersections that will have flashing yellow arrows for at least one direction:
Airline Highway (U.S. 61)
Antioch (new)
Barringer-Foreman
E. Industrial
Evangeline
Florline Blvd
Goodwood Blvd.
Greenwell Street
Hollywood Street
Home Depot
Highland Road
Merrydale Ave.
N. Foster
Pecue/Stumberg
Prescott
Tom Dr.
---
Bluebonnet Blvd. (La. 1248)
Highland
N. Oak Hills Pkwy
Park Rowe Ave.
---
Burbank Drive (La. 42)
Ben Hur
E. Boyd
Jennifer Jean
Staring Lane
W. Parker
---
Essen Lane (La. 3064)
Archives
Picardy
United Plaza (North)
United Plaza (South)
---
Florida St/Blvd. (US 61-190 Bus., US 190)
Acadian Thruway
Ardenwood
Bon Carre
Centerway/Broadmoor Ave.
Cloud
Cora
Donmoor
Flannery
La. 67 (N 22nd)
Little John
Marilyn
McGehee/Greenoaks
Peachtree
River Road
Sharp
Sherwood Forest Blvd.
Stevendale Road
---
Greenwell Springs Road (La. 37)
Central Thruway
Flannery
Frenchtown
La. 3034/La. 64 (Magnolia Bridge Road)
La. 946 (Joor Road)/Oak Villa
Lanier Dr.
Monterrey
Monticello
N. Sherwood Forest
Platt Dr.
Ridgemont
Wooddale
---
Harding-Hooper (La. 408)
F Street(Southern Campus)
Howell Blvd.
ATMC/RaceTrac
La. 946 (Joor Road)
La. 3034 (Sullivan Road)
Mickens Road & Cedar Glen Dr.
La. 423 (Foster)
La. 410 (Blackwater Road)
---
Highland Road (La. 42)
Perkins (Home Depot)
Perkins Road (Troop A)
---
Jefferson Highway (La. 73)
Antioch (new)
Baringer/Baringer-Foreman
EB I-12 On Ramp
Floynell
Hoo Shoo Too
La. 1068 (Drusilla)
La. 948 (Highland)/Round Oak
McCarroll Dr.
Old Bluebonnet
Stumberg
Tiger Bend
Wrenwood/Office Park
---
Joor Road (La. 946)
Greenwell Street
Lovett
Mickens
Prescott
---
La. 64
Home Depot
La. 964
Montegudo/McHugh
Newell Street
Super Walmart D'way
---
Nicholson Drive (La. 30)
Bluebonnet Blvd.
Gardere Lane, La. 327-S
Skip Bertman/South Stadium, La. 327
W. McKinley Street
W. Roosevelt Street
---
Old Hammond Highway (La. 426)
Flannery
Millerville
North Harrells Ferry Road
Tara Blvd.
---
Perkins Road (La. 427)
Balis
College/Lee
Congress Blvd.
Essen (La. 3064)/Staring
Kenilworth Pkwy.
One Perkins Place
Pecue Ln.
Pollard Pkwy
Quail Dr.
Valley Street
---
Plank Road, 22nd Street (La. 67)
Chippewa Street
Choctaw
Coca Cola Plant Driveway
Denham Street
Evangeline
Fuqua
Groom Rd./Petit Rd.
Hollywood Street
Kent Dr.
La. 64
Lavey Ln.
Mohican
Monarch/72nd Ave.
North Blvd.
North Street
Sumrall Dr.
Winbourne
---
River Road (US 61-190 Business)
Evangeline/Gulf States
Hollywood Casino
---
Scenic Highway
Blount Road
Choctaw Dr.
Harding Blvd., La. 408
Mills Ave.
Swan Avenue
---
Siegen Lane (La. 3246)
Cloverland
Highland-Burbank
Industriplex
North Oak Hills Parkway
Reiger
Reitz
---
Zachary-Scotlandville Highway (La. 19)
Baker Blvd.
Blount Road
Church Street
Groom Road
La. 3006 (Lavey Ln)/South Magnolia Dr.
La. 423 (Thomas Road)
Lower Zachary/New Weis Road
Truman Street/Ray Weiland Dr.
ELSEWHERE
Flashing yellow arrows will also go up on Acadian Thruway at the Outback restaurant, Sullivan Road at Wax, and Millerville at Spring Ridge.