The Red Stick has turned blue.
Political analysts and pollsters say Democrat Sharon Weston Broome's election as East Baton Rouge's next mayor cemented a trend many saw coming over the past few years. East Baton Rouge Parish now leans Democratic, a reversal for a parish that years ago was bright red, voting for Republicans long before the party began to dominate Louisiana state politics. 
Longtime political leader Sharon Weston Broome's nearly two years on the campaign trail paid…
The trend gave Broome, a former legislator, an advantage from the get-go in this year's mayor-president race, said Michael Beychok, who helped run her campaign. It is also built in a disadvantage for her Republican opponent, state Sen. Bodi White. 
"Numbers don't lie and results don't lie," Beychok said. "No Republican that's not an incumbent has really won parish wide in the last six years."
Jay Vicknair, who helped run White's campaign, said they knew from the outset that voter demographics were not in their favor. He said he does not have regrets about the campaign, but future Republican candidates need to be aware of a certain brand of independent voter who Democrats in East Baton Rouge have been able to successfully win over.
"It's a parish that will be tough for Republicans to really win from now on," Vicknair said.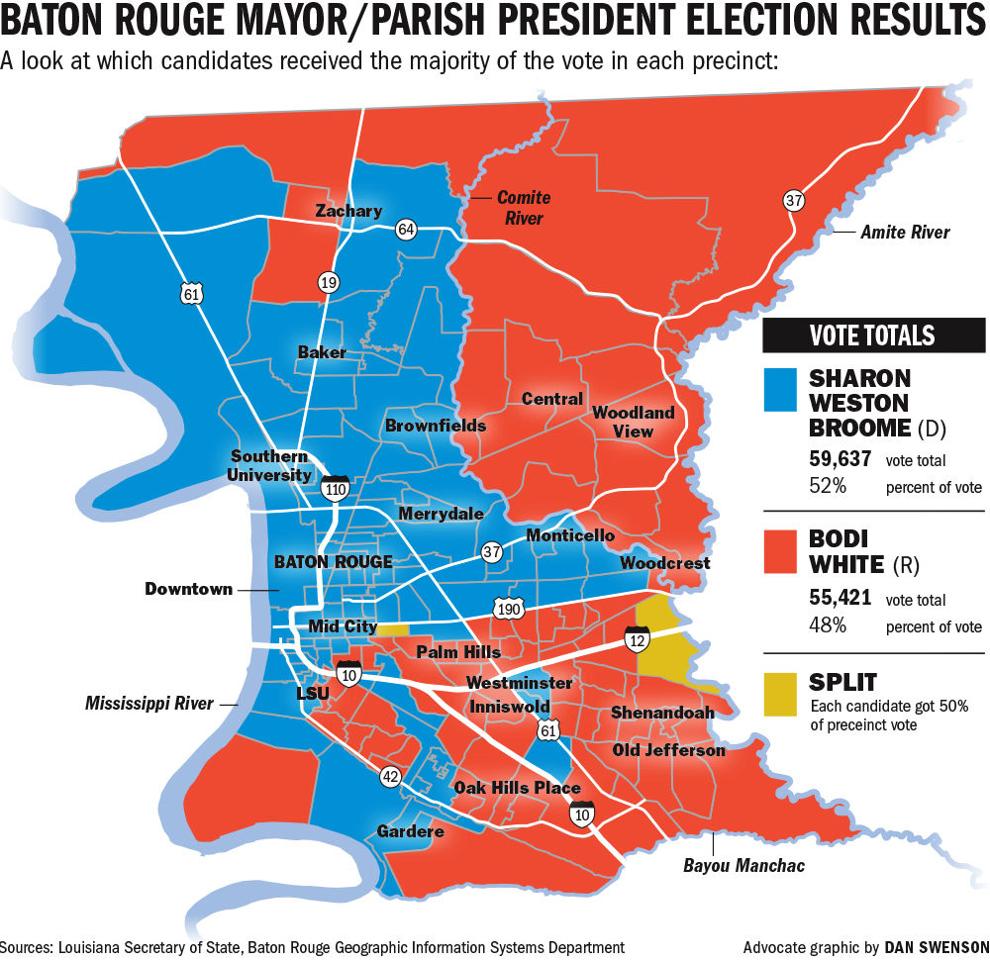 Republican Woody Jenkins recalled Tuesday when the parish used to be a "conservative bastion." East Baton Rouge voted for Republican U.S. Presidential candidates consistently from 1972 to 1992. Ronald Reagan and George H.W. Bush both won with higher margins of victory in East Baton Rouge Parish than they garnered statewide.
Then in 1992, East Baton Rouge favored George H.W. Bush with 49 percent of the vote compared to 41 percent of the vote for Bill Clinton. The rest of the state voted 46 percent for Clinton and 41 percent for the elder Bush.
Flash forward to George W. Bush's re-election campaign in 2004, which pollster John Couvillon calls the "inflection point."
East Baton Rouge Parish re-elected Bush with 54 percent of the vote, but Bush won statewide with 57 percent of the vote. On that same ballot, Mayor-President Kip Holden, a Democrat, won his first term in office in 2004, defeating Republican incumbent Bobby Simpson 54 to 46 percent.
Over Sharon Weston Broome's two decades in the state Legislature, she developed an interest …
"In the old days, East Baton Rouge Parish voted more Republican than the state did," said Couvillon, president of JMC Enterprises. "Once Kip Holden and Sid Gautreaux and Hillar Moore were elected parish wide as Democrats, that was kind of like the turning point."
Republican John Kennedy won a seat in the U.S. Senate in a lopsided victory Saturday, finall…
East Baton Rouge Parish then supported U.S. President Barack Obama in 2008 and 2012, and voted for Democratic nominee Hillary Clinton in 2016. In 2014, Republican U.S. Sen. Bill Cassidy only secured 47 percent of votes in East Baton Rouge against incumbent Mary Landrieu, despite Cassidy living in Baton Rouge. But Cassidy went on to make up for that deficit in the rest of the state, winning with 56 percent of voters across Louisiana.
And in 2015, Democratic Gov. John Bel Edwards won with 68 percent of votes in East Baton Rouge parish compared to 56 percent statewide. In Broome's election over the weekend, she defeated White 52 to 48 percent, with a difference 4,216 votes.
The closeness of the mayor's race shows, though, that East Baton Rouge's Democrats should not get too comfortable.
President-elect Donald Trump told nearly 5,000 cheering fans who gathered in Baton Rouge on …
"It's still competitive, obviously," said Southern University political scientist Albert Samuels about the makeup of East Baton Rouge Parish. "It's certainly not like Orleans in 'the good old days' pre-Katrina where the Democratic advantage was so overwhelming."
A look at the precinct-by-precinct vote breakdowns from Dec. 10 show where Broome found her path to victory. She was largely expected to draw support in north Baton Rouge, which she spent decades representing in the Louisiana Legislature.
Beychok said Broome's campaign knocked doors, canvassed, made calls and held rallies targeted toward her base of mostly black voters. But the other voters critical to Broome's success were white voters from outside her former legislative district who had voted for Landrieu and Clinton, he said.
Sharon Weston Broome said Monday in her first news conference as mayor-president-elect that …
Many of those fell into state Sen. Dan Claitor's district in south Baton Rouge, Beychok said. In addition to the door knocking and phone calling, Broome's campaign concentrated a lot of their digital advertising in that geographic area.
"We ended up outperforming Mary Landrieu against Bill Cassidy in those areas, which was pretty critical," Beychok said.
And even where Broome did not carry precincts, she racked up solid vote totals in Republican territory. Broome secured 28 percent of the vote in Old Goodwood, 32 percent of the vote in Bocage, 33 percent of the vote in Kenilworth, 35 percent in Southdowns and 50 percent in Capital Heights, Couvillon said.
The south Baton Rouge crossover voters are those who Couvillon likes to call the "Gissel belt," which he identified shortly after White and Broome advanced to the runoff. Couvillon considers these voters to be well-educated and affluent, and they supported for nonparty candidate Darryl Gissel in the primary.
More than $1 million has been raised to elect Republican Bodi White as East Baton Rouge Pari…
Couvillon said the voters quickly switched their allegiance to Broome, who Gissel endorsed. When White's campaign starting running television ads criticizing Broome's legislative record on crime and small businesses in the last week of the campaign, Couvillon said it was "far too little too late," as voters had already made up their minds to vote for Broome.
"If you had those aspects of Sharon Weston Broome's legislative record that were offensive, you should have brought them up in the first week of the runoff, not the last week when it appears like a desperate attack," Couvillon said.
He and Samuels questioned whether White's negative campaigning strategy backfired, given that Broome ran a mostly positive campaign.
Vicknair stood by White's television ads.
"I don't believe in the whole 'negatives hurt the candidate,'" Vicknair said, adding that negative campaigning is often effective. "I don't believe anything we ran was really negative. Everything we talked about was her record, backed up by her legislative record."
Jenkins said the voter demographics of East Baton Rouge Parish should continue to fluctuate, and that an influx of people moving to Central from Livingston and other outlying areas should help to increase the count of Baton Rouge Republican voters. He also said he would expect more working class Republicans to move back into the parish if the the city of St. George is created in the southeast part of the parish.