Yet again, researchers are finding that communities along the Mississippi River between Baton Rouge and New Orleans are at a greater risk for exposure to cancer-causing chemicals.
Three years ago, the U.S. Environmental Protection Agency declared that St. John the Baptist Parish had the highest cancer risk from airborne pollutants nationwide because of the "likely carcinogen" chloroprene.
Now, the most recent National Air Toxics Assessment conducted by the EPA notes dangers from ethylene oxide. Some areas on the east side of the Mississippi River, around St. Gabriel and Geismar, are at more than twice the risk for certain cancers as their neighbors on the west side, where there are fewer petrochemical facilities. The numbers are even more staggering downstream.
Ethylene oxide — a chemical the EPA says is a proven carcinogen to humans — is produced throughout the United States but in disproportionately high amounts in St. Charles Parish, where scientists say residents in one census tract face the highest risk in the country of developing lymphoid or breast cancers from it.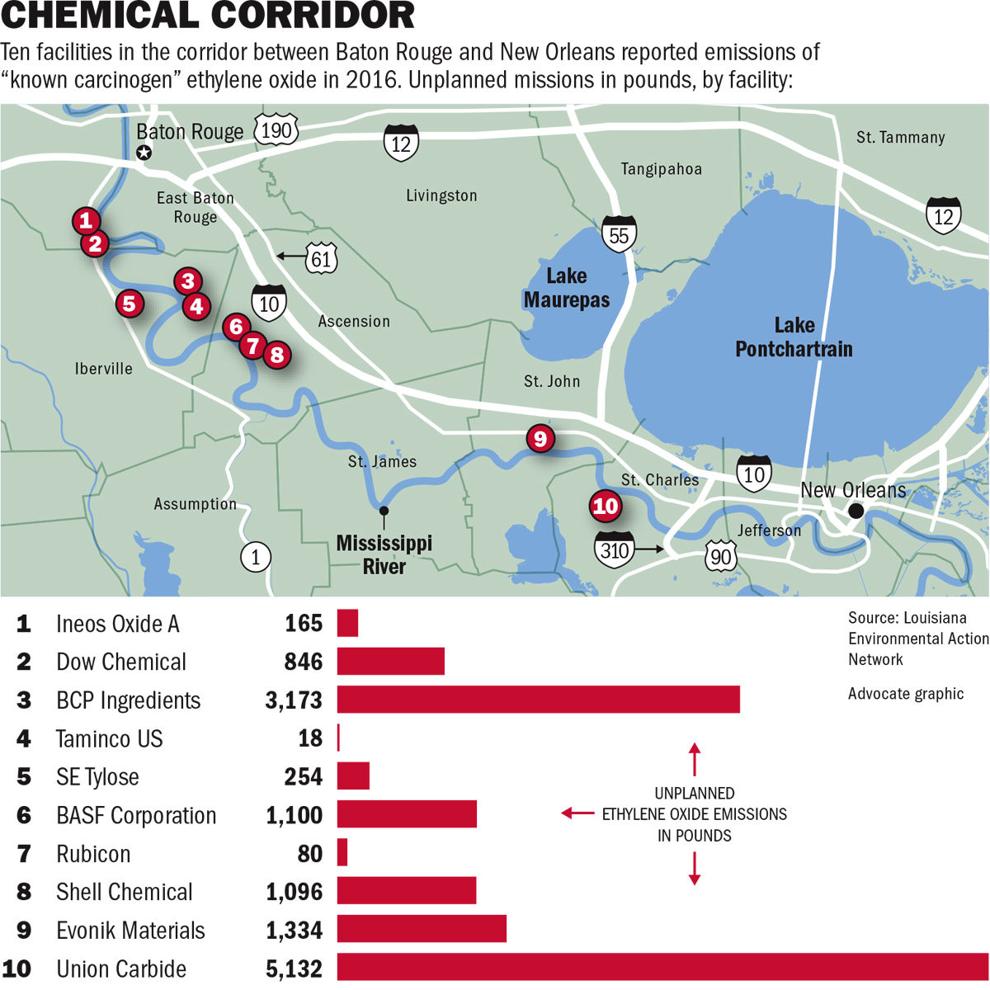 The man-made chemical, used in the production of antifreeze and polyester and to sterilize medical equipment, has been produced in Louisiana for decades. On the west bank of St. Charles, ethylene oxide has been made at the Union Carbide Corp. plant since it was built in the late 1960s. 
Upriver, eight plants just south of Baton Rouge are noted on a list of ethylene oxide emissions in 2016.
Reginald Grace let out a long, low sigh when told of the newest EPA findings.
"That's horrible. You're fighting a giant," said Grace, a leader of the Committee for a Better St. Gabriel.
Ethylene oxide is believed to contribute a 200 in a million chance of cancer development around St. Gabriel — twice the EPA's acceptable upper limit. In less industrial areas, whether across the river or farther north, like in downtown Baton Rouge, the rate is closer to 70 in a million.
"I'm very concerned. We have a lot of people in our community who depend on the chemical industry for jobs and are afraid to speak up, but I'm not," Grace said.
He recalled the persimmon trees, berry bushes and fishing spots around his home growing up, but now "all of that has subsided. … Everything is polluted. Chemicals have taken over."
In Ascension Parish, the BASF facility in Geismar released 1,100 pounds of ethylene oxide in 2016, according to the EPA's Toxic Release Inventory.
Travis Turner represents the area in the Ascension Parish Council. He had not yet seen the recent NATA report but said he would be willing to talk about additional regulations if a plant in his district was having an adverse effect on residents' health.
"It's definitely concerning if what they're releasing is causing cancer," Turner said.
BASF staff said their emissions number is misleading, and the site does not pose a risk to the public.
The Geismar plant has thousands of unwelded gas line connections at valves, flanges and screwed connections. Crews check those sites weekly to annually as required by regulation, but monitoring equipment is not sensitive enough to detect the smallest amount of escaped ethylene oxide, so the facility reports the minimum detectable amount, which adds up across the thousands of connections, said environmental health and safety director Dave Mihalik.
The campus had a release in early 2017 when a seal failed, and 40 to 50 pounds of ethylene oxide escape. But overall, Mihalik said, he feels safe working at the plant. Workers occasionally clip monitoring equipment to their uniforms to make sure they're protected under regulations set forth by the Occupational Safety and Health Administration. The public at large also doesn't need to worry, in part because BASF owns so much land around the Geismar site, staff said.
"If you did fence line (monitoring), you would not pick it up," Mihalik said.
BASF uses ethylene oxide as an ingredient in a number of products, such as soap, shampoo and laundry detergent. It is consumed during manufacture and not present in the finished products, Mihalik said.
A spokeswoman with Dow Chemical Co., which owns Union Carbide, acknowledged that the company is one of the largest producers of ethylene oxide in the country but says it has "safely produced" it in St. Charles Parish since Dow took ownership of the plant in 2001. 
"Dow is compliant with the current EPA regulations," said Ashley Mendoza, the company's public affairs manager. "We have always operated within our permitted emission standards."
While the plant has long met those industry standards, scientists' understanding of the dangers associated with the chemical has changed over time, according to the EPA. It was only in 2016 that the chemical was categorized as a carcinogen. 
The change in classification brings greater demand for tighter regulation that could bring down acceptable emission levels. Agency scientists say they will now review the Clean Air Act and "evaluate opportunities" to reduce the emissions nationwide.
The EPA will also determine whether more immediate emission reduction strategies are necessary in local areas, scientists said in a release. Based on the data, those areas could include St. Charles and St. John.
To do so, however, the EPA will have to develop new monitoring techniques because current methods, including traditional air quality monitoring, aren't sensitive enough, according to the agency.
"Facility emissions testing, combined with air-quality modeling, can provide a more complete picture of ethylene oxide in the air ... than air-quality monitoring can currently provide," EPA scientists said.
In the meantime, residents in St. John worry that they're facing a double whammy of dangerous chemical exposures.
Union Carbide is just downriver from Denka Performance Elastomer in LaPlace. Denka is the only plant producing chloroprene in the country and the focus of the previous air toxins report released in 2015.
"I just feel like I want to vomit. I feel like I want to cry," said a tearful Cindy Russo, who lives in LaPlace. "I just feel so helpless. And you know, these two chemicals we're talking about — that's just two. There's hundreds of other chemicals being manufactured out there."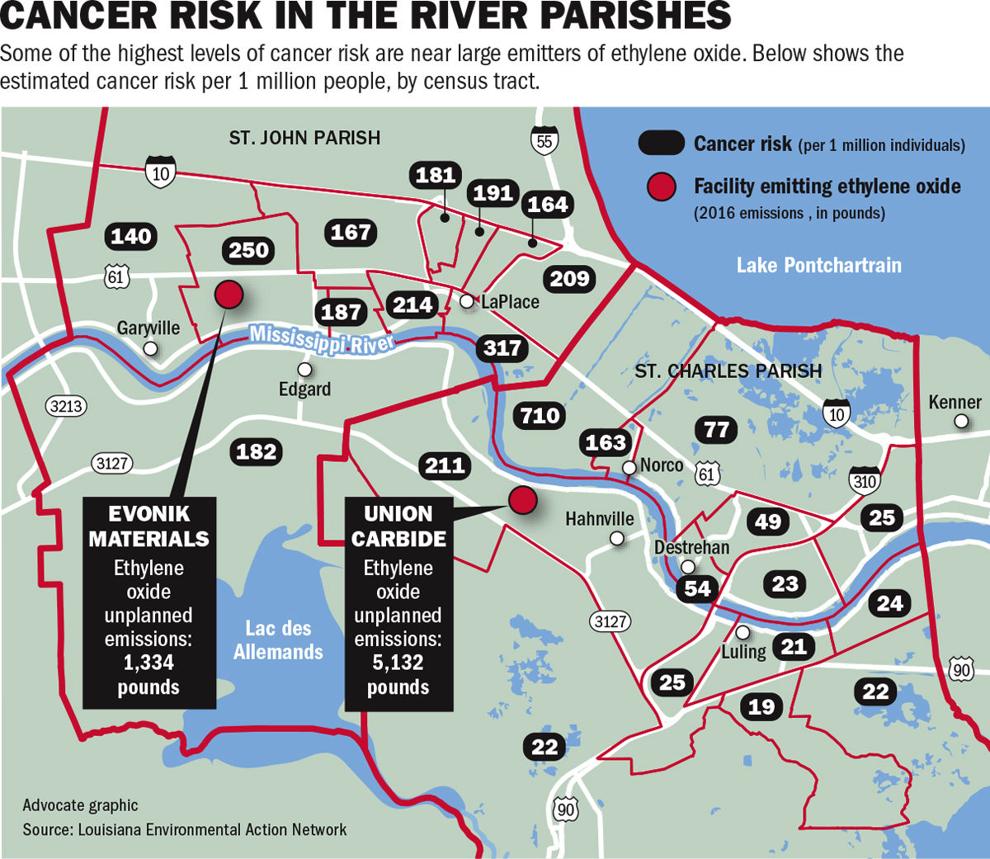 At a recent meeting of the activist group Concerned Citizens of St. John, Wilma Subra, an environmental scientist with the Louisiana Environmental Action Network, called ethylene oxide "much more toxic" than chloroprene.
Chloroprene is categorized as a "likely carcinogen," according to the EPA, whereas the classification for ethylene oxide was changed to "carcinogenic to humans" two years ago. 
And while exposure to chloroprene can result in symptoms like breathing ailments, skin conditions and rapid heartbeat, Subra says limited evidence shows ethylene oxide could cause spontaneous abortions, damage to developing fetuses and harm to the brain and nervous system.
As she presented a 23-page report on the chemical, many audience members gasped. Some even wiped away tears.
"I'm scared to breathe," said Tish Taylor, a member of the group.
Mustard gas and other uses
Ethylene oxide, which appears in gas and liquid form, has been around since 1859, when it was first prepared by a French chemist named Charles-Adolphe Wurst.
During World War I, it was used as a precursor to make the chemical weapon mustard gas. Production was altered in 1931 by French chemist Theodore Lefort, who figured out how to make it directly from ethylene by using silver as a catalyst.
The chemical is now used primarily as an intermediate, meaning it is used to make other chemicals, and as a sterilizing agent for medical equipment. It's also used as a fumigating agent for spices.
As a gas, the chemical has the odor of ether — a slightly sweet smell, according to scientists.
The EPA officially deemed the chemical to be a carcinogen in a report issued December 2016, but had said in draft reviews as early as 2014 that the chemical could cause cancer to those exposed by breathing it in over a long term.
Scientists with the agency found the chemical to be carcinogenic to laboratory animals, inducing tumors in the lymphatic system, brain, lung, uterus and mammary gland, according to a 2014 assessment.
The agency also said there was evidence that it was dangerous to humans, and caused lymphoid and breast cancers to exposed workers.
Based on the studies and evidence, the EPA determined that over a lifetime — measured as 70 years — a person could contract those cancers if they were exposed to 0.003 micrograms per cubic meter constantly, every day.
By comparison, chloroprene is considered risky at a constant exposure of 0.2 micrograms per cubic meter, the EPA has said.
At risk in the River Parishes
As of 2016, there were 118 industrial facilities releasing ethylene oxide in the U.S., according to the NATA report, which was released this year but uses emissions data from 2014.
Thirteen of those facilities are located in Louisiana.
In one census tract in St. Charles Parish — just across the river from the Union Carbide plant — constant exposure to the emissions would result in an estimated 710 people out of a million contracting cancer. That's a jaw-dropping figure, considering the upper limits of what national regulators deem acceptable is 100 people in a million. The national average is just 1.3 people in a million.
In 2016, Union Carbide deliberately released an estimated 30,700 pounds of ethylene oxide, and an estimated 5,100 unplanned pounds of the produced gas also escaped into the air, according to an EPA database. The only U.S. industrial facility releasing more ethylene oxide into the air is located in Port Neches, Texas, according to a separate EPA database. 
In St. John, a chemical company called the Evonik Materials Corp. also added to the area's emissions of the carcinogen. Data collected from the EPA shows it released about 1,300 pounds into the air in 2016. Closer to Baton Rouge, BCP Ingredients near St. Gabriel released 3,173 pounds.
The fact that the EPA hasn't yet begun monitoring the air quality or the chemical emissions coming from the plants came as a surprise for some River Parishes residents who have been closely tracking the EPA's air quality data on chloroprene for more than a year now.
But Subra said that ethylene oxide isn't one of the chemicals the EPA is testing for right now, in part because the chemical was so recently categorized as a carcinogen, and in part because the equipment in place now isn't sensitive enough to measure for it.
"You can't just do a canister test for it," Subra said, underscoring that because such tiny amounts are thought to cause health risks, it has to be measured in thousandths of a microgram per cubic meter.
The EPA has estimated cancer risk, however, based on how much of the chemical the plants put out each year. The science isn't perfect, as estimates based on production are different from measuring how much of the chemical actually escapes from the facility into the air, and also how much of it sticks around in communities after wind and other environmental factors come into play.
Local government officials said little when shown the results, with a spokeswoman for the St. Charles Parish administration, Adrienne Bourgeois, saying that "it would be inappropriate to comment on this matter at this time." Baileigh Rebowe, a spokeswoman for the St. John administration, did not return a call seeking comment.
Gregory Langley, a spokesman with the Louisiana Department of Environmental Quality, said that the department is aware of the NATA report and plans to meet with facilities producing ethylene oxide to discuss "possible emissions reductions options," but that there is "no timetable for reductions or monitoring at present."
He also underscored that the LSU Tumor Registry shows no increased incidence of cancers associated with ethylene oxide in St. Charles or St. John parishes.
Moreover, Langley said that industry would be challenging the science behind the NATA report. The industry's trade association, the American Chemical Council, will be filing a "request for correction," he said, asking the EPA to withdraw the data behind the study.
Chuck Brown, the DEQ secretary, has challenged previous EPA recommendations.
When the latest NATA study showed St. John had the highest risk of cancer from airborne pollutants due to chloroprene, Brown told Parish Council members and residents that there was "no smoking gun," and that the health-based exposure limit the EPA suggested for emissions was not "enforceable."