First, the good news: Fatal drug overdoses in Louisiana appeared to level off in 2018 after years of steady increases fueled by the nationwide opioid epidemic.
Now, the bad news. Even though the number of overdoses stabilized, it plateaued at a historically high number. And it would take many years of steep reductions to bring the rate back to where it was before the opioid crisis began.
Within the grim numbers lies another riddle: The number of fatal overdoses that involved the potent opioid fentanyl continued a precipitous rise in 2018, even as the overall death toll from drugs remained essentially flat.
Complete statewide data from 2018 are not yet available. But The Advocate sought statistics from the four coroners whose parishes in 2017 saw more than half of the drug overdose deaths in the state: Orleans, Jefferson, St. Tammany and East Baton Rouge. All four keep detailed information on which drugs are found in overdose victims' systems.
Taken together, the number of fatal overdoses in those four parishes fell by about 2 percent last year. The number of fatal opioid overdoses rose by about 2 percent.
State health officials say they expect to see a similarly modest increase in the rate of fatal opioid overdoses when the statewide figures for 2018 are tallied. They are pleased that, for a change, the problem doesn't appear to be intensifying.
Louisiana's opioid crisis isn't the nation's worst. That distinction belongs to West Virginia, at least as measured by per capita overdose deaths, according to the federal Centers for Disease Control and Prevention. Louisiana ranks No. 19 on that list, though the rate of deaths here is high enough to rank Louisiana in the worst of five color-coded categories the organization uses to group states.
Louisiana's collection of data related to drug overdoses has also been poor, a problem state officials have been trying for the last couple of years to remedy, with some success. A new dashboard with a range of overdose- and opioid-related data debuted in October, and state officials are working with coroners around the state to make sure deaths that involve opioids are correctly counted.
Dr. Joseph Kanter, the assistant state health officer, found some reasons for optimism in New Orleans, which is ground zero for Louisiana's opioid epidemic. Year in and year out, Orleans Parish sees more opioid overdoses than any other parish, and in 2016, opioid overdoses surpassed homicides for the first time as a leading cause of death in the city.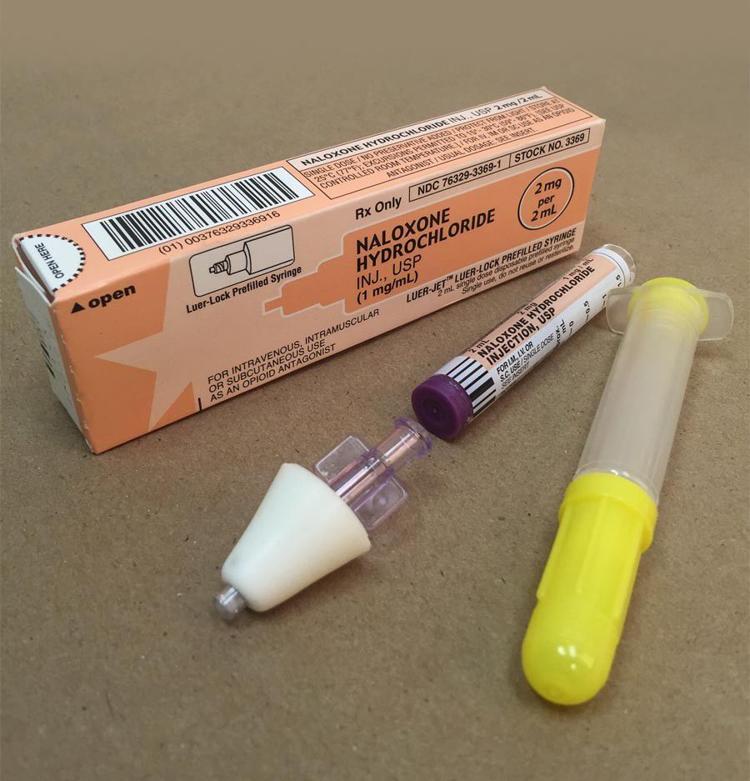 But Kanter notes that the number of opioid overdoses, after years of increases, has been essentially flat for the last three years. He attributes the relative progress to a variety of "best practices," ranging from expanding access to drug treatment and needle-exchange programs to requiring police and others to carry naloxone.
That drug, commonly referred to as Narcan, can be administered by anyone with a modicum of training to anyone believed to have suffered an opioid overdose, according to Lt. Jonathan Fourcade, a spokesman for the city's Emergency Medical Services. All New Orleans EMS workers carry the drug, as do New Orleans firefighters and some police officers.
The drug has no serious side effects, Fourcade said, making it safe to deploy even in situations where the provider can't be certain that the recipient has abused opioids.
In what could be encouraging news, Fourcade noted that Narcan deployment by New Orleans emergency personnel has started to fall after peaking in late 2017 and early 2018. For instance, city workers administered the drug 68 times in February of this year, down sharply from the 109 injections the previous February.
The exact reasons for that drop are unclear, however, and Fourcade noted that more civilians are getting trained in the use of the emergency drug. In fact, the city's Health Department offers free "bystander response" training classes in Narcan administration and basic CPR, Fourcade said, adding that the classes have been well-attended.
"I would assume those classes are helping" in reducing reliance on EMS, Fourcade said.
The likelihood that a medical examiner will find fentanyl — a drug similar to heroin but far more potent — in a drug overdose victim has shot up in the last few years at an eye-popping rate.
In 2015, just one in 10 fatal overdoses in the four parishes queried by The Advocate involved fentanyl. Last year, more than four in 10 autopsies of overdose victims found the drug.
There is a logic to it: The drug is increasingly widely available, and because of its potency, it's more efficient to transport. Its potency also makes it attractive to inveterate opioid users, who have to consume ever-greater quantities of drugs to get the same high.
The drug's extreme potency also increases the likelihood of an overdose if a user takes a tiny bit too much. With illicit drugs, of course, "You never know what you're getting in this baggie of powder," said Dr. Beau Clark, the coroner for East Baton Rouge Parish.
"People who use injection drugs rarely know if or how much fentanyl is present, and this is becoming a major driver of overdoses," said Kanter, the state health official.
Complicating matters further, many and perhaps most of those who die of drug overdoses have taken a range of substances, records show. To take a typical case, a St. Tammany Parish man who died of an overdose last year had heroin, oxycodone and alcohol in his blood as well as fentanyl.
While it's hard to find a bright side to fentanyl's increasing toll, Kanter said it could be hiding some more positive news. Absent other trends, the widespread introduction of a new and more deadly drug would be expected to drive up the overall overdose rate, he said.
He thinks promoting Narcan and drug treatment programs, along with other interventions, has helped keep the rate from going up. And conversely, he adds, "if the prevalence of fentanyl in street heroin wasn't increasing, we'd be seeing more progress than we are."
No one, including Kanter, is ready to celebrate. But he does see some other positive signs, including data showing that opioid prescription rates in Louisiana — which have been among the nation's worst — have gone down "dramatically."
"I know the pace can be frustrating. It took 20-plus years to dig this hole, and it will take some time to climb out of it," he said by email. "But I am encouraged by the work being done."
Clark, the Baton Rouge coroner, said he wants to see the numbers trend in the right direction for a few years.
"I'm real hesitant to say this is good news," he said about the 2018 overdose numbers. "If we had a year where no one overdoses, maybe we could have a parade. But I'm hesitant right now."