DENHAM SPRINGS — Tom Jester and his wife, Bobbie, left the Denham Springs-Walker library feeling optimistic last month. 
Program officers from Restore Louisiana, the couple said, advised them that their application was complete and they could expect a call from a damage inspector any day. That's the last step in the process before flood victims find out if they are eligible for money.
But three weeks later they're still waiting on that phone call. 
"It's been slow, slow, slow," Tom Jester said in an interview at his house last week.
While people who have received assistance are grateful to the state's household disaster recovery program, the $1.3 billion program has left others wondering if the government even wants to give them a dollar.
Long waits, personnel confusion and seemingly endless demands for paperwork, even among those designated as highest need, have created frustration among flood victims requesting help, as the state continues to work on determining grant awards for 16,200 of the nearly 27,000 applicants more than a year and half after the 2016 floods.
Can't see the video below? Click here.
Of applicants in the top two phases, who are low to moderate income and have someone elderly or disabled in their household, only half have gotten word from Restore Louisiana about whether they are eligible for money. 
But when they get a decision, it is usually positive: Seventy-eight percent of the 4,639 Phase 1 and 2 applicants for whom Restore has calculated an award were told they were eligible. The average award is about $34,000, Restore statistics say. 
Households in Phases 3 to 6 are somewhat more likely to be denied any funds after their award is calculated than the top two phases are — 37 percent versus 22 percent of the applications reviewed so far. When these people, who are of all income levels, did get awarded money, the average amount was $22,000.
Overall, Restore Louisiana has awarded $207 million of the $1.3 billion allotment from the federal government to homeowners. State officials say the amount represents a doubling since Dec. 1, when $101 million had been awarded. The state has meanwhile paid $75 million to IEM, the contracted program administrator, for environmental reviews and program management.
"We think it's going well, compared to how long this usually takes, but it is still not fast enough," said Pat Forbes, director of the Louisiana Office of Community Development, which oversees the program.
Done by end of 2019
IEM deferred comment to the Office of Community Development. OCD officials defended the costs of the program, saying a significant chunk of the money paid out to IEM was for inspections mandated by the federal government, some of which the state opposed. The rest was necessary upfront spending to get the program started, they said.
Restore numbers show that $39 million has been paid so far to do federally required environmental and lead inspections and IEM received another $35 million in program management fees.
Over the course of IEM's $308 million contract, around $100 million is projected to be flow-through dollars designated for reconstruction of people's flooded homes by Restore's contractors. So far, $1.8 million of that money has been spent on program-managed building costs.
About 30 percent of the $207 million awarded to homeowners so far has been doled out and actually gone to pay them back for work already done or to pay contractors still working, roughly $61 million. The reason for the gap in awards versus expenditures, according to Restore officials, is that the vast majority of applicants choose to manage their own construction. 
In that case, the homeowner has the responsibility to find contractors, and the money isn't paid out all at once but in installments as the contractor completes the work.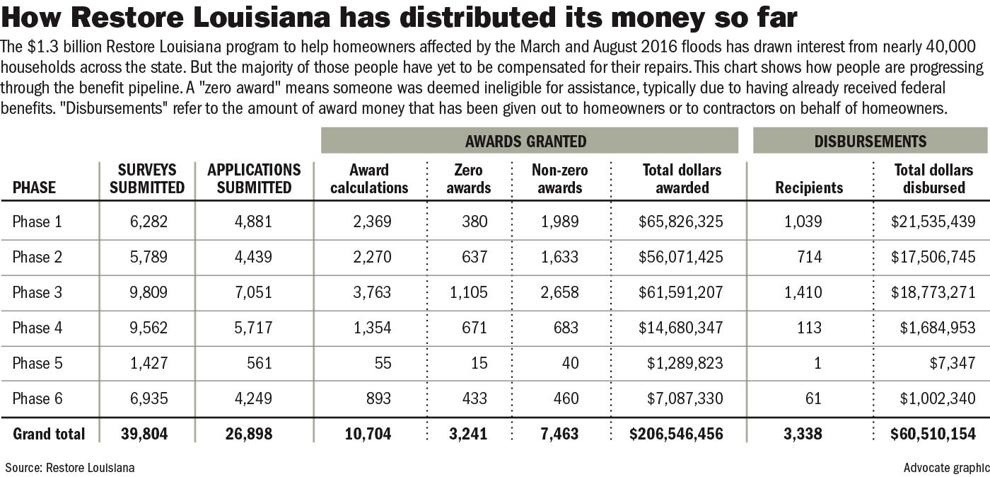 While Forbes acknowledged his words of relative progress aren't enough for people still out of their homes after the 2016 floods, he struck an optimistic note on the program's future trajectory.
He said he expects the program will have worked through all remaining applications and made funding awards by the fall and hopes to the see the program finished distributing its funds and home reconstruction essentially done by the end of 2019.
"I will tell you in New York and in New Jersey, they're still running their housing program up there. In fact, they just kicked a new one off, from Hurricane Sandy (in 2012). We don't expect to do that," he said.   
Forbes said his office is trying to speed the process for people, including a recent change that will streamline verifying people's income — a hurdle that often lengthens the period between when homeowners apply online and when the program determines their potential award. 
In general, he said, supplying paperwork and documentation is a big reason for slowdowns between the time someone clicks submit on their online profile and when Restore Louisiana determines if they will get an award. 
Moving through phases
In the Jesters' case, they were at the local library for a Restore Louisiana outreach event to hand over Bobbie's tax returns. The elderly couple — Tom is 76 and Bobbie is 78 — married shortly after the August 2016 flood. They were longtime friends and married just a couple months after Bobbie responded to a Facebook post Tom wrote saying he was lonely.
After they married, Bobbie moved into Tom's FEMA trailer as a contractor slowly finished repairing his home.
"We didn't understand, because we'd only been married for a year," she said at the library of having to supply her tax returns.
Since they received a loan from the U.S. Small Business Administration, the couple had also been confused about whether they were eligible at all.
Dianne and Renae Townsend had a better experience after they left the Restore outreach event at the Denham-Walker library event last month. 
The elderly couple, who were denied an SBA loan and moved back into their house over the summer, said they got a call from a damage inspector a few days after the meeting, and a man came out to see their construction work last week.
"He was really nice and everything," Dianne said. "We're not holding our breath. If we get it, we'll be happy and surprised."
The average span for people between when they click submit on their online applications to when they get an award calculation is 87 days, according to figures provided by Restore Louisiana. 
U.S. Rep. Garret Graves, R-Baton Rouge, criticized the program because of this, saying there is "excessive documentation and lack of preparation by the state and their contractors."
"The excruciating level of detail the Restore program is going through, everything from literally documenting every electrical socket that has been flooded," Graves said. "I think that's a flawed approach."
The lion's share of money has been distributed to people in the first three phases. While the earliest phases targeted those with the greatest need, people in Phase 3 are of any income, live outside the floodplain and have not completed all their repairs. 
Forbes said more people in the initial phases have been awarded money because Restore Louisiana invited them to apply earlier and thus processed their applications first. Once people are in the pipeline, there is no priority given by phase. The program only finished inviting the last phases of households to fill out their applications in December, though new households also continue to enter the program.
In all, of the 39,804 households that filled out the initial survey for the Restore program, 26,898 have submitted their full applications. The remaining 12,906 households have yet to submit their applications to start key inspections for the award evaluation, Restore statistics say.
People in Phases 1 and 2 who have gotten through the process are awarded on average $11,000 more than people in Phase 3. Restore officials said people in those earlier phases are low to moderate income, meaning they were less likely to get an SBA loan and also to carry flood insurance.
Under federal duplication of benefits policies, Restore must subtract the total of any award from what households had already received in SBA loans, flood insurance, FEMA awards or other grants. Restore officials said the policy is the main reason people are denied help from the state recovery program.
Households in the program's later phases were more likely to have access to the loans or flood insurance and so were more likely to see those funds counted against any award from Restore, Forbes said. 
'I'm just so thankful'
Legislation recently adopted by Congress to fund the post-disaster recovery in Texas and other states should ease the duplication of benefits requirements for some Louisiana flood victims who were deemed eligible for SBA loans but did not take any or all of the money.
Forbes said his office is waiting to hear how the U.S. Department of Housing and Urban Development will interpret the new law.
When asked, Forbes expressed little concern that the recovery program would be able to spend all the funding available, noting that it has eligibility and spending limits that could be opened up if funds were available. He added that HUD's interpretation on SBA loans also could greatly affect how many people can be aided.
While state officials fight to open up program eligibility, many homeowner complaints had more to do with how people were handled in the program. 
Rick Bueche, of Baton Rouge, said he made 19 trips to Restore's office, signed three right of entry forms for inspectors to come to his house, brought his drivers license and tax returns to the offices three times and watched three inspectors make the same measurements in his house.
"That is a waste. That is money that could have gone to somebody," said Bueche, who was denied due to an SBA loan he took out to pay off and renovate the house he shares with his 71-year-old sister. He is is appealing on the basis that he was defrauded by his contractor.
"I can accept the flood. It was an act of God. What these people are doing to us is not. It's just making it difficult to make it difficult," he said.
State Sen. J. Rogers Pope, R-Denham Springs, said he thinks people in the earlier phases, who have put the effort into completing their applications, have received some satisfaction from the program.
"They're making some strides in making awards to some people," Pope said. "I just don't know if it's been in the timely manner that I would have liked to have seen."
He said a common gripe from constituents is they work with one case manager for months, and then that person leaves and they are assigned to someone else. 
"They work out a relationship with them, and then the people move on for whatever reason and then they have to start the process over," Pope said. "It becomes an act of frustration for the people that are dealing with it."
For Peggy Ott, 84, Restore Louisiana wasn't a frustration, but a godsend. 
Ott said she was still basically camping in her home — with a utility sink and some open walls — when she was approved for Restore Louisiana last fall.
A local contractor had scammed her, she said, and she fired him before the house was complete. 
"I just thought I was gonna have to live like I was, forever," Ott said. 
The Restore Louisiana process was slow, in part because she had to dig up documentation that the house was hers, she said. Everything was in her deceased husband's name.
But she said the officials were accommodating, staying late to help her close on her award and allowing her to live in her house while they did the renovations, since she could not afford to rent.
"I'm just so thankful to get what I got," she said. "They did such a good job."