Iberville Parish will be taking down the inflatable flood barriers that were installed along Bayou Manchac Friday as Hurricane Barry was bearing down on the state and appeared to pose an imminent flooding threat to the region, an attorney for the parish said Monday.
Attorney Frank Holthaus announced the plans in federal court in Baton Rouge during a hearing Monday before U.S. District Judge Brian Jackson. The judge, responding to a suit filed by East Baton Rouge Parish, issued an emergency order late Friday that blocked further installation of the barriers, known as AquaDams. He lifted the order after both parties agreed that Barry no longer posed a flooding threat.
But it became clear in court that the dispute is far from resolved. Iberville Parish officials claim the AquaDams would protect people who flooded in 2016, while East Baton Rouge Parish authorities argue erecting the barriers would inundate homes that remained dry three years ago.
Jackson and the attorneys for the two parish governments discussed scheduling procedures going forward for more extended litigation over the barriers, or a possible negotiated settlement of the dispute.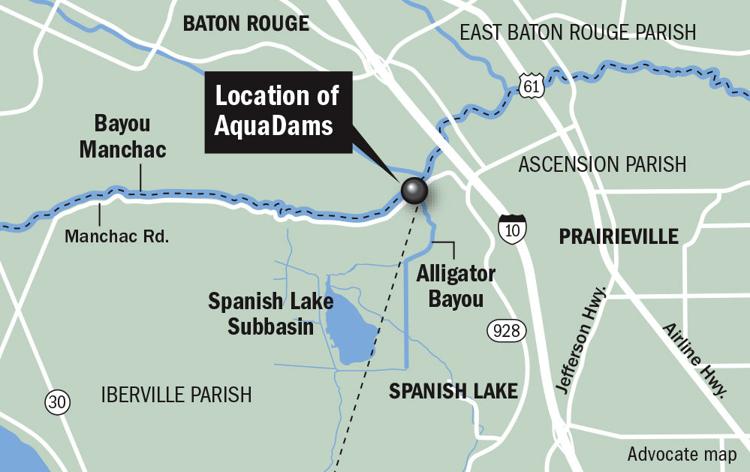 East Baton Rouge Parish officials had sued Iberville, Parish President Mitch Ourso and a parish engineer over the barriers in federal court on Friday afternoon. Ourso had announced that he planned to install them along south bank of Bayou Manchac on Manchac Road to protect residents of his parish from flooding.
The barriers have been a point of contention between Iberville and East Baton Rouge parish officials since they were deployed in 2017, with East Baton Rouge officials saying they would cause flooding in their parish. Iberville disputes this claim.
Noting there was another disturbance in the Atlantic Ocean, Jackson told the attorneys Monday he didn't want to put the case off.
"This will not be a back burner case by any stretch," Jackson said at Monday's hearing, which was attended by Ourso and lawyers and officials from both parishes.
A battle between East Baton Rouge and Iberville parishes that could determine which neighborhoods flood continued Saturday with revelations th…
The judge said he would hold an emergency hearing if another storm drew close to the state and Iberville officials wanted to install the barriers again.
Tony Clayton, an assistant district attorney in Iberville who is representing Ourso, told Jackson the parish was considering a separate state court suit in that parish. 
The Manchac and Spanish Lakes areas in southern East Baton Rouge and eastern Iberville are contested ground. The two parishes and Ascension share the area and all have an interest in how water is managed through the huge swamp basin and the bayou to protect their own residents.
In August 2016, Iberville and Ascension officials complained that an estimated 17 billion of gallons of floodwater from East Baton Rouge had overtopped Manchac and Alligator Bayou roads and sent the floodwater into the basin where their residents live, leaving them inundated for weeks afterward.
Before that event, attempts to create a regional flood control system in the area fizzled about a decade ago as the parishes couldn't reach an agreement.
Iberville parish officials say a 44.5 square-mile portion of primarily southern Baton Rouge drain into Manchac along Iberville's northern boundary.
East Baton Rouge and Iberville parishes were brought in court under Jackson's direction to determine if the emergency order, known as a temporary restraining order, should be extended to a more permanent prohibition on Iberville Parish.   
Update: 9:45 a.m.: A lawyer representing Iberville Parish government said Saturday morning that the parish president took no actions to instal…
Iberville workers had installed about 2,150 feet of barriers and inflated them with water in both Ascension and Iberville parishes on Friday, Iberville Parish attorney Phil Breaux has said, and more sections were being put into position.
Holthaus told Jackson that parish workers had already stopped working on the barriers for the day and had gone home by the time the judge issued his order at 7:31 p.m. halting the work. 
Jackson wrote then that it was necessary to preserve the "status quo" and address the city-parish's drainage and flooding concerns before Barry made landfall.
"This is an irreparable injury insofar as the exacerbation of flooding in East Baton Rouge Parish could cause substantial damage to property and loss of life," Jackson wrote at the time.
Jackson said he recognized that both parishes were acting to protect their residents.
Tedrick Knightshead, an assistant parish attorney, told Jackson the barriers would impede the natural flow of water from East Baton Rouge Parish into the Spanish Lake basin in Iberville and cause flooding on East Baton Rouge parish residents. 
He added that Iberville failed to give East Baton Rouge parish or its residents an opportunity to be informed about those plans in advance or hold a public meeting where they could air their concerns.
Holthaus countered that barriers were being placed on a road originally built as a protective levee for Iberville by the Pontchartrain Levee District. 
Disputing that the barriers would disrupt the "natural flow," he said the AquaDams would only block the flow of the water if it were to go over the road. 
Jackson directed Knightshead to detail any parish studies or other analyses, which were referenced generally in the initial suit, that substantiate the city-parish's claims that the barriers would harm East Baton Rouge residents.
In a later interview, Clayton, Ourso's attorney, said his client was trying to protect his residents from flooding out of East Baton Rouge parish due to unchecked development that had not been properly accounted for.
"That's just not right. We're going to fight it," Clayton said.