Across parts of Livingston Parish, trees and leafy bushes sprout from the dirt canals designed to whisk away storm water. 
Networks of road culverts that feed into canals, ditches and creeks are vital to Livingston's drainage, essential for moving rainwater off roads and down to the Amite River or Lake Maurepas. But in the eastern section of Livingston — all the territory east of Walker, making up 80 percent of the parish — those canals and ditches are often left to fill with vegetation and sediment.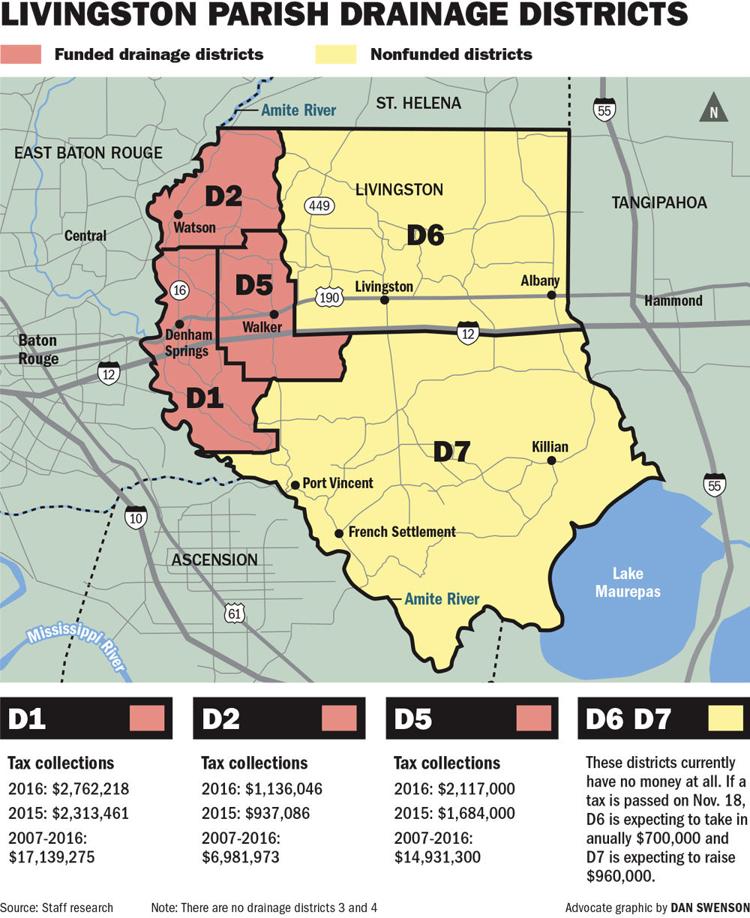 The problem, local councilmen say, is a lack of dedicated funding for routine maintenance. Instead, the system relies on parish public works employees occasionally stopping by to clear jams. 
It's very different picture in the western side of the parish, where property and sales taxes fund gravity drainage districts with combined budgets of about $4 million annually. District employees and work-release inmates ensure that foliage and debris is regularly cleared.
Officials say the lack of cleanup east of Walker leads to unnecessary flooding during routine rainstorms because water is slowly draining. They're asking local residents to approve taxes to change that, with measures on the Nov. 18 ballot to finance two drainage districts covering the east side of the parish at a combined total of about $1.7 million.
Councilmen Shane Mack, Jeff Ard, Jeff Averett and Tab Lobell, all rookies on the parish council, are counting on the memory of the devastating August 2016 floods to convince voters that this tax will actually help them protect their own property. They've got the support of the council and several heavy-hitting Livingston politicians, but say they are already facing opposition from residents wary of signing up for any new taxes. 
"You won't prevent all flooding. But I think that a gravity drainage district consistently working to improve drainage problems will minimize the impact of flooding. It really will," Mack said.
A new tax
Livingston Parish is split into five drainage districts, but only three are funded. Those districts, which correspond roughly to the western cities of Denham Springs, Walker and Watson, are sponsored by property and sales taxes paid by people within their boundaries. Supervised by five-member boards, the districts boast full-time staff who maintain lateral drainage ditches — the small waterways that carry water from road culverts to creeks — and canals that channel storm water to the river and lake.  
In District 1, which includes Denham Springs, there are 16 full-time workers, who are also aided by work-release inmates. They routinely walk up and down the ditches, trim weeds and use heavy equipment to clear and dredge the canals, said manager Wesley Kinnebrew. The district also contracts with an engineer to review plans for new developments that may exacerbate existing drainage problems. 
This system does not exist in the eastern part of the parish, where Districts 6 and 7 have sat unfunded since their creation in 2009. A District 6 board tried and failed at least once to pass a tax for drainage maintenance at that time. Until recently, District 7 never had a board, according to current members. 
Gravity Drainage District 6 extends from Walker to the Tangipahoa Parish line. It is bordered by Interstate 12 to the south and St. Helena Parish to the north. Voters in the 200-square-mile region will vote in November on a 5-mill ad property tax expected to raise $450,000 and a half-cent sales tax expected to raise $250,000. The taxes will be balloted separately.
Gravity Drainage District 7 is the region directly south of District 6. It extends from the Walker area to the Ascension and St. James Parish lines. That district, which constitutes 53 percent of the parish, is hoping to pass an 8 mill property tax expected to raise $960,000. 
Right now, the parish's department of public works is in charge of cleaning the drainage ditches. Director Sam Digirolamo said he has seven people responsible for clearing ditches in that side of the parish and it's not enough to keep up. That department is also responsible for maintaining road and roadside ditches with about 50 workers, he said.
"We try to do what we can do, but we're limited," he said.
The idea for revamping the drainage districts came about in March 2016 after at least 379 homes flooded in Livingston Parish. Many of those were in the low-lying areas of the eastern part of the parish.
"It wasn't our normal areas where people are used to it. Places where wow, they flooded, what's going on here?" Ard said.  "That was what kind of sparked us to say, we need to look into this. We've got some issues going on. We need to get some money. We need to get people looking into this." 
So he and the other councilmen whose districts overlap Drainage Districts 6 and 7 appointed new members to the long-dormant boards. But then came the August 2016 flood, which swamped more than 20,000 homes and businesses in the parish. While that disaster highlighted the need for better drainage, the crisis for so many residents also necessitated a delay in asking voters to support a tax, as so many were rebuilding their homes.
An upstream battle
It won't be a simple task to pass the tax in Livingston Parish. 
"It's going to be tough to pass," Parish President Layton Ricks said in an interview. 
The eastern part of the parish is more rural and has fewer businesses. Its residents are known to be very hesitant to pass a new tax, feeling that they are already "taxed to death" and fearing that the money will flow to the more populous and wealthier areas closer to Baton Rouge, officials say. In 2014, the residents of Holden nearly defunded their volunteer fire department.
"The Maurepas area has the mentality that the money is always going to Denham and Walker," said District 7 board member Larry O'Neill. "We've been promised the moon for so many years and all we get is the drainage ditch that's filled up."
Abby Crosby, a resident of Frost, which is part of Drainage District 7, said she's against the tax. People displaced by the August 2016 floods are still trying to recover financially, and an additional property tax is burdensome on people rebuilding their homes, she said.
Crosby also is concerned about creating new mini-governments — drainage boards — which may be less transparent in their contracting and projects than the parish government, which she thinks ought to be doing more. 
"I just personally think that the parish should do its work. It's more accountability," she said, adding that parts of the parish with drainage districts still have flooding problems.
Blaine LeMaire, a Killian alderman, said he'd be for the tax, as long as he can be certain it will be used in his area, especially the Killian Bayou. 
"I'm for the tax if it goes for proper usage," he said. "I haven't seen where the parish has done anything as far as clean out the first ditch."
Much needed, advocates say
The people advocating for the taxes say it is an answer to the number one problem in the parish, although they acknowledge that better drainage maintenance wouldn't have prevented flooding from the August 2016 deluge, when Watson got 31 inches of rain over several days.
Still, Ard said 95 percent of the calls he gets are about drainage and flooding. And improved water flow perhaps could have stopped the more localized flooding Livingston experienced in March 2016, and again in January 2017, when water rose high in backyards and nearly entered more homes, as well as the high waters caused by regular thunder storms, he said. 
The idea is that a drainage district would not only oversee ditch maintenance, but could tap into federal grants for more ambitious projects and conduct longer term studies of area drainage. Ultimately, over the course of several years, it could lead to some improvement in the region's flood rating.
Gravity Drainage District 7 has been meeting since March 2016 and has identified some priority projects, including the West Colyell Creek, Little Colyell Creek, Lizard Creek and King George Bayou, said treasurer Jerri Daniels. They have coordinated with the parish's emergency preparedness office, which has been awarded about $3.5 million in federal money to clear sections of the Tickfaw River, Natalbany River and Colyell Creek, navigable waterways that help drain the parish, said director Mark Harrell. He expects work to start in early 2018.
Supporters are counting on selling the tax as hyperlocal — fixing the drainage problem in your backyard. They'll also play on memories of the catastrophic flooding that hit the parish in August 2016.
At a recent Republican Party Executive Committee meeting, Parish Assessor Jeff Taylor noted the August experience will be key to selling the tax. That committee, many of whose members said loudly at the meeting that they hate taxes, is likely to endorse the tax on Monday.
Averett, who attended the District 7 meeting on Tuesday night, said some community members are willing to give money to a political action committee that would print flyers, put up signs and pay for other advocacy efforts in favor of the tax in the parish. 
But even if the district is funded, it will still struggle with making a difference on a tight budget. Major cleaning projects and heavy equipment can quickly add up to millions. Engineers involved in the district proposals said it's not possible to determine exactly how many inches of flooding could be avoided by forming drainage districts. But clearing the ditches could pretty quickly have an impact on so-called nuisance flooding, such as water that pools in the roads, making them impassable. 
"We are not going to fix the problem overnight," said Jamie Seal, of Quality Engineering and Surveying, who is working with District 7. "Over time, you'll see the difference."