A man stabbed his grandmother to death and injured his mother Sunday morning, starting a rampage that crisscrossed south Baton Rouge, left three more people wounded in gunfire and ended when he was shot and taken into custody, the East Baton Rouge Parish sheriff said.
The stabbing happened in a home near Perkins Road in the Wimbledon Estates neighborhood shortly before 9 a.m., Sheriff Sid Gautreaux said. The man is also accused of stabbing his mother in the neck; she is recovering.
Authorities identified the grandmother as Dianne Gafford, 78. The suspect is 28-year-old Aaron Morgan. 
According to the sheriff, after the stabbing, Morgan stole a gun and a car belonging to his grandmother and drove to the Highland Park Marketplace shopping center, which is on Highland Road near Interstate 10 and the Blue Bayou water park. There, he shot three people in the parking lot in two separate vehicles and stole another car, deputies said.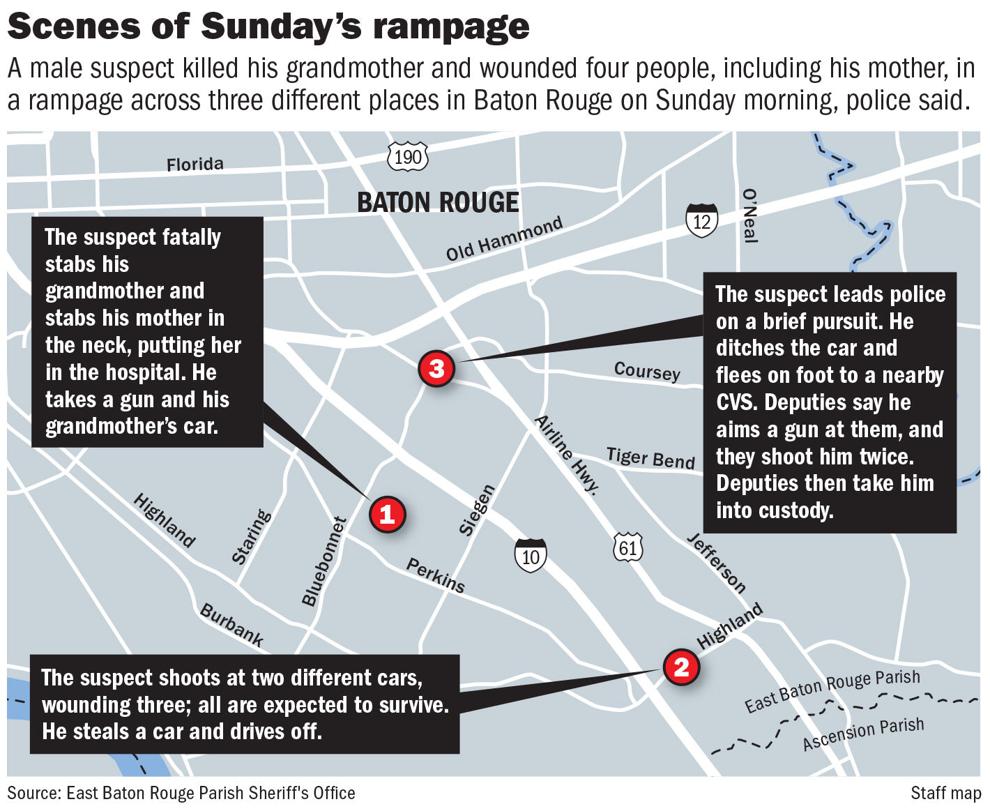 Those three victims — two women and a man — were hospitalized with injuries and expected to survive. The shooting happened near Alexander's Marketplace by another stretch of businesses, including an Ochsner Urgent Care, which was roped off by crime tape Sunday. 
"Thank God this happened right here at Ochsner Urgent Care, because the (staff) rendered aid to all these individuals, and they've all been transported to a local hospital," Gautreaux said.
Deputies later spotted Morgan on Siegen Lane, and a pursuit ensued, continuing onto I-10 and ending near the CVS at Bluebonnet Boulevard and Jefferson Highway. Morgan ditched the stolen vehicle in that area, then fled on foot and pointed a gun at deputies, Gautreaux said. 
Deputies shot him twice and took him into custody. He remains in the hospital in stable condition and is expected to recover, the sheriff said. 
No motive for the stabbings was immediately available. A preliminary review of court records show Morgan was never arrested for any violent crimes in East Baton Rouge Parish. He will be booked in Gafford's killing as well as the other shootings after he is released from the hospital, officials said. 
At the final scene on Jefferson Highway, deputies set up a sprawling perimeter extending from the CVS parking lot to an adjacent strip mall and nearby apartment complex. The size of the scene suggests Morgan ran through the area before deputies captured him. 
Officials were unable to say whether Morgan also fired his gun during the foot pursuit. 
East Baton Rouge Parish Mayor-President Sharon Weston Broome issued a statement Sunday afternoon saying her office is in communication with law enforcement and still receiving details as the investigation unfolds.
"This morning a terrible tragedy occurred in our community where several innocent people were injured and at least one person has died," she said. "While there is no longer an active threat thanks to the quick work of our first responders, our public safety agencies are still responding to this traumatic event."
Broome also thanked "good Samaritans who rushed in moments after the incident to render aid."
It has been a particularly violent year for East Baton Rouge Parish, with the homicide rate on track to outpace 2020's record breaking numbers. Authorities have said minor disagreements are escalating into deadly confrontations.
Editor's note: This story has been updated to correct the name of the deceased victim, whose name was misspelled at first by the sheriff's office.