East Baton Rouge remained Louisiana's largest parish in 2020 and grew slightly faster than the state over the past decade. But it also fell in the middle of the pack for growth among other big urban parishes in Louisiana.
Across the rest of the capital region, four outlying parishes east and west of East Baton Rouge grew much faster and helped the 12-parish region push past a million people in 2020, according to 2020 Census data released Thursday.
Ascension and West Baton Rouge parishes saw the second and third fastest growth rates in Louisiana between 2010 and 2020.
As East Baton Rouge expanded over the past 10 years, it also became more diverse, with Black residents overtaking Whites as the largest demographic group.
Though no demographic comprises most of the population, Black people made up the largest share with 45% of the parish in 2020.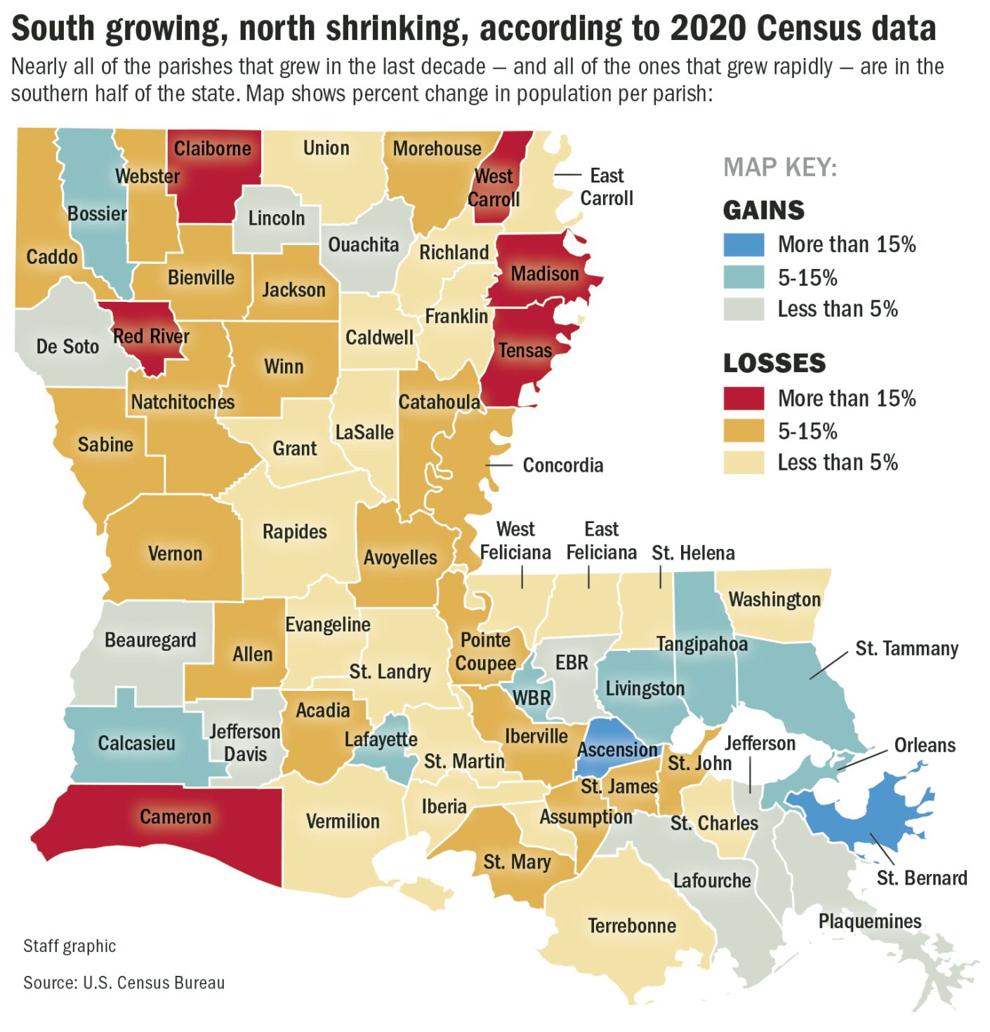 The next largest group, White residents, made up almost 42% and fell to the second spot because their numbers have dropped by more than 15,300 people since 2010. Black residents' numbers grew by about 6,960 in the same period.
Though still relatively small, the Hispanic population in East Baton Rouge has nearly doubled since 2010 to about 30,550 people.
Overall, census takers found East Baton Rouge grew by nearly 3.8% over the decade – less than half a percentage point per year, on average -- and ended up with 456,781 people in 2020.
Louisiana's growth rate of 2.7% lagged behind most of the nation.
Several urban and suburban parishes with more than 200,000 people — namely St. Tammany, Calcasieu, Orleans and Lafayette -- grew about twice as fast. All four had growth rates of between 9% to 13%, or around 1% per year, on average, data show.
Still, East Baton Rouge officials argued the new census count shifts the narrative in the capital parish, whose population growth stagnated or slightly declined in past estimates, hovering around 440,000 people.
In 2020, census takers found East Baton Rouge had 16,722 more people than the bureau estimated just a year earlier.
Mayor-President Sharon Weston Broome argued Thursday that the city-parish continues to play a central role in the region's economy and remains a place people want to live and raise families.
Broome pointed to workforce data showing the parish claims 70% of the region's jobs and ranks among the top 12 fastest-growing parishes in the state. She said it grew twice as fast as Jefferson, the next-largest parish.
"The latest census data clearly shows a pattern of more people moving to Baton Rouge to work and raise families, as opposed to the popular political narrative of out-migration," she said.
Andrew Fitzgerald, BRAC's senior vice president of business intelligence, said he believes census estimates in prior years undercounted the city-parish's Black population and the decennial census finally caught up.
"I think it speaks to we might be a little bit better at retaining talent than we previously thought," he said, adding that there is "still a ton of work to do."
The new population data for East Baton Rouge and other parishes came as part of another data dump from the 2020 Census that gives a detailed snapshot of the nation at the most local levels.
The Census Bureau released the national and state-level counts in late April. The information unveiled Thursday offers a more granular look at states, parishes, cities and towns.
While the first batch of information will be used to determine how many representatives each state has in Congress — a process known as apportionment — the latest batch will be used for redistricting. That process sets the boundaries of state legislative and congressional districts, as well as a countless parish, city, school board and other local districts.
Overall, the Baton Rouge area as a whole didn't grow as fast as it did between 2000 and 2010, when Hurricane Katrina swelled the population overnight, the new data show.
Assumption, East Feliciana, Iberville, Pointe Coupee, St. Helena, St. James and West Feliciana parishes all saw population declines between 2010 and 2020. Between 2000 and 2010, only East Feliciana had lost population.
By comparison, Ascension, Livingston, Tangipahoa and West Baton Rouge parishes all saw growth rates that approached or exceeded 10% since 2010, well past the rate for East Baton Rouge.
In Ascension, population grew by less than 18% since 2010, hitting 126,500 people in 2020.
The Prairieville area and the city of Gonzales grew by 23% and 25% since 2010; the parish's west bank city of Donaldsonville lost nearly 10% of its population.
Parish President Clint Cointment credited that overall growth on the parish's schools, law enforcement, tax base and quality of life.
"But that same growth also presents challenges to our inadequate infrastructure, which just hasn't kept pace," he said. "That's why my Administration and the Council have enacted a moratorium on new development — to let us catch our breath and come up with ways to adequately and equitably address this growth."
The new census data also left hints of the devastating impact of the 2016 flood.
Livingston Parish saw the seventh fastest growth in the state, rising by 11.1% to 142,282 people in 2020. But the parish's largest city, Denham Springs, had about 930 fewer people in 2020 than in 2010. Huge swaths of the city were submerged after the Amite River jumped its banks in 2016.
Denham Springs Mayor Gerard Landry said the population decline is disappointing, but it doesn't appear to have met catastrophic levels the city feared might ensue after the flood.
"We were truly expecting some kind of an exodus here," Landry said. "We're still in reconstruction mode."
Statewide, the Baton Rouge and New Orleans metro areas were part of a population trend that saw Louisiana growth largely confined to the bottom third of the state.
Much of that area, the United Nations' Intergovernmental Panel on Climate Change announced recently, could see a 1.5-foot rise in the Gulf of Mexico over the next three decades. The UN report says the combined effect of climate change spurred by carbon emissions and subsidence of the state's coast will cause the relative rise in the Gulf.
James Finn contributed to this report.