The 27th named storm of the 2020 hurricane season formed Sunday, matching the number of named tropical storms and hurricanes in 2005, and at midweek, Zeta is expected to cross the coast south of New Orleans and set a record for Louisiana landfalls in a single season.
---
UPDATE: Tropical Storm Zeta near hurricane strength as it heads for Gulf of Mexico: See latest track
---
While Zeta was a tropical storm with winds of 60 mph at nightfall Sunday, the National Hurricane Center said it expected the storm to develop into a hurricane Monday and reach the northern Gulf of Mexico on Wednesday with winds at or near hurricane force, around 75 mph. The forecast track said Zeta would be a tropical storm near Grand Isle at 2 p.m. Wednesday.
Tropical Storm Zeta, which formed early Sunday in the Caribbean Sea, is set to enter the Gulf of Mexico in a few days and potentially come ash…
As of the NHC's 10 p.m. forecast, Zeta is about 260 miles southeast of Cozumel, Mexico and 270 miles south-southeast of the western tip of Cuba moving to the north-northwest at 2 mph. 
If Zeta makes landfall in Louisiana, it would be the fifth named storm to do so this year, the most since hurricane record-keeping began in 1851, said Barry Keim, Louisiana's state climatologist. Other storms that made landfall in the state this season were hurricanes Laura and Delta and tropical storms Cristobal and Marco. 
Louisiana is again in a National Hurricane Center "cone" of where a tropical storm might go. Brigette Lin, a meteorologist with the National Weather Service Office in Slidell, said forecasters were looking at a landfall for Zeta anywhere from southeastern Louisiana to the Florida Panhandle.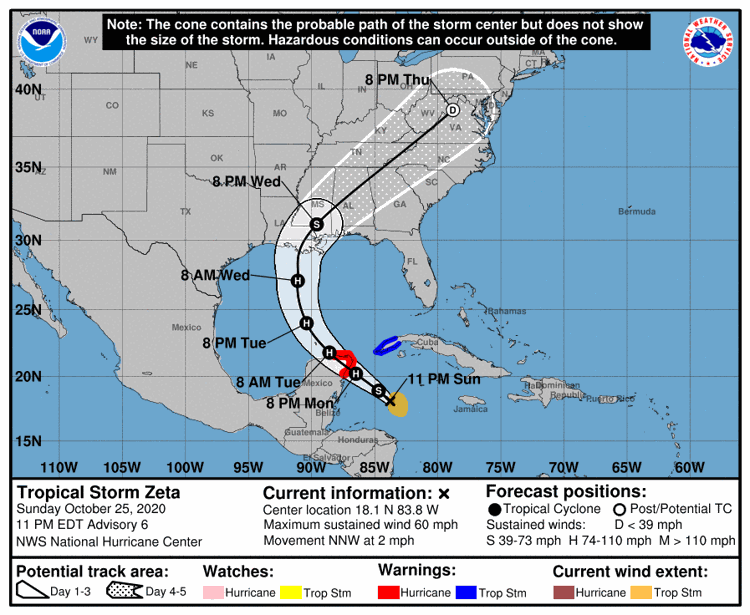 "We're urging people to check their supplies and follow the forecasts," Lin said. "We're still working on learning how intensive the storm will be; it could be a Category 1 hurricane or a strong tropical storm."
The year 2020 joins 2005, the year of hurricanes Katrina and Rita, for the greatest number of named storms — 27 for both. The National Hurricane Center tweeted Sunday that, in hindsight, it missed a storm 15 years ago.
"For those counting, 2005 still holds the record for the most number of named storms in a season (28). NHC identified an "unnamed" subtropical storm in its post-season analysis that year, which is included in the total. With #Zeta, the number for 2020 currently stands at 27," the agency tweeted.
The hurricane season ends Nov. 30. Any December storm will also be counted in the 2020 season; any in January or later will be counted next year.
"We're not out of the woods yet," Lin said. 
As Tropical Storm Zeta churns in the Caribbean Sea, a new map from a University of Colorado researcher illustrates how extraordinary the 2020 …
Hurricane forecasters had predicted a busy season, "but nothing like this," Keim said. 
An average hurricane season has 12 named storms; early forecasts had looked at perhaps 19 to 20 for the season. 
"It's obviously been crazy this hurricane season," Keim said.  
Other records have been broken as well: 24 of the 27 named storms this season had their earliest formations since data-tracking began 175 years ago. Zeta, for instance, formed 35 days before the 27th storm of 2005. That storm, also named Zeta, formed Dec. 30, 2005, in the far eastern Atlantic Ocean.
The reasons this hurricane season is so bad, Keim said, is that there are above normal temperatures at sea surface in the Atlantic, and at the same time, there is very little upper atmospheric wind shear that can tamp down the development of a hurricane. 
This year has seen a particularly busy hurricane season with 25 named storms, which is just two shy of the 2005 record.
Effects of Zeta, as it approaches the coast this week, will be increased chances of rain and thunderstorms in New Orleans, Baton Rouge and Lafayette, depending on where the storm's center is, Lin said.
"New Orleans has the most chance of also getting wind gusts," she said.
Rain bands will accompany Zeta, "but it's really difficult to predict where the rain bands are," Lin said.
Anyone in one, though, is likely to know it, she said.
"If you're in the right spot under a rain band, it could be several inches of rain," Lin said.
Before Louisiana begins to feel the impact of Zeta, it is expected to spread wind and rain across Mexico's Yucatan Peninsula and western Cuba late Monday.
For those thinking the turn of the calendar to Oct. 1 means the end of hurricane threats for south Louisiana, it's time to reconsider, if hist…
Restoration projects along Louisiana's coastline were mostly spared by the six different hurricanes that have threatened the state so far this…
Louisiana last had four hurricane or tropical storm landfalls in 2002, according to hurricane researchers at Colorado State University, which has a research team dedicated to tropical weather. Also, a record 10 hurricanes or tropical storms have crossed a United States coastline this year. Zeta would be the 11th, and would arrive with more than a month left in this year's hurricane season. The previous record was nine, in 1916, according to Colorado State.