A large, concrete canal known as Hurricane Creek snakes southward through the heart of north Baton Rouge, flowing past Will Smith's one-story home on Linden Street. Eight months ago, after record rains, water surged out of the canal into Smith's house.
The canal is mostly dry now, just a curve of concrete that Smith sees each morning from his temporary bed, an air mattress resting atop a stack of crates. Smith tries to see the positive. His first bed when he returned in early October was a sheet of cardboard on the floor.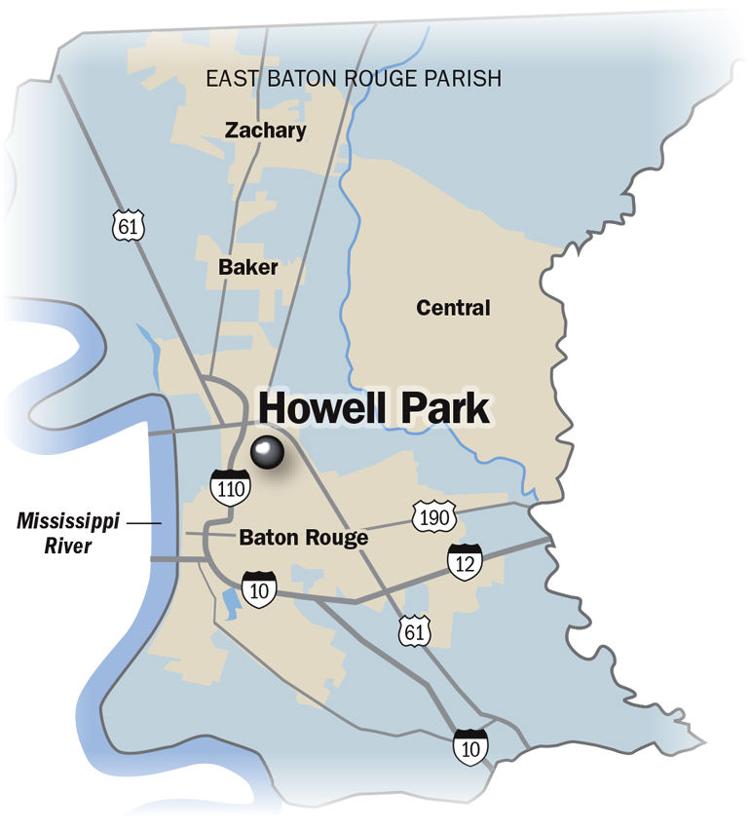 "It's coming along. I'm getting there," he said, laughing hopefully.
Linden Street flooded along with most of the streets that surround the old Howell Park golf course. Metro Councilman LaMont Cole, who represents the area, has taken several recent trips through the area.
"The depth of devastation is what stood out to me — and the determination of people to get back," Cole said.
Some streets look worse than others. A few lucky residents managed to avoid flooding entirely.
Smith's stretch of Linden Street wasn't that lucky, but it's no ghost town. Cars are in most driveways. Lawns are green and the grass is cut. Some homes are clearly being repaired. There's a FEMA trailer here, a storage unit there. Some homeowners talk about doing work themselves, often with the help of relatives. 
Other signs are less hopeful. A few houses are at various stages of abandonment. One car in a driveway has no wheels. A lone "For Sale" sign sticks out of the ground. Neighbors share stories of crooked contractors. A large debris pile keeps growing at corner of Linden and Fairwoods Drive.
Cole said apartments are the slowest to come back. He drove down a nearby apartment-filled street recently and noticed a long line of debris piles. The owners are only now starting to rebuild, and Cole said they aren't sure who they'll ultimately be renting to.
"They said the people who lived in there before are not going to return," he said.
Smith, 57, is waiting.
"I ran out of money right now, so as soon as I get me some more money I will do more work," he said.
So far, he's rewired, re-insulated, re-drywalled and repainted. But he still needs to put in a new floor, fix his roof, and install cabinets, countertops and new windows, all of which could run him tens of thousands of dollars.
It doesn't help that six days after the flood, Smith was laid off from his job selling air filters to retail stores. He's made do since working as a part-time church musician and getting help from family members.
Like many, Smith said he did not have flood insurance; he inherited the family home. His initial repairs were through Louisiana's FEMA-funded Shelter at Home program. Within a week, work was under way.
But when it came time for FEMA to decide how much he'd get for more extensive fixes, Smith received just a few thousand dollars, well below the $33,000 FEMA maximum payout. He still gets mad about it.
"Don't send people around asking stupid questions like, 'Did you have a bed in your bedroom?" Smith said. "I'm like, 'Are you serious, man?' We had a big pile showing everything that was in the house right there on the curb."
He's hopeful about the new state program expected to be tapped by thousands of families with flooded properties. He made a call to the program the day after they began taking surveys from homeowners.
Looking up and down Linden Street, Smith points out a few neighbors who like him are back, but also many who are not, at least not yet.
Across the street from Smith, Ike Williams is not yet back. Since August, he's been living elsewhere with his wife and daughter, first in Gonzales and more recently closer by. A handyman by trade, Williams and his partner Jose Rojas are doing all the work themselves, raising money, chipping away slowly at the chores in front of them. 
A block away on Mohican Street, Robert Rogers saw his fixer-upper house flooded by waters from Hurricane Creek. He bought the fire damaged property before the flood and had just started repairs when he saw all his work washed away. Now, he is back at work, getting help from his brothers and brother-in-law. 
For his part, Smith has seen flooding before. A native of Baton Rouge, Smith spent years in New Orleans until 2005's Hurricane Katrina sent him right back to Linden Street. All he had was a handful of clothes he'd evacuated with.
His home in New Orleans East took in seven feet of water. By the time he got to see the damage many weeks later, nothing was salvageable.
"It had shifted on the foundation," he recalled. "I just tore it down."
Katrina was on his mind the morning of Aug. 13 when he woke and stepped innocently onto his already flooded bedroom floor.
Smith quickly evacuated in his truck — many of his neighbors left too late and their cars flooded — and made it to his sister's unflooded house. He soon drove back. Helped by a family member, Smith worked feverishly for hours, shoving everything he could into the attic before the water got too high. And it got pretty high.
"When we started it was at our knees," he said. "By the time we finished it was at our chins."