ST. AMANT — A backyard workshop containing a fueled-up boat and four-wheeler and numerous bottles of flammable gas used for welding caught fire and was destroyed Wednesday night in southeastern Ascension Parish, firefighters said Thursday.
Thirty volunteer firefighters from six departments in Ascension responded to the blaze off Kid Bourgeois Road in the Stringer Bridge Road area of St. Amant, the area fire chief said.
The shed contained eight propane bottles, three acetylene and two oxygen bottles and they were "going off like wildfire," the chief said, as the flames caused them to explode.
"So, man, when this thing found all the right ingredients it needed, it was just … disaster," St. Amant Fire Chief James LeBlanc said Thursday morning.
---
Can't see video below? Click here.
---
Firefighters arrived shortly after 7 p.m. Wednesday and battled the fire for more than four hours, the chief said.
LeBlanc they had to suspend their investigation Wednesday night due to darkness and the amount of destruction.
He said no one was in the shed at the time of the fire. There were no injuries but the shed is a total loss.
Early reports from 911 callers suggested the shed might have had a meth lab as a warning for firefighters arriving at the home at 45178 Kid Bourgeois Road, the chief said.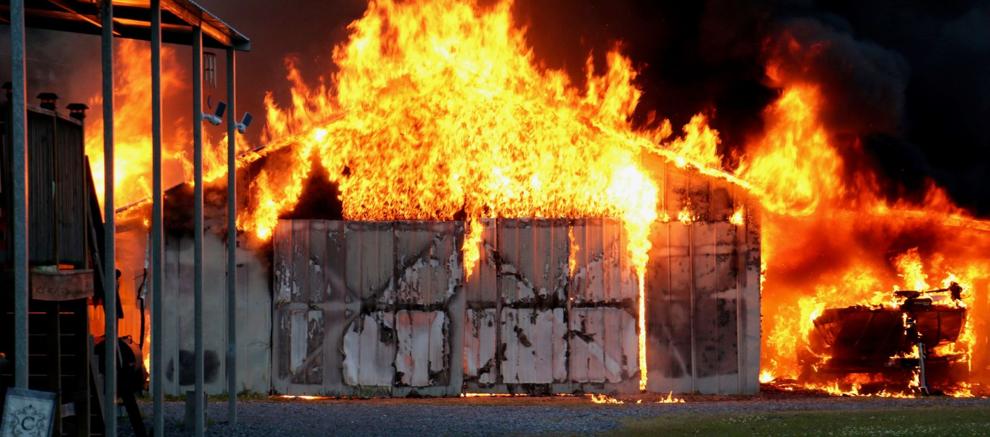 While LeBlanc said he welcomed those kinds of warnings for his department's firefighters, he said the unsubstantiated claim initially shared in emergency dispatch traffic spread widely on social media in the minutes and hours afterward.
The claim was also picked up in some media accounts, but LeBlanc emphasized he has not found any evidence of a meth lab.
He said the owner of the shed is a welder.
LeBlanc said volunteer firefighters from the St. Amant, Sorrento, 5th Ward, 7th District, Geismar and Galvez-Lake departments responded to the blaze.