An important highway linking Gonzales and Dutchtown in Ascension Parish will close completely on one end for four weeks later this month, state highway officials said.
Both lanes of La. 74 near Airline Highway just north of Gonzales will close starting 7 a.m. Monday, Sept. 19, highway officials said in a statement Thursday.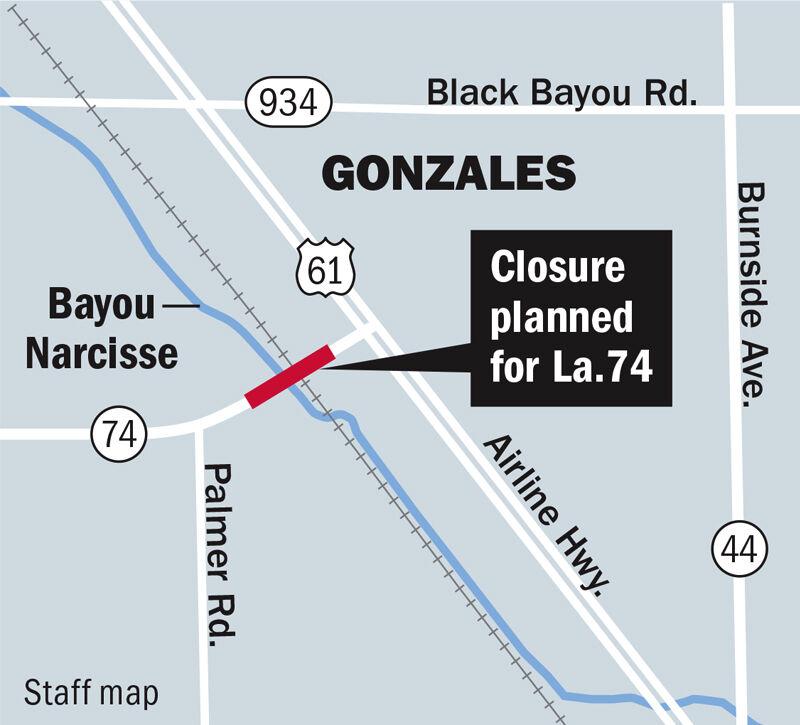 An $8 million state resurfacing and drainage project along the two-lane highway between Airline and St. Gabriel has been underway for months, but state Department of Transportation and Development officials said the planned drainage work is forcing the complete closure in the Gonzales area.
Rodney Mallett, DOTD spokesman, said crews will be installing large box culverts where Bayou Narcisse passes under the highway to improve water flow in the area.
The bayou crossing to be closed is just southeast of the Kansas City Southern Railroad tracks that run parallel to Airline and is just north of the Gonzales city limits. 
La. 74 is one of the few routes between Dutchtown and the northern reaches of Gonzales that crosses directly over or under Interstate 10.
The closure is expected to last until 5 p.m. Monday, Oct. 17. Weather may affect the timing of the temporary closure.
DOTD officials said traffic must use La. 938, also known as Coontrap Road, to Burnside Avenue to Airline to avoid the closure.