GRAMERCY — More than six months after the old Noranda Alumina plant emerged from federal bankruptcy reorganization, the plant's new owners are seeking state authority to become the largest emitter of mercury into Louisiana's skies, according to federal air pollution data.
The new owners, Noranda Bauxite and Alumina, want permission under a proposed air permit revision to emit up to 1,500 pounds of mercury into the air per year, up to six times more than the second-largest mercury air emitter in Louisiana between 2012 and 2015, according to the U.S. Environmental Protection Agency's Toxics Release Inventory.
The proposed permit, which the public will get to learn about at a state DEQ hearing at 6 p.m. Tuesday in Lutcher, would resolve a long-standing problem at the Noranda plant by formally permitting previously unknown mercury air releases, as the new owners plan to invest $35 million to upgrade and expand capacity at the Mississippi River facility straddling the St. James and St. John the Baptist parish lines.  
Noranda Bauxite & Alumina will invest $35 million to expand and upgrade its alumina refi…
The plant, which will employ 460 people after the expansion and has been one of the top employers and property taxpayers in St. James Parish, converts red bauxite ore shipped from a mine in Jamaica into alumina, a precursor used to smelt aluminum and for other chemical processes.
New Day Aluminum bought the refinery and the bauxite mine for $24.4 million from the previous owners in an Oct. 19 court-supervised auction, according to the Jamaica Observer. 
Former company officials discovered in late March 2014 that their plant may be releasing mercury into the air even though Noranda wasn't permitted to release any mercury.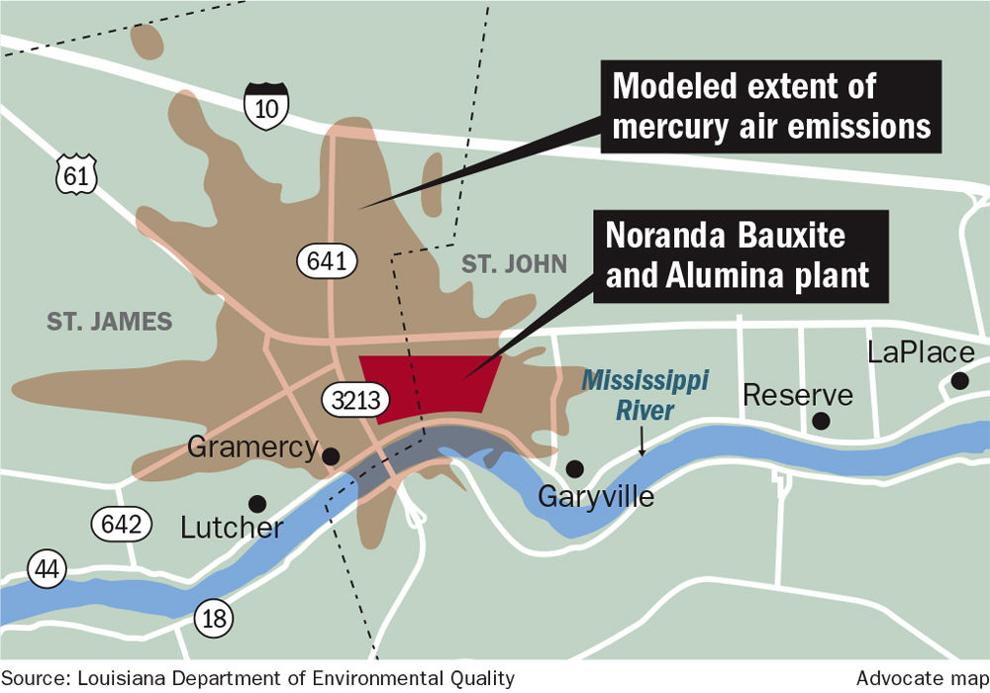 Before the problem was uncovered, Noranda was already one of the top emitters of mercury into the environment because of its red mud waste ponds, which are laced with mercury. Former company officials had long believed that all mercury naturally in the bauxite ore was, after processing, chemically bound to the waste tailings sent to those red mud ponds. The red mud is stored in large leveed-off impoundments on the company's property.  
But the discovery of a few ounces of liquid elemental mercury under duct work during repairs in 2014 led company officials to report the possibility of long-standing mercury air emissions. The company speculated then in a letter to the state Department of Environmental Quality that the air releases could have been occurring without a permit for decades, since the former Kaiser Aluminum facility opened in the late 1950s.
Noranda Alumina officials say they believe their nearly 55-year-old refinery in St. James Pa…
Mercury is a heavy metal found to be harmful to people and the environment, even in minute amounts. As an element, mercury doesn't break down but accumulates in animals and fish that people eat. Methylmercury accumulations in fish and shellfish, for instance, can impair the neurological growth of fetuses, infants and children, the EPA says.
Noranda's voluntary disclosure sparked compliance orders, public concern, and a round of testing by DEQ and the then-operators of the Noranda plant.
Testing by DEQ and air modeling by Noranda completed in 2015 and 2016 showed, even with the previously unknown air emissions, mercury levels in the air would not violate Louisiana air quality standards.
A mobile lab detected a plume with elevated levels of mercury in the air downwind of the Nor…
DEQ officials said in a recent interview that their permits, including Noranda's proposed revision, are always protective of public health and the environment.
"We would conclude that because emissions are below the ambient air standard emissions of mercury, or whatever compound is in question, were protective of human health and the environment," said Bryan Johnston, DEQ air permits administrator.
There is no outdoor ambient air standard set by EPA for mercury, but the state has set its own standard. 
Noranda's modeling showed the new proposed permit levels would boost mercury air emissions most in the Gramercy and Mount Airy areas and parts of the Maurepas Swamp. But even at the most concentrated levels, right over some parts of the plant's southern and western perimeter in St. James, mercury air concentrations would remain between 28 percent and 38 percent of the state's ambient air standard for mercury. Both levels are still well below the state standard of 1.19 micrograms per meter cubed.
Still, Noranda's new owners are seeking a mercury air permit limit that is far higher than what the former owners first believed was being released when the mercury issue was discovered in 2014. They suggested then that emissions could be less than 25 pounds per year based on early testing but wanted permit authority to release up to 250 pounds per year into the air. This new permit request is six times that early proposed limit.
Later Noranda estimates — based on comparisons of how much material goes into the plant and what comes out through various routes — showed the air emissions were likely closer to 1,378 pounds per year. That finding led DEQ to ask Noranda to conduct the air modeling voluntarily, Johnston said, though the company was not required to do it.
Initially a mystery as to exactly the source of the emissions, the mercury has been isolated to one vent on a digester in the plant, Johnston said. 
Noranda, which had not reported mercury air emissions to the EPA in 2014 and early 2015 when the issue was first discovered, has since put forward estimates to federal pollution tallies. EPA's Toxic Release Inventory data show Noranda's mercury air emissions have ranged from 1,079 pounds per year to 1,240 pounds per year from 2013 to 2015.
By comparison, the second-largest mercury air emitters in the state over roughly the same time period were some of the state's coal-fired power plants, including Cleco's Dolet Hills Power Station near Mansfield and NRG's Big Cajun II in New Roads, according to EPA's Toxic Release Inventory data. Those emissions, which have been on a downward trajectory under increased enforcement, ranged from 480 pounds in 2012 to about 216 to 146 pounds in 2015, the last year data were available.  
Activists with the Louisiana Environmental Action Network, which already has threatened to sue over the past unreported emissions to force future reductions in mercury air emissions, said DEQ should force Noranda's new owners to put in place control technologies to reduce its mercury air emissions and said the plant won't have any controls for mercury emissions after the expansion.
"That's my major concern," said Wilma Subra, a chemist and the network's technical adviser.
After decades of releasing small amounts of mercury to the environment without a permit, the…
She noted that Louisiana Economic Development has promised Noranda a $1 million forgivable loan, $200,000 modernization tax credit, plus standard Quality Jobs and industrial tax exemptions as part of Noranda's expansion and modernization. She said the plant can't control its particulate emissions of bauxite, which has some mercury laced in it, much less the mercury emissions.
The proposed permit that would set the new mercury level also calls for reductions in particulate matter, like bauxite, and other air pollutants. State and Noranda officials said in a statement last month that the production expansion will include more bauxite filters and other control equipment that should extend the life of the plant's red mud tailings ponds.
But, even with the large increase in permitted mercury air emissions, Noranda won't have enough mercury and other toxic air pollutants in total that would allow DEQ to force technology upgrades, Johnston said.
Nicole Willems, spokeswoman for Noranda Bauxite and Alumina, did not say why the company was not putting in control equipment for mercury air releases but noted in a statement Friday that all company testing was done under DEQ protocols and found the emissions were well below the state's ambient air standard for mercury.
"We look forward to obtaining our renewed air quality permit and appreciate the advice and support received from LDEQ during this process," she said.
The hearing will be at the St. James School Board Public Relations Building, 1876 W. Main St., Lutcher.