Hayward Jones stands before his students and writes two words on the chalkboard: self development.
"This is what we do," he tells the roomful of men. "Build, grow, mature, change, improve — transition. Yes, we're moving from one mindset to another. We're here for change."
Jones, 46, is a mentor and pastor who has touched hundreds of lives through his work. He's also planning to die behind bars — one of almost 5,000 people serving life without parole in Louisiana, which imposes such sentences at the highest rate in the nation. His students are fellow prisoners at Elayn Hunt Correctional Center in St. Gabriel. 
"How many of y'all have anger problems? Woman problems? Substance abuse problems?" he asks the class, receiving several sheepish smiles as the men raise their hands in response. Jones smiles back. "Keep it real now. Until we recognize those things, we cannot fix them."
He's presenting a firm belief in redemption — a belief that "nobody wants to be known for the worst moment in their life. We've all made mistakes, but we can move forward." That idea has recently gained traction even among Louisiana's top corrections officials and some conservative leaders.
Several point to Jones as evidence that transformation is possible. He was 23 when he was arrested in two separate crimes: stabbing his girlfriend almost to death and breaking into a house, causing the homeowner to die from heart failure in the process. Jones was convicted of second-degree murder after his codefendant in the burglary testified against him.
Now decades later, he's made a name for himself within the state's prison system and beyond, completing extensive mentorship training and delivering speeches in churches and courthouses across Louisiana.
The question is whether he'll ever get to continue his work on the outside.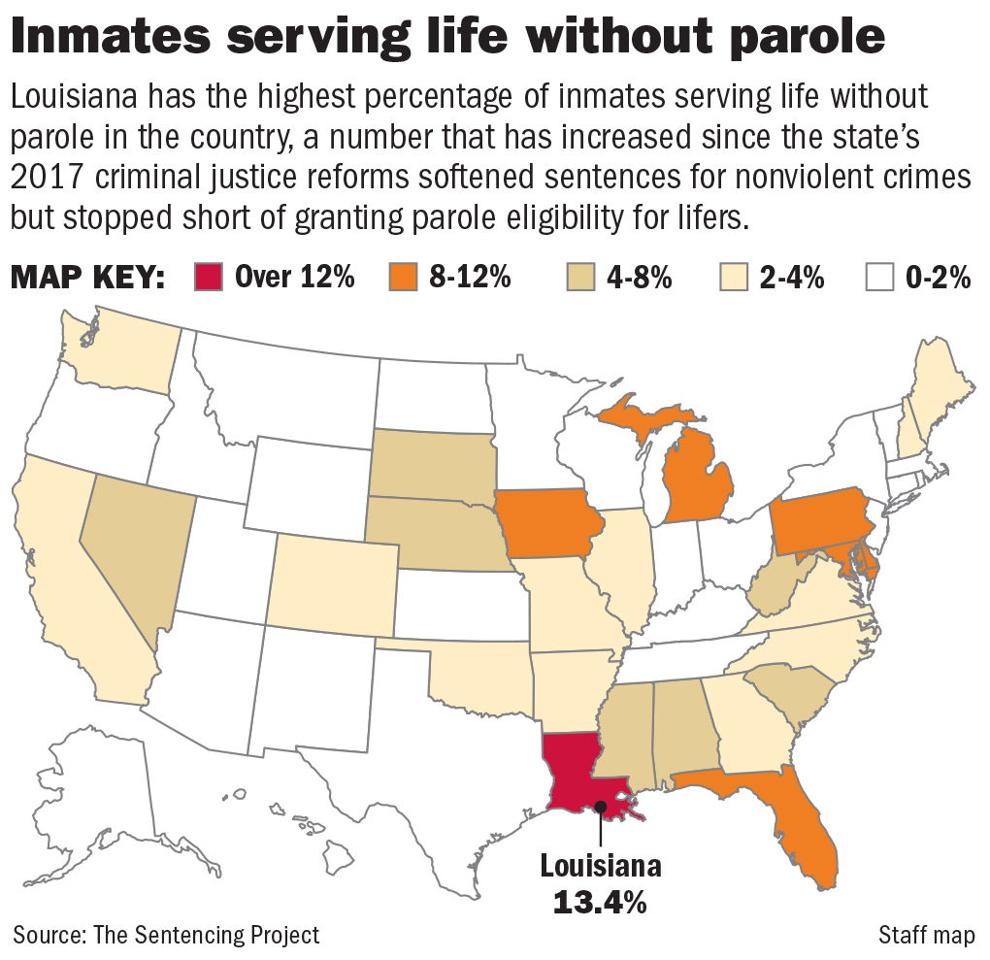 About 15 percent of Louisiana's prison population consists of people serving life without parole, which is the highest percentage among all states. Those numbers are the result of sentencing laws enacted decades ago — including mandatory minimums and a 1979 decision from state legislators to abolish parole for all life sentences, creating a rigid structure that critics argue limits opportunities to ensure the punishment fits the crime. 
Perhaps the biggest outlier is Louisiana's response to second-degree murder, a broad statute that treats getaway drivers and lookouts the same as trigger pullers. It allows prosecutors to sidestep proving intent in some cases, but nonetheless carries a mandatory minimum sentence of life without parole. 
Jones is hopeful that someday the laws will change, but in the meantime, his students are counting on him. So he wakes up each morning and does his job, and there are times, he said — standing at the chalkboard or giving advice to someone half his age — when he almost forgets his surroundings, almost forgets the prison gates separating him from the outside world and the guards tasked with monitoring his movements. In his mind, he could be anywhere.
*** 
Louisiana has more inmates serving life without parole than Texas, Arkansas, Mississippi, Alabama and Tennessee combined: about 4,700 people behind bars with no chance at release.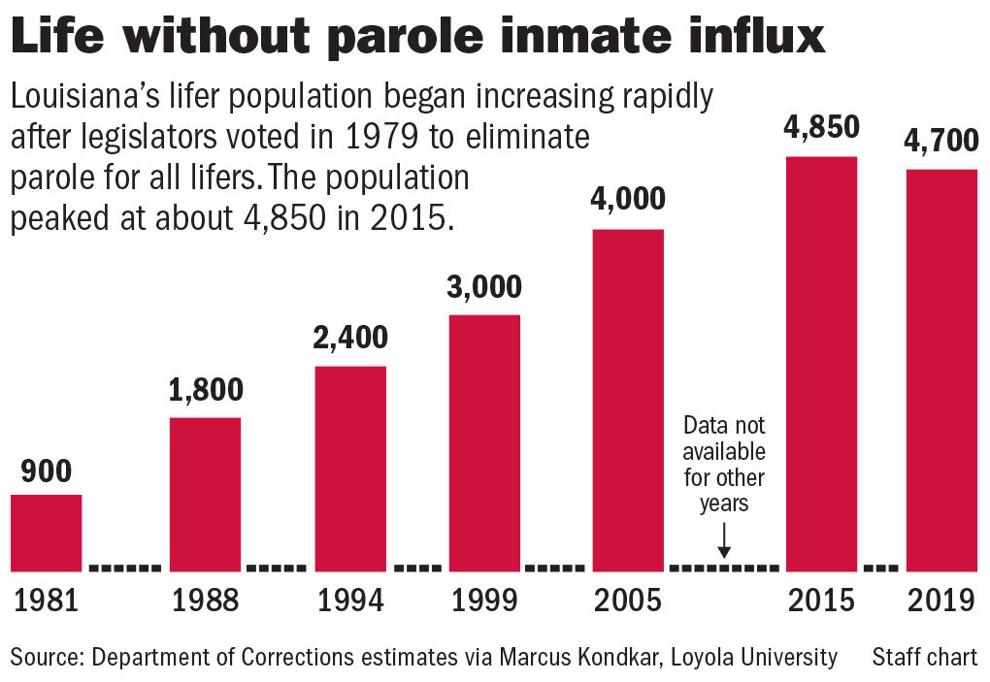 Those convicted of second-degree murder make up the largest subset — 51 percent of the total — compared to 19 percent for aggravated rape and 16 percent for first-degree murder, according to Department of Corrections data analyzed by researchers at Loyola University. More than half were under 25 when convicted and about 75 percent are black. When factoring in other long sentences too, almost one in three Louisiana prison inmates will die behind bars, according to the national nonprofit The Sentencing Project.
Many places, including Southern states, make most lifers eligible for parole after 20 or 30 years. But in Louisiana "life means life." People convicted of certain crimes are automatically locked up forever, with no input from judges, juries or the state's parole board.
Opponents of Louisiana's sentencing practices cite extensive research showing people "age out" of crime, meaning their likelihood of getting rearrested decreases the older they get. LSU research published in 2013 shows extremely low — almost nonexistent — recidivism rates among former Louisiana lifers who were released on commuted sentences after decades behind bars.
"Giving lifers a chance at parole is about creating a world in which people still keep a little hope," said Jamila Johnson, an attorney with the New Orleans nonprofit Promise of Justice Initiative. "That glimmer of hope changes how people interact in our criminal justice system."
Louisiana lawmakers considered major changes after pledging to pass a criminal justice reform package during the 2017 legislative session. They discussed making lifers eligible for parole after serving at least 30 years and reaching age 50, excluding those convicted of first-degree murder, which carries either death or life without parole.
But the Louisiana District Attorney's Association came out in opposition to all proposals addressing serious and violent offenses. The association, which represents the state's prosecutors, argued that releasing  inmates convicted of the bloodiest crimes would pose a real threat to public safety and break promises to victims and their families. Some crimes are so heinous, and cause so much trauma, prosecutors said, that they essentially demand retributive justice.
Those negotiations in the legislature produced a series of reforms that softened sentences and changed parole requirements for minor and nonviolent crimes alone. The changes reduced Louisiana's prison population, but in doing so raised the percentage of inmates serving life sentences.
Other states and the federal government have similarly limited recent prison reform efforts to nonviolent offenses, but advocates now argue that truly addressing mass incarceration must include rethinking the American response to violent crime.
Leaders of the Louisiana Department of Corrections have also argued that keeping aging prisoners behind bars is both expensive and unnecessary, though officials failed to comment further for this story. Some have become vocal critics of Louisiana's most extreme sentencing practices, which often leave the state responsible for the medical treatment and burgeoning healthcare costs of geriatric inmates.
"Part of the challenge is getting the general public to endorse the idea of rehabilitation for violent convicted criminals," corrections department Executive Counsel Natalie LaBorde said during a seminar in Baton Rouge earlier this year. "It is not about absolving anyone of the consequences of crime. … But it is also not about making a decision based on a set moment in time and throwing away the key forever."
***
Jones grew up in Slidell. He described enduring routine beatings at the hands of his mother's boyfriend and witnessing the same man rape his sister. His own descent into violence began when he was a teenager and continued into adulthood, when he found himself abusing the women he dated and fighting other men. He had become his own childhood demons. 
One night Jones got high and hid inside his ex-girlfriend's car, waiting to confront her. He said the argument later escalated until he stabbed the woman almost to death, and was arrested soon thereafter. 
He went on trial and was convicted of attempted second-degree murder in April 1998, then sentenced to 30 years in prison for the stabbing. He also found out that prosecutors had been building another case against him, this time charging him with second-degree murder in a burglary that had occurred months before his stabbing arrest. 
What followed during that case demonstrates some pitfalls of Louisiana's second-degree murder statute that critics want changed, most importantly its automatic life without parole sentence that prevents judges from exercising their discretion when assigning punishment. 
Jones ultimately admitted he broke into a house belonging to his coworker's family, saying he knew the occupants were on vacation without realizing the woman's aging father had stayed behind. His friend Stephen Bowling accompanied him in the crime.
The two burglars encountered Daryll Van Dan, 71, in his bedroom, and sometime during the incident, the man's heart stopped. A coroner's assessment later found he died of natural causes: cardiac arrhythmia. Authorities initially said he had been literally scared to death.
But Jones and Bowling — both charged with second-degree murder — started pointing fingers at each other, with Bowling claiming Jones had strangled Van Dan with an electrical cord after discovering him inside the house. A pathologist testified that there were no signs of trauma to support the strangulation claims. 
Prosecutors also acknowledged during trial that Bowling wasn't a reliable witness but nonetheless reduced his charge to manslaughter in exchange for his testimony against Jones. Manslaughter carries a maximum sentence of 40 years — a big step down from mandatory life without parole. 
Assistant District Attorney Scott Gardner ultimately argued Bowling's truthfulness wasn't even relevant to the verdict. He said Jones should be found guilty as charged because the victim died during the commission of an aggravated burglary, which is one of several felonies included in Louisiana's second-degree murder statute allowing prosecutors to avoid proving intent to kill. 
One of the items stolen from Van Dan's house was a shotgun, which means Jones and Browning were armed at some point during the crime, though not when they entered the home. Gardner argued that's enough to meet the definition of an aggravated burglary. The jury agreed, deliberating for just 15 minutes before delivering a unanimous guilty verdict.
When Jones returned to court the following month and was sentenced to life without parole, he grinned in bitter disbelief and said: "That's it? That's all they gonna do?"
That was it.
The public defender who represented Jones at trial, Jerry Fontenot, described the case as the saddest of his career. "My philosophy is that we should punish people for their actions and intentions, not unintended consequences," he said. "Unfortunately that's not reflected in the law."
***
Louisiana isn't alone in imposing a broad definition of murder that can be used to obtain convictions for people who didn't mean to hurt or kill someone but were committing another crime that resulted in the death. But most other states where such unintended killings carry life without parole sentences have higher standards for establishing guilt without intent, such as requiring prosecutors to prove negligence or malice, experts said.
Louisiana and Pennsylvania stand out for having a low bar and harsh sentences in those cases. 
"Some of these are borderline manslaughter cases, but the judges have no discretion in sentencing," said Norris Henderson, a formerly incarcerated activist who now runs a New Orleans nonprofit. "These are people's lives being thrown away. The difference is life and death." 
State lawmakers in Pennsylvania have inched toward changing their laws in recent months, but the latest proposal stalled in committee and hasn't come before the legislature for a vote. The proposal would allow lifers a chance at parole after serving 35 years on a first-degree murder conviction and 25 on second-degree, which under Pennsylvania law refers exclusively to unintentional deaths during the commission of other felonies.
"Mandatory life without parole reflects a judgement that somebody is irredeemable, essentially social refuse — something to be kept out of sight and out of mind," said Quinn Cozzens, staff attorney for the Abolitionist Law Center in Pittsburgh, which has advocated for changes to Pennsylvania law. He said locking people up for good means their loved ones suffer permanent loss even in cases of clear rehabilitation.
"Then we're not allowing their communities to benefit from how these people have changed," he said. "That's something I don't think can be overstated — the valuable work they can do, providing guidance to young people who might otherwise make the same mistakes."
Jones said that's a challenge he's now facing with his son, who is 24 and has spent the past several years in and out of jail. Questions about the son's mental state have arisen during recent court proceedings.
He was just a toddler when Jones went to prison and lost touch with the child's mother. Then six years into his sentence, Jones received a subpoena to appear in family court and discovered the child was safe, although his mother was struggling with drug addiction. That subpoena also resulted in an unlikely friendship between Jones and Judge Blair Edwards, who presides over juvenile matters in the 21st Judicial District.
Edwards said she was impressed with Jones' deep sense of remorse and ultimately awarded joint custody to him and his sister Letitia Davis. The judge noted that Jones had helped launch a program at Angola called Malachi Dads, which offers support and parenting classes for incarcerated fathers.
Through that program and others, Jones has mentored hundreds of people in the decades since his conviction, becoming a father figure to many. The tragic irony isn't lost on him: that his own son, the person who needs him most in the world, has sometimes fallen through the cracks.
Davis said her nephew struggles with mental illness. She remains hopeful he'll find success after his upcoming release, but worries he'll continue down the same path. "That child needs his daddy," she said. "This cycle has to stop."
***
Louisiana hasn't always pursued such harsh sentencing laws despite the current rhetoric surrounding crime and punishment in the Pelican State. For five decades starting in 1926, most people sentenced to life were released on parole after serving just 10 years and six months.
That started to change following the 1972 U.S. Supreme Court ruling that struck down the death penalty nationwide. Louisiana lawmakers responded to the ruling with new policies to keep former death row inmates behind bars longer, delaying parole eligibility for lifers — first to 20 years and then 40. Finally in 1979, the state legislature abolished parole for lifers entirely. 
While Louisiana stands out among other states, America itself is an outlier within the Western world for its use of both life without parole and the death penalty, according to a 2015 article in the Ohio State Law Journal. The author, a University of Mississippi law professor, also asserts a "worldwide consensus against the use of life without parole sentences."
Now legislators in Louisiana and across the country are realizing that such laws are "breaking our budgets without improving public safety," said Douglas Berman, an expert in sentencing practices and law professor at Ohio State.
Advocates said they're cautiously optimistic that Louisiana lawmakers will consider more sentencing reform in future legislative sessions, especially since Gov. John Bel Edwards — who has already demonstrated his commitment to reducing the state's prison population through his strong support of the 2017 reforms — won reelection last month. 
Christina Stephens, a spokeswoman for Edwards' office, said the reforms are already saving the state more money than predicted, which is being reinvested into programs that help inmates reentering society, support crime victims and improve public safety. 
"While the results have been positive so far, Gov. Edwards knows that there is certainly more work to be done and is continuing to assess the impact of the reform measures," Stephens said in a statement.
Advocates of more extensive sentencing reform also point to one small victory in the 2017 legislation, which extended parole eligibility to about 130 men sentenced to life during the brief window in the 70s when such sentences still included a chance at release. Stephens noted that of the 48 inmates so far granted release under the new law, none have been rearrested. Another 39 have gone before the parole board but have been denied release, she said.
Even that piecemeal approach failed this past legislative session, however, when lawmakers rejected a proposal that would have extended the same opportunity to several dozen more lifers, including Jones — men who were selected as mentors in Angola's re-entry program, which provides counseling and job training to select inmates serving short sentences for minor crimes. The bill made it out of committee but failed to pass.
Statewide advocacy groups are planning to bring more proposals before the legislature in the near future, possibly during the 2020 session, but representatives declined to elaborate on their exact plans.
Loren Lampert, executive director of the Louisiana District Attorney's Association, said it's important to remember how victims and their families will be impacted when considering proposals to expand parole opportunities for violent criminals. He also said states that impose shorter sentences often have more robust rehabilitation and reentry programs aimed at helping people succeed in prison and after — programs that should be expanded in Louisiana before lawmakers seriously considering softer sentencing laws, he said.
"The legislature itself understands the gravity of this," Lampert said. "We're talking about gambling with the safety of our citizens."
***
As the laws are written now, the only possible path to release for the vast majority of Louisiana's lifer population is through a gubernatorial commutation — a rare occurrence that requires approval from the state's pardon board before even reaching the governor's office for consideration. Approval from the governor most often sends the application back to the parole board, which then determines whether to grant parole.
Commutations were more common decades ago, often granted in large numbers to regulate the state prison population, said Marcus Kondkar, an associate professor of sociology at Loyola. But recent administrations have been more reluctant to issue them, especially in large numbers.
Lifers can apply for a commutation after serving 15 years, and then reapply every five years after that if denied. Jones applied and was granted a clemency hearing in 2017. His application cited many accomplishments and contributions behind bars, and several people testified on his behalf.
Two prison wardens detailed his extensive contributions to the Department of Corrections' recent push for rehabilitation opportunities, including Angola's reentry program. Jones — better known as "Ironhead" among prison officials — was later transferred to Elayn Hunt to launch a similar mentoring program there. Officials said that initiative has transformed the prison's most problematic dorm from chaotic to peaceful, calling it nothing short of a miracle.
"I care deeply about Hayward because of the love I see in his heart for other people," Assistant Warden Perry Stagg told the board. He praised Jones' work ethic and accomplishments.
When asked what he wanted to add, Jones said he'll continue that work no matter what.
"I'm coming here not for innocence. … I ask for forgiveness and mercy on every front," he said. "I cannot turn back the hands of time, though I deeply wish I could."
But Van Dan's grandson also addressed the board, describing his family's devastating loss and his own struggle to achieve understanding and forgiveness. His voice faltered several times, filled with conflicting emotions.
"I'm sorry that he's in prison. I'm sorry that he did this," David Roberts said. "I also believe in rehabilitation, but I believe in punishment. When he was given a life sentence, it gave our family some closure. It allowed us to feel like justice had been done."
Recent attempts to reach Roberts and other relatives were unsuccessful.
Members of the parole board didn't comment at length during the hearing, but James Kuhn, a former district judge, told Jones that while "some may say that you have earned your right to be out, some might also say … that you've earned your right to be right where you are — in prison."
Jones' petition was denied. He can submit another in 2022.