Though strict occupancy limits and some other restrictions have been lifted, local businesses expect varying degrees of relief for their operations because social distancing measures remain in place to control the spread of the COVID-19 pandemic.
"We're still limited by seating," said Jeremy Achberger, owner of Lakeside Daiquiri & Grill. While the Burbank Drive bar had standing room for hundreds of people before the outbreak of the pandemic, about 80 people can sit down inside and outside.
Social distancing restrictions mean customers will still have to sit at tables when they drink at Lakeside, instead of standing around the bar like they did in the past. But the order that went into effect Wednesday does away with the 11 p.m. curfew on alcohol sales, which had forced the bar to close early.
Achberger said during the months the alcohol curfew has been in effect, customers have gotten used to going home by 11 p.m. He doesn't know if people will immediately start staying at Lakeside until 2 a.m.
"Maybe down the line that will be a good thing," he said, "but our clientele is older, so they're used to going home early."
In Louisiana's biggest step towards reopening to date, Gov. John Bel Edwards on Tuesday lifted occupancy limits on bars, restaurants, salons, …
Billy Scott, general manager of The Smiling Dog, said the 11 p.m. curfew led to a 25% to 30% drop in sales at his Sherwood Forest Boulevard pub. "This should increase our business a lot," he said. "The whole last year has been a ball of stress for me."
Mauree Brooksher, owner of Nourish Wellness, a fitness program for mothers and pregnant women, also sees the loosened COVID regulations as a burden lifted. 
Early January is usually a peak time for gyms and fitness centers, but the company held off on hosting any events or challenges because it was during a surge in coronavirus cases. Now Nourish plans to host a fitness challenge in May. 
"Not having as many restrictions eliminates some stress," she said.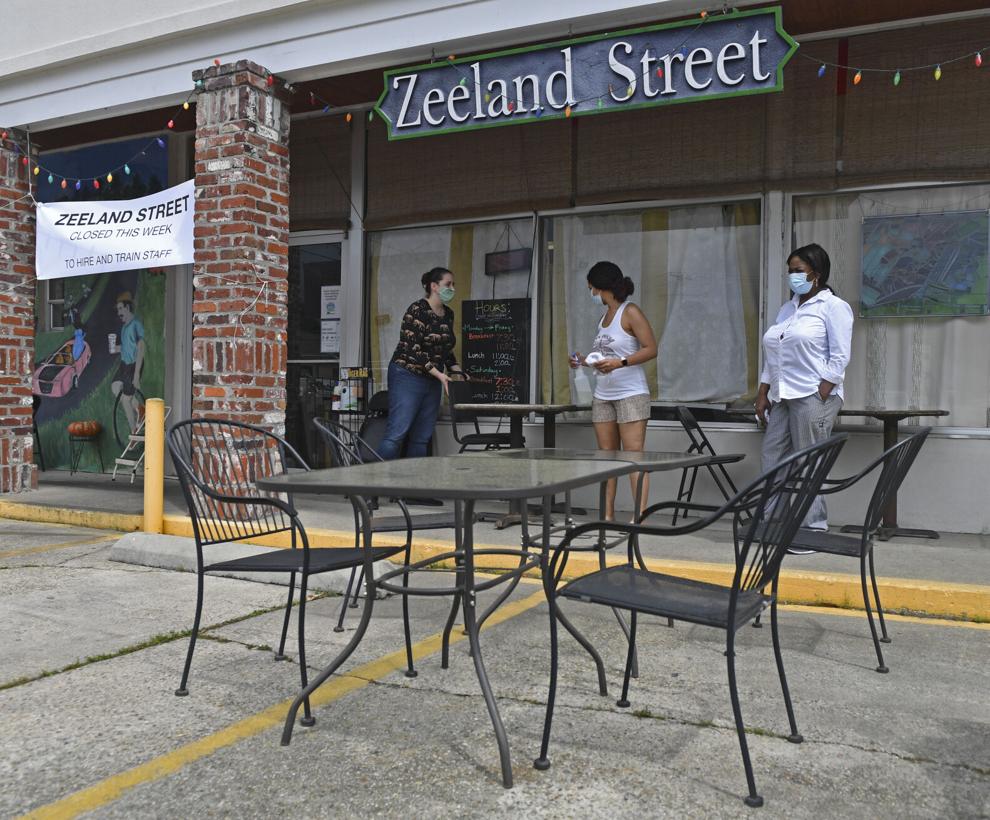 Megan Klock, director of operations for Ruffino's, said the social distancing regulations will keep the Highland Road restaurant from adding seating, even though the capacity limit has been lifted. Klock said she doesn't know if she would want Ruffino's to be at full capacity right now.  
"Our guests are liking the distance, they have more room to relax and celebrate," she said.
On busier nights, Ruffino's has been meeting the old 75% capacity limit, Klock said. The restaurant has opened up unused private dining rooms to accommodate customers.
Stephanie Phares, owner of Zeeland Street Market, said she's had to stop seating the past two Saturdays after an "almost overwhelming" number of customers came in and caused her to hit the capacity limits. She's looking at taking tables out of storage and rearranging her dining room to allow for more guests. But Phares said her biggest issue has been finding enough people to work at the Garden District eatery. She closed the business this week to concentrate on hiring employees.
Early in the rollout of the novel coronavirus vaccine, hair salon co-owner Jacqueline Richardson was hesitant to receive the shot.
Because of expanded unemployment benefits and the federal COVID stimulus checks, Phares said people are making so much money, they don't need to work. "There are less and less applicants out there," she said. "It's almost forcing us to pay people $10 to $15 an hour."
For barber shops and beauty salons that have space large enough, the businesses can accommodate more clients. That's a welcome change for Brandon Mason, the owner of Fly Guyz Grooming Lounge on Florida Boulevard 
Last year, the shop was closed for three months due to state mandates. Since then, there's been steady demand for haircuts from regular customers, but he's been unable to accept walk-in clients, which helps him grow the business. 
"I usually have two clients in at a time, I have enough room so everyone is pretty much distanced," Mason said. "I don't like my clients to wait in their cars but sit together as a family."
Mason is optimistic that once all restrictions are lifted there will be enough demand to keep the business going. "I would think that the economy is recovering now considering what's going on with the (stimulus) checks, but it's going to be a whole lot better when you can get more flow of traffic instead of restrictions," he said.
Baton Rouge is lagging markets of similar size in one key indicator in its economic recovery — jobs. 
The change in regulations also lifts capacity caps on casinos, which had been set at 50%. It may take a while for the effects of the change to be felt at state-regulated gambling halls, said Wade Duty, executive director of the Louisiana Casino Association.
For one, the number of slot machines and table game seats was at 75% and it will take a while to get all of the inventory back. "It's not like flipping a switch for us," Duty said. "It takes work to get that back in service."
The number of gamblers at Louisiana casinos has been hitting the capacity ceiling and gaming revenue has been tracking as high as 87% of the pre-pandemic level. However, Duty said those numbers are misleading. That only covers the money brought in by slot machines and table games, and doesn't include the revenue casinos generate from restaurants, alcohol sales, concerts and shows. "All of that is down substantially," he said.
The hope is that with regulations easing, casinos will be able to offer live entertainment and open up more restaurant seating. "We're relieved to get to this point," Duty said. "We've made progress but we're not all the way there yet."
Businesses are offering freebies for those who have been vaccinated against COVID-19. 
One business operating under restrictions are reception halls, which are still being held to 50% of capacity. 
At the Lake House Reception Center on Old Hammond Highway, Lauren Marino, the director of operations, said being at half capacity isn't an issue for now. Currently, the business can't accommodate events with more than 175 people. "All the parties we have booked already have that number of guests or less," she said. If someone wants to schedule a larger event in the future, Marino said she's telling them to go ahead and they'll just make adjustments if the capacity limits haven't been increased by then.
Marie Reado, the owner of Any Occasion Banquet Hall, said even though her Florida Boulevard facility can accommodate about 140 guests under the current guidelines, as a precaution she's asking customers to have under 100 people at their events. People have been understanding, she said.
There's still a long way to go for tattoo shops in Louisiana as the capacity restrictions lifted by the state don't make much difference in practice. 
"We're still kind of struggling here," said Glynn Morace, owner of Platinum Innovations Tattoo Studio on O'Neal Lane. "We're limited to appointments. We can't do walk-ins and any piercings behind the masks. We get about 20 calls a day about nose piercings." 
Just more than 380,000 people in Louisiania have tested positive for the novel coronavirus since COVID-19 was first detected in the state a ye…
All of the rule changes have been confusing for customers and that's been bad for business, he said. 
"You need to open everything all the way up or shut it all the way down. With all this in between, you are losing out on more," he said. 
The Silver Sun jewelry shop recently moved into a bigger location along Jefferson Highway about double the size of its former store. 
"It was the perfect location and it gave us much more room to spread around," said Lynn LeBlanc, owner of The Silver Sun. 
When the novel coronavirus struck Louisiana last year, doctors and emergency medical workers noticed a peculiar and worrisome trend: they were…
Demand for jewelry has remained steady in the past year and in recent weeks customers have been venturing out in person to browse for custom jewelry and engraved goods. 
LeBlanc is optimistic that demand will continue for the rest of the year. 
"I'm seeing a relief and joy being able to get out and shop," LeBlanc said. "People are a little more comfortable."