After nine house viewings and three purchase attempts spanning more than five months, Iris and Johnny Neff finally found the home they wanted in Zachary.
"I thought it would never happen," said Iris Neff. "Houses are hard to get."
On one offer, the Neffs were outbid on a home, while another deal was scuttled because the homeowner was selling on the contingency they themselves would be able to find another house. Both are situations encountered by buyers and sellers as they navigate a housing market that's been on a hot streak and may now be working against itself because the inventory is so depleted, driving prices higher.
Due to the continuing lack of inventory and now fears about restrictions coming back in place due to a rapid rise in COVID cases, some local Realtors said they see signs the market is cooling off. 
"I'm noticing it slowing down a little bit," said Scott Saporito, president of the Greater Baton Rouge Association of Realtors' board of directors. "It seems to make sense to me. With an all-time historically low number of listings, it's hard to keep that amount of sales up."
During the first six months of this year, the nine-parish Baton Rouge-area housing market continued the hot sales streak it has been on since the coronavirus-related statewide stay-at-home order was lifted more than a year ago. Home sales were up 32.7% above the first half of 2020.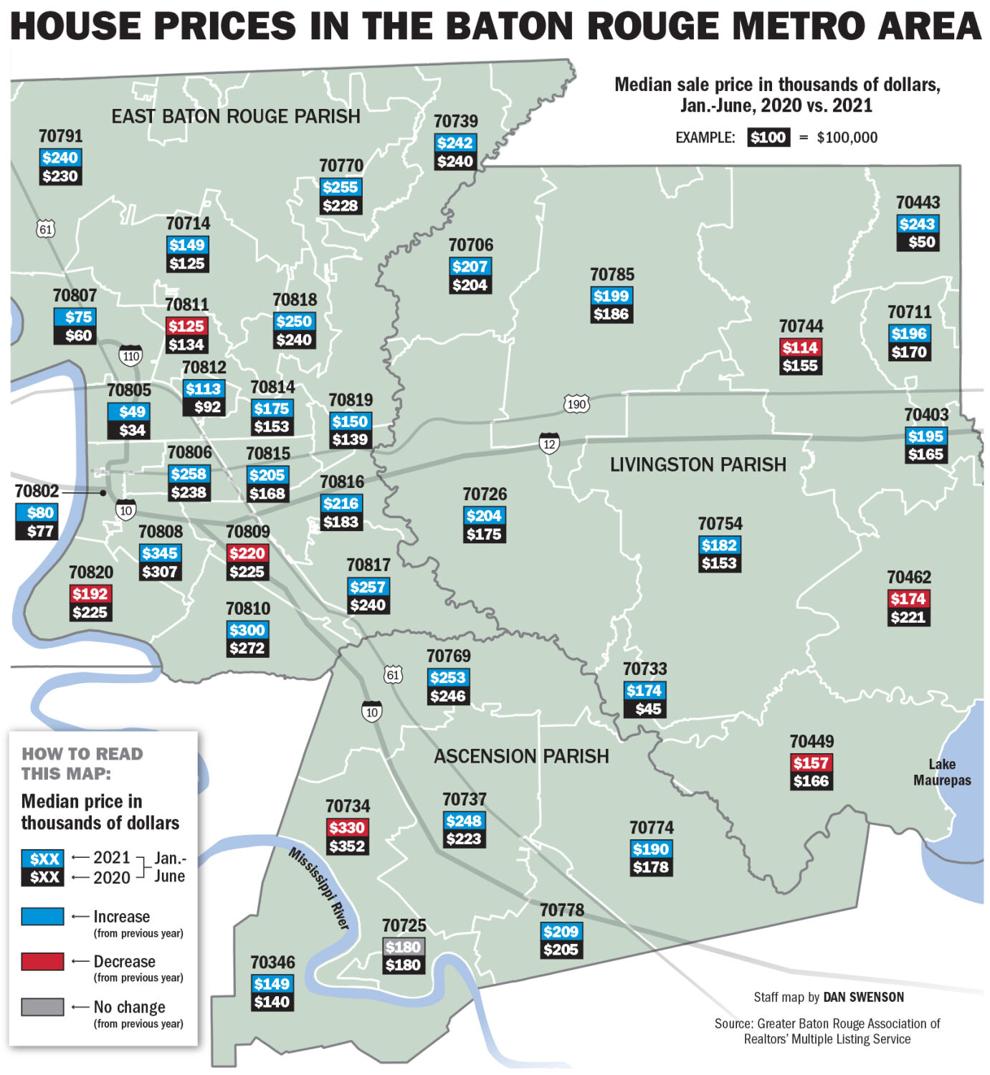 As of the end of June, there were 1,691 homes on the market, according to figures from the association's Multiple Listing Service. That's down nearly 53% from the 3,590 houses that were for sale at the end of June 2020. The supply is down to 1.4 months at the current sales pace, while a 6-month supply is considered a balanced market.
The limited inventory might be causing an impact on sales. The number of homes sold in June was 7.1% higher than the year before, snapping a 12-month streak of year-over-year sales increasing by double-digit percentages.
A number of factors are causing the inventory to remain tight. Rising demand caused lumber prices to shoot up in early 2021, which led builders to slow down new home construction or even cancel contracts all together. Frequent flash-flooding across metro Baton Rouge has made new developments controversial. Ascension Parish put in a nine-month moratorium on new subdivisions and there's been talk about similar measures being taken in East Baton Rouge Parish.
"It's going to take a while for new construction to meet up with demand," Saporito said. "But over the past 10 years, there hasn't been enough construction to meet demand."
Along with a lack of new houses, homeowners are reluctant to list their homes, even at a time when demand is tight and selling prices are high. Some people, especially those with underlying health conditions, are leery about opening their house up to the public during a global pandemic.
Others are concerned about selling their house and not being able to find a place to live because of the limited selection of homes. People want to make sure they're giving up their house for a better thing, said Ashley LaBorde Vuci with Latter & Blum.
And rising home prices means some homeowners, especially those with poor credit, may be priced out of the market. "Maybe they don't have their financial ducks in a row; maybe their business isn't as stable," she said.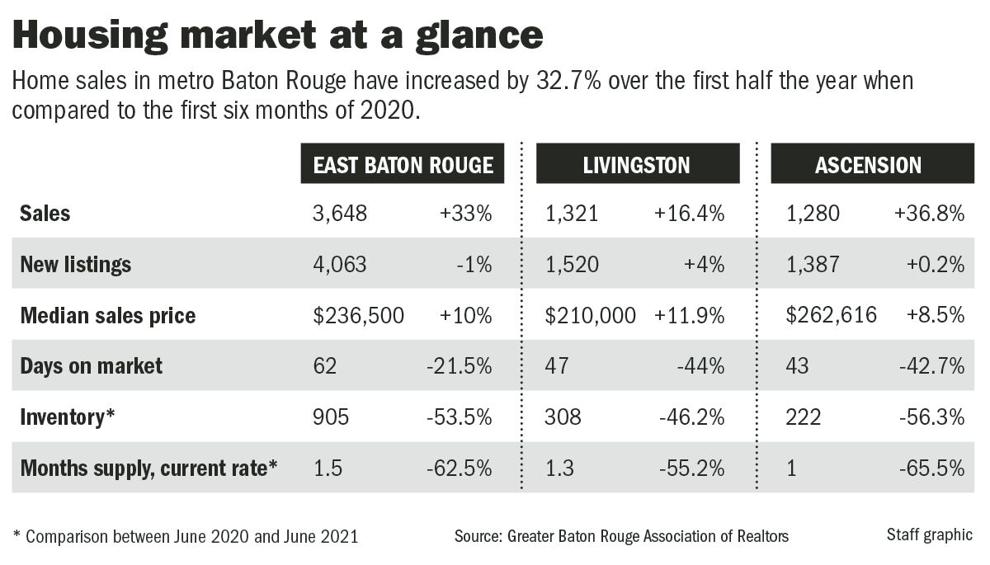 The limited inventory has caused home prices to soar. Through the first six months of the year, the median home price locally was $235,000, an 11.9% increase over the same period in 2021. That mirrors national trends. The S&P CoreLogic Case-Shiller 20-city home price index, released last week, soared 17% in May from a year earlier on top of a 15% jump in April. The May increase was the biggest since August 2004.
The rising prices are leading to some issues with appraisals, Vuci said. People are making offers on homes that are well above the appraised value and lenders are shooting the deals down. That's causing Realtors to have to do more work to help get the value of the home back up.
The Neffs are typical of many new buyers. The couple wanted to own a house after renting an apartment for nine years. Neff said she felt like she was wasting money paying rent every month.
"We were paying $1,000 a month for a two bedroom," she said. The couple is now paying a $1,400 monthly house note, but it's going toward owning an 1,878-square-foot, three-bedroom home. "It's big and nice."
Valencia Patterson, an agent with Keller Williams who helped the Neffs buy their house, said people who are interested in buying a house need to act quickly and take advantage of historically low interest rates.
"There's a misconception that the market is going to crash with the higher prices," she said. "There's a 4 million home shortage nationally and there's always higher demand than supply. The market is not going to crash."
Along with the first-time homebuyers hitting the market, Joseph Dupard Sr. of Coldwell Banker One, said there are local and out-of-market investors buying homes for speculative purposes. He did one deal where an investor bought a house in Broadmoor, hoping to capitalize on the Amazon fulfillment center under construction at the former Cortana Mall site.
"They're going to sit on it for a while if the rental income is good," he said. "They may flip the house at a later date."