Lafayette-based IberiaBank is being bought in a $3.9 billion deal by First Horizon, a similarly-sized bank headquartered in Memphis, Tennessee.
The combined bank will have $55 billion in loans, $57 billion in deposits, $75 billion in assets and a market capitalization of $9 billion. It will rank as one of the top 25 banks in the U.S. in deposits and have branches located in 15 of the top 20 Southern metropolitan areas by population across 11 states.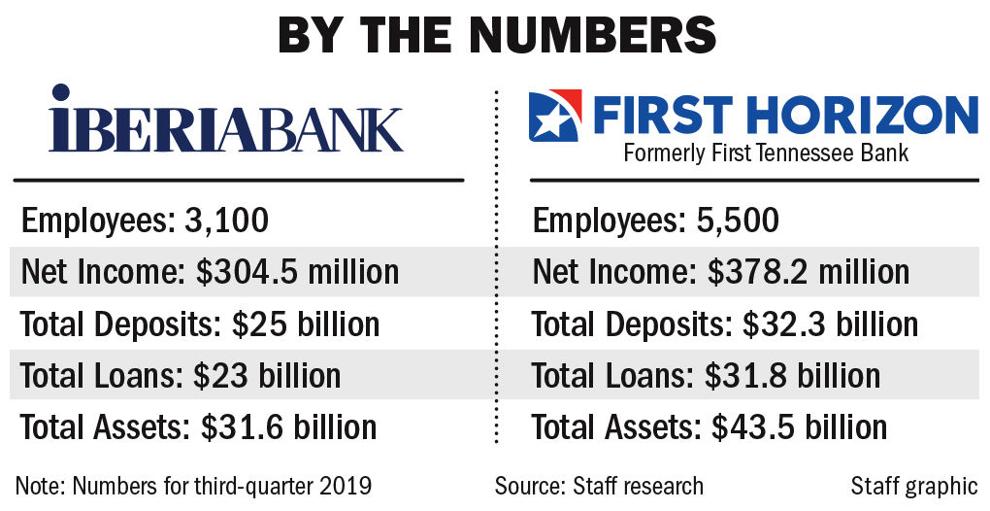 The combined company, being described as a "merger of equals" by the banks, will adopt First Horizon's name and be headquartered in Memphis. First Horizon shareholders will own 56% of the combined bank and IberiaBank shareholders 44%. The proposed board of directors will have 17 members — nine from First Horizon and eight from IberiaBank, which ranks as the largest bank headquartered in Louisiana.
Combining the banks is expected to cost $440 million, which includes a $20 million contribution to the Louisiana First Horizon Foundation.
The companies expect to save $170 million as a result of combining operations — about 50% of which stem from staffing efficiencies and eliminating back-office redundancies and small overlap of branches in some markets.
Officials said it's too early to know the full impact of the merger on its workforce since they are hopeful attrition will take care of any overlaps between the two banks.
IberiaBank employs about 300 people in Lafayette where it's headquartered, and officials said the impact in the Lafayette market is "way less than you might think."
"I know everybody here is really conscious of the fact of how important IberiaBank is to Lafayette. And I can tell you it's important to us and important to the combined organization. We're very committed to maintaining a strong relationship and a strong presence here and in Louisiana," said D. Bryan Jordan, chief executive officer of the Memphis bank, who will continue in that role for the much larger financial institution.
"We will create an organization that has the resources to invest in advanced technologies and expand lending capacity and product offerings for our combined clients," said Daryl Byrd, IberiaBank's chief executive officer. He will become executive chairman of the First Horizon board. 
IberiaBank had more than 3,100 employees as of Sept. 30; First Horizon has more than 5,500 employees.
The top executives of both IberiaBank and First Horizon told analysts in a conference call Monday morning that each employee in the financial centers will have an opportunity to be part of the combined organization and that layoffs are not anticipated at the branch level since there isn't much overlap.
Most of First Horizon's branch presence is in Tennessee, North Carolina and South Carolina. IberiaBank is primarily in Gulf Coast states from Texas to Florida and in Arkansas.
First Horizon plans to invest in high growth markets such as New Orleans; Nashville and Knoxville, Tennessee; Miami, Orlando and Tampa, Florida; Houston and Dallas; Atlanta; and Charlotte and Raleigh, North Carolina.
In addition to Byrd, several of IberiaBank's top executives will be joining First Horizon after the deal closes, including its chief operating officer, president of regional banking, chief risk officer and chief communications officer. It was not immediately clear whether other executive roles would be transferred as well.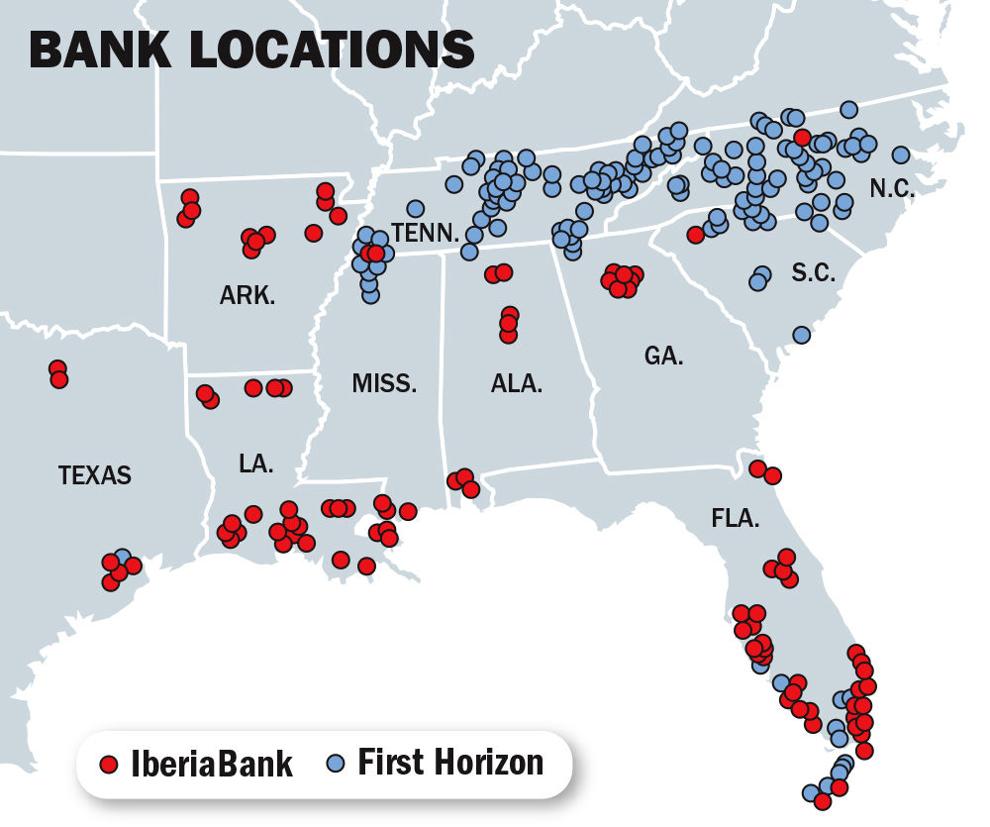 The deal still needs to be approved by shareholders of both banks and regulatory agencies and is expected to be completed in second quarter 2020.
IberiaBank shareholders will get 4.584 shares of First Horizon stock for each share they own. In addition, IberiaBank shareholders will get a 43% increase in stock dividends after the transaction closes.
The markets reacted positively to news of the deal. Shares of IberiaBank rose 2.8%, or $2.07, to $76.83. First Horizon was up 3.3%, or 53 cents, to $16.84.
IberiaBank has the largest share of the market in the Lafayette metro area, according to FDIC reports, along with 17 offices. As of June 30, it had just under 33% of all deposits in the area, three times the market share of Chase Bank, which was second-highest. 
It has the fifth-highest percent of the market in both Baton Rouge and New Orleans markets, FDIC data shows. 
Acadiana Business Today: Tennessee bank to buy Iberia Bank in $3.9B deal; here's when deal is expected to close; Side businesses owned by minority women exploding; Here are 3 in Acadiana getting it done
Peter Ricchiuti, a finance professor at Tulane University who tracks regional stocks such as IberiaBank through the university's Burkenroad Reports, said the First Horizon deal is the great culmination of a period of growth ushered in by Byrd. Byrd, a former executive with New Orleans-based First Commerce Corp., joined IberiaBank in 1999, shorty after Bank One acquired First Commerce.
Under Byrd's leadership, IberiaBank took aggressive steps to diversify and expand, acquiring smaller banks and moving into markets such as Arkansas and Florida.
"He turned IberiaBank into a dominant player in the Southeast," Ricchiuti said.
The bank also became a generous sponsor of community events and causes.