Louisiana's health insurance market for individuals has been plagued in recent years by insurers fleeing the market and double-digit rate increases — prompting a proposed fix that would tack a fee on policies across the state to create a safety net against insurers' losses and hold the line on runaway premiums.
The state Department of Insurance is pushing a bill through the Legislature that it says would lower premiums in the individual market by an average of 15 percent next year. The bill would put a roughly $1.25-a-month fee on every health-insured life in the state. That money, which one critic labeled a tax on business disguised as a fee, would go into what is called a reinsurance pool designed to protect insurers against high-cost patients.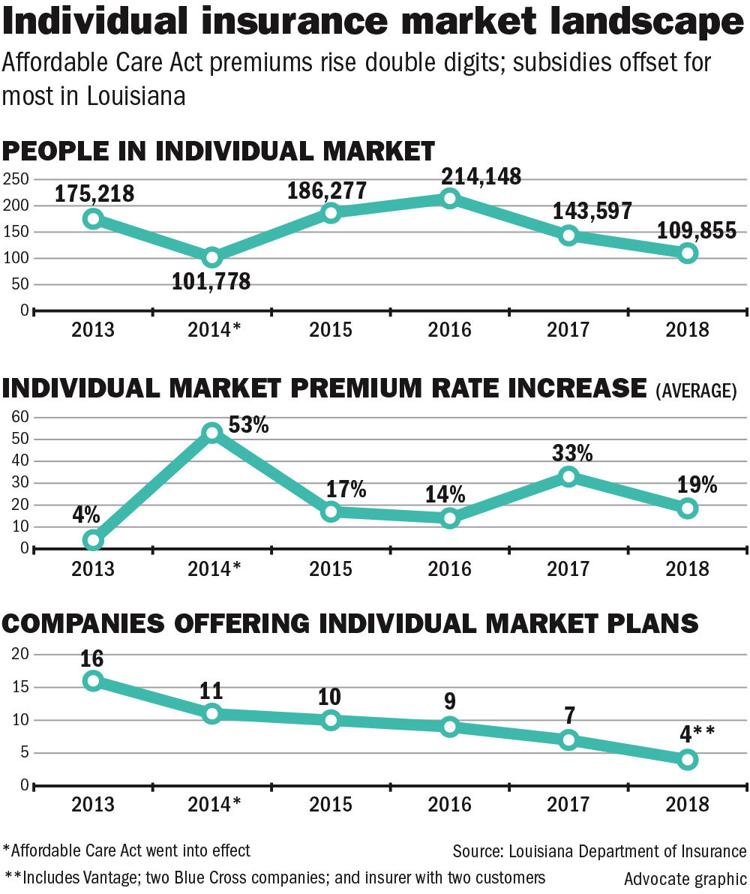 The individual market, which in 2014 had 16 insurers offering plans, has dwindled to two primary insurers, dominated by Blue Cross and Blue Shield of Louisiana, which has two related companies providing insurance and lost $200 million in the individual market. Blue Cross and the other main insurer, Vantage Health Plan, finally made a profit last year, in part from raising rates. Another insurer is in the market, but only has two policyholders.
Overall, policyholders in the individual market have gone through five straight years of double-digit premium increases. The latest was an 18.5 percent average rate hike this year that companies attributed chiefly to the Trump administration's decision not to fund federal cost-sharing reduction payments to insurers.
The individual market is where more than 100,000 Louisianians — often people who are self-employed, independent contractors or people working at smaller companies — buy health insurance plans on the private market. The Affordable Care Act, former president Barack Obama's signature health care law, facilitated this market through healthcare.gov, commonly known as the individual exchange.
The individual market is also smaller — and generally sicker — than the group market that is dominated by people who are insured through employers.
While rates have gone up, about 85 percent of people in the individual market actually receive federal tax credits, because of their low incomes, to offset their rising costs.
The U.S. Centers for Medicare and Medicaid Services reported the average premium in the individual market in Louisiana was $648 this year, up 17 percent from the year before. The average premium after the federal subsidy was $201.
The 15 percent who aren't subsidized feel the full weight of huge premium hikes. These are people who earn more than 400 percent of the federal poverty level — which is more than $48,240 for an individual and more than $98,400 for a family of four.
"I realize it is only a subset, but it's tens of thousands of people who have nowhere else to go who are being hit with these huge increases," Louisiana Insurance Commissioner Jim Donelon said.
For example, there's Carole Ann Scott, who runs Denham Springs-based Forrest Scott Fencing with her husband, employing about 10 people. For the past three years, Scott, her husband and their three children, ages 18, 20 and 21, were on health insurance bought through the individual exchange. Scott said she paid $2,000 a month for a policy with a $4,000-per-person deductible, and didn't receive federal tax credits to offset the costs.
"We had a huge deductible to meet per person," Scott said. "It was never met." The policy, she said, "was unusable."
Scott and her family were able to get on a group plan this year, where she pays $1,600 a month  and has a lower deductible.
The Affordable Care Act has led to dramatically more people in Louisiana gaining health insurance, including nearly half a million people covered under the state's Medicaid expansion. And it has required health insurance plans to include more robust offerings for patients, meaning generally better health care at a higher cost.
But Louisiana's individual market, a small but significant part of the health insurance landscape, is in a precarious position as the deadline for insurers to set 2019's rates approaches later this year. Some uncertainties loom over the health insurance market, resulting from the Trump administration's decision not to pay cost-sharing to insurers and the repeal of a federal mandate that required people to carry health insurance or face an annual penalty. Without the mandate, healthier people are expected to leave the individual market, leaving behind a larger share of people who are more likely to have health problems and file costly insurance claims. 
While officials warn the Department of Insurance fee and reinsurance pool proposal is not a "silver bullet," the idea has showed promising signs in a handful of other states that have tried it. That includes Alaska, which saw premiums drop by more than 20 percent from what they would have been without a reinsurance pool.
Here's how Louisiana's proposal would work: The bill would tack a roughly $1.25-a-month fee on each health-insured life in the state. The money would go into a reinsurance pool, designed to protect the state's last two individual market insurers from excessive claims. Specifically, money in the pool insures Blue Cross and Vantage against high-dollar patients whose health costs exceed $45,000, up to a cap of $250,000. The federal government, in turn, would save money because it would not be handing out as much money in tax credits to offset higher costs, and that money would go to the reinsurance pool as well.
In other words, the proposal involves the government insuring the health insurers. It is similar to a federal program that lasted three years under the Affordable Care Act before expiring after 2016.
The fee would raise $20 million, in turn drawing down $104.3 million from the federal government, creating a $124.3 million program, Donelon said. 
If it works, proponents say the program will help the individual market make a turn in the right direction and potentially lure some insurers back to the market.
Last year, Blue Cross and Vantage Health Plan finally turned a profit in the individual market after losses in each of the first three years of the Affordable Care Act. According to Donelon, premiums could actually decline next year with the reinsurance program. Blue Cross and Vantage, however, say the proposal would make premiums drop by 10 to 20 percent from what they otherwise would have been — which means it wouldn't necessarily decrease premiums, but could.
There are signs that insurers are doing better financially in the marketplace across the country, said Jennifer Tolbert, director of state health reform at the Kaiser Family Foundation. After years of premium hikes, insurers in some places are hitting their break-even point and many markets are stabilizing.
Still, a number of "stressors" face the individual market in the U.S., Tolbert said. They include the fact that Congress repealed the individual mandate, which is likely to drive some healthy people out of the market.
"There's still a whole lot of uncertainty," she said.
And not everyone is on board with Donelon's proposal. Diane Davidson runs employee benefits for RoyOMartin, an Alexandria-based timber company. The firm's insurance plan covers 2,720 members, and Davidson criticized what she said is essentially a "tax on business."
"It's a tax and they're calling it a fee," Davidson said, adding the program would be a "whole new level of bureaucracy" in the Department of Insurance.
The state's chapter of the National Federation of Independent Business also opposes the plan, Director Dawn Starns said.
"People will see another hit to the cost of health care," Starns said. "Somebody's got to pay for it."
Davidson also argued the fee would be more for people with children, since it would be levied on all insured lives, not only those who pay.
Tolbert, from Kaiser Family Foundation, said states have structured their reinsurance programs in different ways, and the federal government is getting faster in approving waivers to institute the programs. Some states have found money existing in their budgets to fund the program.
Donelon said Louisiana didn't have the option to use money from its high-risk pool, where others have gone to fund reinsurance, since the former Bobby Jindal administration swept those funds to balance the budget.
Proponents say the health of the individual market is vital, not only to people who use it. It also serves as a backup — a "market of last resort," as Donelon puts it — for everyone else in case they lose their coverage.
"Everyone benefits from this," he said.