Baton Rouge is forecast to recover by the end of 2022 the jobs lost during the coronavirus pandemic — a bloodletting over the past six months that exceeded the hits by the 2016 flood, the Great Recession in 2008 and the 1980's oil market crash.
The Baton Rouge metro area lost 52,800 jobs, or 12.7% of employment by the end of April, about one month after  March stay-at-home restrictions were imposed to combat the spread of the virus. With a rebound underway, by the end of the year the nine-parish region will be down by 21,800 jobs from pre-pandemic levels, sitting at 309,000 jobs, according to the Louisiana Economic Outlook released Tuesday.
By the end of 2021, the region is projected to gain 17,300 jobs and another 5,800 jobs in 2022, according to the economic forecast, putting it back into positive territory. Only two other Louisiana metro markets, Lake Charles and Hammond, will fully rebound by the end of 2022. The state as a whole will still be short of fully recovering.
Because of the coronavirus and other factors, there has never been so much uncertainty in 39 years of penning the report, said long-time economist and LSU professor emeritus Loren Scott and LSU Center for Energy Studies associate professor Greg Upton. The report relies on state and national data in combination with interviews of industry executives about future plans.
"The last downturn happened over six years; this one happened over six months," Scott said. "This has been the toughest forecasting market that we've ever had to deal with."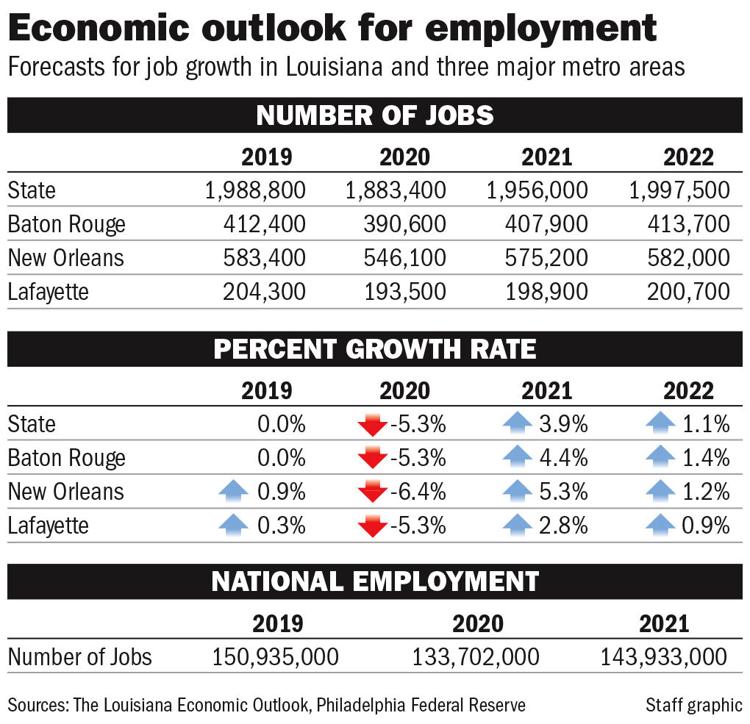 Louisiana will leave 2020 with 105,400 fewer jobs than before the pandemic. By the end of 2022, the state will have recovered about 90% of its lost jobs. The state is forecast to recover 72,600 jobs in 2021, 3.9% growth, and another 21,500 jobs in 2022, 1.1% growth. This will leave Louisiana about 11,300 jobs short of recovering all the jobs lost from COVID-19.
Among the state's other metro markets by the end of 2022, New Orleans is expected to rebound to 1,400 jobs short of  recovering the 37,300 lost this year; Lafayette, 3,600 jobs short of recovering the 10,800 lost; Alexandria, 500 jobs short of the 2,000 lost; Houma, 1,300 short of the 4,600 lost; Monroe, 1,400 short of the 2,600 lost; and Shreveport-Bossier City, 3,400 short of the 10,600 lost.
The Lake Charles area lost 7,000 jobs this year and is expected to add 5,000 jobs in 2021 and 2,100 jobs in 2022 for a full recovery. Hammond lost 1,500 jobs and is forecast to add 1,000 jobs in 2021 and another 500 in 2022 for a break-even recovery.
After a shutdown of nonessential business statewide in March, a phased-in reopening of the economy that started in May allowed most business to operate under capacity restrictions. The state is now operating in Phase 3, which still does not include live music indoors at bars, a quintessential element unique to the Louisiana tourism economy as festivals and jazz bars have drawn millions to the state for decades.
While there are still restrictions for businesses in Phase 3, the Baton Rouge market has rebounded as traffic jams resumed in recent months along busy roads such as Essen Lane and Bluebonnet Boulevard and rush-hour lines are back. 
Industrial plants in the region slowed down, furloughing workers and reducing hours, but there's been some renewed optimism among plant managers about future production. 
Before the economic recession, industrial construction employment in Baton Rouge was already on the decline and lost 9.1% of employment in 2019 during a "lull" between industrial projects. 
After the economic crisis spurred by the pandemic, investment decisions by businesses considering new manufacturing plants or expansions were postponed until 2021. Meanwhile, existing industrial employers such as petrochemical plants and crude oil refineries cut back employee hours and reduced production to better align with lack of demand for products as travel plans for hundreds of millions were halted. 
Some industrial maintenance projects at industrial sites were also largely delayed and need for contractor work plummeted, prompting some industrial construction services business in Baton Rouge to pull back. 
For example, Turner Industries' pipe fabrication facility in Port Allen expected to layoff 350 workers in late June. Aptim Maintenance, working on behalf of Cheniere Energy, laid off 122 workers in late April. 
By April, employment in the construction industry in Baton Rouge was down by 9,800 jobs, or 19.1%, according to state data.
While oil prices forecast by the report are not expected to broach $70 per barrel by 2022, there is some opportunity for growth with public sector spending in Louisiana. 
There are billions in public sector construction projects on the horizon, especially surrounding flood mitigation measures. There is $1.4 billion expected to be spent by the U.S. Army Corps of Engineers in Baton Rouge, $1.2 billion from HUD for flood resiliency protection efforts, $300 million in hazard mitigation grants and $50 million for Livingston Parish to clear 350 miles of creeks and waterways.
While billions in commercial petrochemical industry projects are on hold, the public sector construction spending could boost demand for construction jobs. The $469 million ExxonMobil expansion work in Baton Rouge is paused while the third Methanex plant in Ascension Parish, worth $1.4 billion, is also on a hard pause. 
"It would not be surprising to see construction go from worker surplus problem to a worker shortage problem," Scott said. "It will take until late 2021 or early 2022 for the national economy to be back to what it was before coronavirus hit."
There's another $6.2 billion in construction projects in the private sector that are delayed: $1.2 billion for Shell Chemical, $868 million for BASF, $560 million at Nutrien and two $139 million projects planned by Air Liquide, according to the report. 
The statewide industries where recovery between April and July have happened the most have been state government, other services, retail trade and finance, with 193%, 68%, 75% and 71%, respectively, of lost jobs recovered. Leisure and hospitality jobs have improved by 57% since record lows in April. The state government jobs have been tied to coronavirus education resources and appear to be funded by the federal government. 
The least recovery was happening in mining, which includes oil and gas, which dropped another 12% between April and July. Manufacturing has seen a weaker jobs recovery with only 21% of jobs restored since the pandemic began. Construction has regained only 41% of jobs lost since April. Health care and social services jobs, which were projected to bode well during a public health crisis, have recovered 29% of jobs.