The price of crude oil closed above $80 a barrel Monday, the first time it has hit that mark since 2014. But the rising prices aren't having much of an impact on Louisiana's oil and gas industry.
Drillers are still hesitant to spend money on new wells and worried that the price hikes are temporary. The offshore oil industry was stalled after the Biden Administration enacted a moratorium on new leases in January. But U.S. District Judge Terry Doughty of Lafayette issued a preliminary injunction this summer against the federal government, clearing the way for a lease sale to happen in November. 
There were 34 oil and gas wells on land in north Louisiana and nine offshore wells as of early October, according to a rig count by Baker Hughes, an oil industry service company. By comparison, there were 26 rigs on land and 12 offshore in October 2020.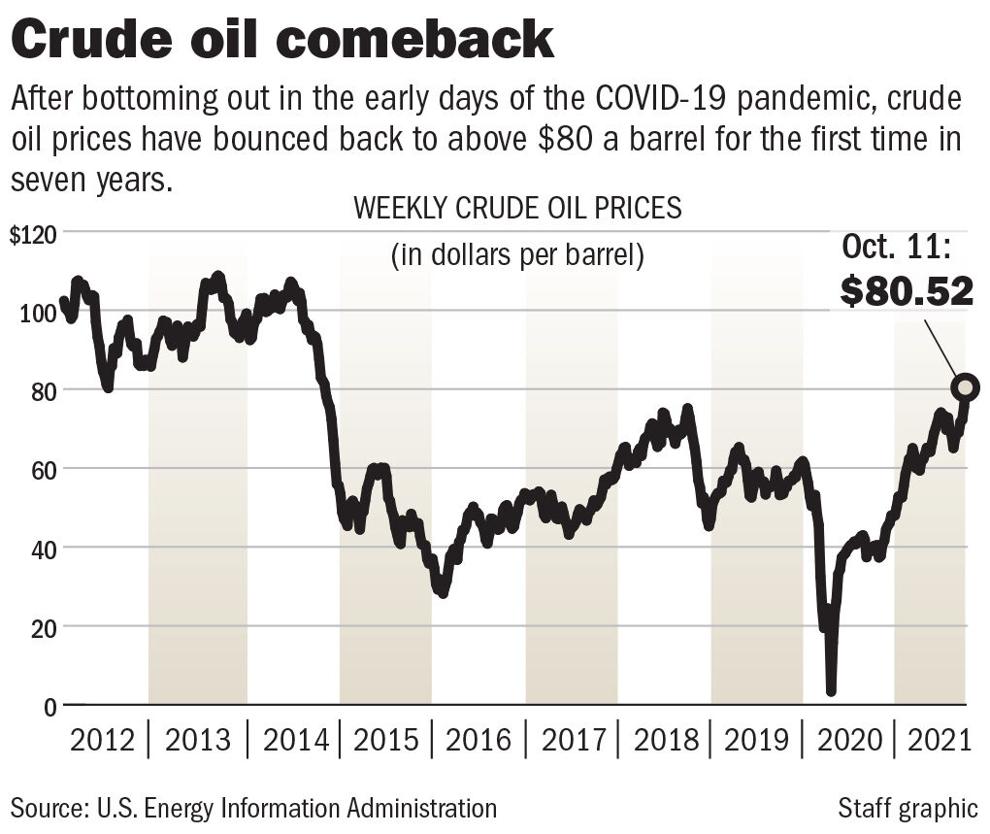 "There's little evidence yet of upstream investment perking up from a 15-year low," according to a report by energy industry consultancy firm Wood Mackenzie. "The mood will change if prices remain at these higher levels well into 2022 and show signs of sustained recovery."
Wood Mackenzie predicts that by 2022 the price of oil per barrel will drop down to $66, so the price spike is temporary. 
Jim Justiss, the owner of an independent oil and gas drilling company in Jena, is pulling the trigger on a few new oil wells. Justiss said he is somewhat nervous about a big uptick in the price of fuel over the winter because it could be too expensive for consumers and lead to a contraction in the economy.
"We plan on drilling more wells," said Justiss, CEO of Justiss Oil. "Things don't move as quickly as they once did because a lot of people went out of business or downsized."
Justiss Oil shrank from 40 employees to 17 in the past few years as oil prices fell. "We were treading water at $40 a barrel," Justiss said. 
When prices hit $60 per barrel, the company starting laying out its plans for exploration. Even then, the business didn't get many calls for services or quotes on rigs. 
"But it seems to have picked up now at $80," he said. 
Louisiana has a long history of oil and gas drilling so it's a mature market. Higher prices means companies can take more risk and target smaller reservoirs. 
Service companies in Louisiana continue to file for bankruptcy and employment tied to the industry has remained down. Statewide, mining and logging had 30,000 jobs in August. Of that, 5,700 were tied to oil and gas extraction while the remainder was support businesses. That's up slightly from a record low of 28,100 workers in 2020, but a far cry from 37,200 jobs in August 2019.
The last time oil prices hit $100 per barrel, in 2013, there were more than 55,000 oil and gas jobs in Louisiana. 
Companies are reaping higher profits from the price hikes but not investing back into the field.
"It was one thing when the business was run by crazy wildcatters. Now the oil industry is run by MBAs," said Peter Ricchiuti, a finance professor at Tulane University.
Companies are leery right now of making the big investment in drilling new offshore wells, a process that can take as long as four years. "Everybody is secretly holding the line on production," he said. 
Ironically, the run up in oil prices could lead to more investment in renewable energy, such as wind or solar power, and alternative fuels, such as nuclear energy. "Those start to look much better on a cost comparison when it all shakes out," Ricchiuti said.
The COVID pandemic depressed global oil demand for much of 2020 because fewer people were commuting to work or taking leisure trips. The price of a barrel of oil was trading around $40 a year ago. 
But prices have started to rise as business and leisure travel has resumed. A disruption in the supply of oil caused by Hurricane Ida also boosted prices.
"The demand for oil is going to go up because you'll start driving more and flying more," said Loren Scott, a longtime LSU economist and forecaster. 
But Scott expects prices will drop. OPEC is going to boost production by 400,000 barrels a day over the next year, while drilling activity in the U.S. is expected to pick up.
"I think the overall pressure is downward on the price of oil," said Scott, who forecasts prices will be $69 a barrel in 2023.
Jay Dardenne, commissioner of administration, said the rising oil prices will have a positive impact on the state's budget. Currently, the budget is based on a "very conservative estimate" of oil at $51 a barrel. Next month, the state's Revenue Estimating Commission will meet to deliver the base numbers for the upcoming budget spending plan for the next fiscal year.  
Economists like to see multi-month increases and stability in the oil price before they recommend increasing the price per barrel in the budget estimates. 
"I don't think you'll see raising the estimates very high based on the prices," Dardenne said. "I doubt you'll see it rise to a level that oil prices are at right now."
The rise in crude oil prices has caused gasoline prices to go up. According to AAA, the average price for a regular gas is $3.02 a gallon in Lafayette, $3.01 in New Orleans and $2.98 in Baton Rouge. A year ago, the average price statewide was $1.90 a gallon.
Justin Alford, who co-owns the three B-Quik convenience stores around metro Baton Rouge, said despite the price increase gas sales have remained strong. Inside sales at B-Quik, which includes sales of drinks and snacks, have also held up.
"Historically, when people are spending $70 to fill up, they're not going inside to buy a candy bar," he said.
Alford said he thinks sales have held up because of all the recovery workers and insurance adjusters who are in Baton Rouge because of Hurricane Ida. They're commuting to areas still dealing with the hurricane and stopping off on the way to get gasoline or something to drink and eat. "Traditionally, everyone fills up their tanks before a hurricane and we don't sell as much fuel for three or four weeks," he said. "But sales have stayed pretty darn steady."
But he said the $3 a gallon mark is a psychological marker for customers. "That may put the brakes on sales," Alford said.
Advocate Capitol Bureau Editor Mark Ballard contributed to this report