Riverboat gambling came to Baton Rouge 25 years ago when the Belle of Baton Rouge opened for business on Sept. 30, 1994, followed three months later by what is now Hollywood Casino, to cap off a three-year process.
The city's silver anniversary for legalized riverboat gambling comes, though, at a time when the Baton Rouge casino market has been in a prolonged slump that is causing some concern, though operators remain optimistic that a bottom has been hit.
Observers say the causes are a lack of investment from operators into their properties and more recently the city's smoking ban and more intense competition from Mississippi gambling properties, where casino taxes are lower and the outlook boosted by the Magnolia State's move to legalize sports betting. Other types of entertainment venues also have emerged in Baton Rouge.
"From my standpoint as a regulator, I worry in particular about the Baton Rouge market and the northwest Louisiana market," said Ronnie Jones, chairman of the Louisiana Gaming Control Board, which regulates the 20 state-licensed riverboats, racinos and Harrah's New Orleans casino.
The Baton Rouge market peaked at $308.8 million for the fiscal year that ended June 30, 2017, and has slumped over the past two years.
Revenue has fallen by nearly one-fourth to $235.6 million for the fiscal year ending June 30, 2019, collectively for the Belle, Hollywood Casino and L'Auberge Baton Rouge, which started operations in 2012, figures from the Louisiana Gaming Control Board show. Tracking the drop in revenue and admissions are employment and payroll.
Since fiscal 2017, revenue has dropped at the Belle by 48% to $32.6 million, by 21.5% at Hollywood to $55.1 million and by 15.8% at L'Auberge to $148 million.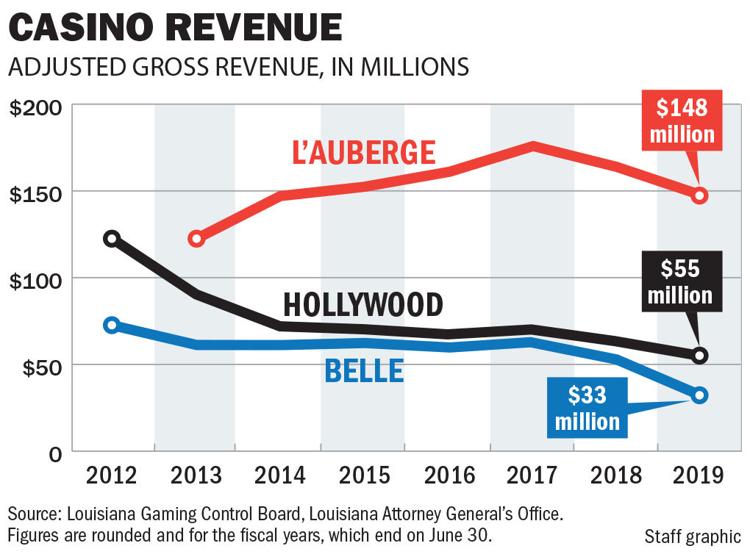 The 2019 revenue drop was 16% from $280.1 million for fiscal 2018 for the three casinos. In contrast, Louisiana's 15 riverboats brought in $1.86 billion in 2019, a 3.3% decrease from the previous year.
The issue in the Shreveport-Bossier City market that concerns Jones has to do with oversaturation from six riverboats and the slots at Harrah's Louisiana Downs racetrack, which led one of the area's casino operators to unsuccessfully pursue legislation to move to Tangipahoa Parish.
In Baton Rouge, the issue is competition. While L'Auberge is a modern, spacious casino barge, as nice as any property on the Mississippi Gulf Coast, the Belle and Hollywood — celebrating its 25th anniversary on Dec. 28 — are on aging riverboats. For the Belle, it's a long walk to get to the casino floor from a casino parking garage or the hotel.
"I don't think people truly appreciate the disadvantage the Belle has or the distance it is from the hotel to the boat," said Barry Jonas, an analyst from SunTrust Robinson Humphrey, who toured the Baton Rouge casino market in the spring. 
An even bigger factor is finances. According to an analysis of the Louisiana gambling market conducted earlier this year at the request of Louisiana Economic Development by Spectrum Gaming Group, gaming taxes are far lower in Mississippi. At Hollywood Casino Gulf Coast in Bay St. Louis, the effective gaming tax rate is 11.6%. In contrast, the rate is 26% in Louisiana. Mississippi casinos don't have to pay sales tax on the complimentary hotel rooms, meals and entertainment given to gamblers. That's not the case in Louisiana.
"Louisiana has not kept regulations current in the face of changing demographics and changing competition," said Matt Roob, senior vice president of analysis for Spectrum.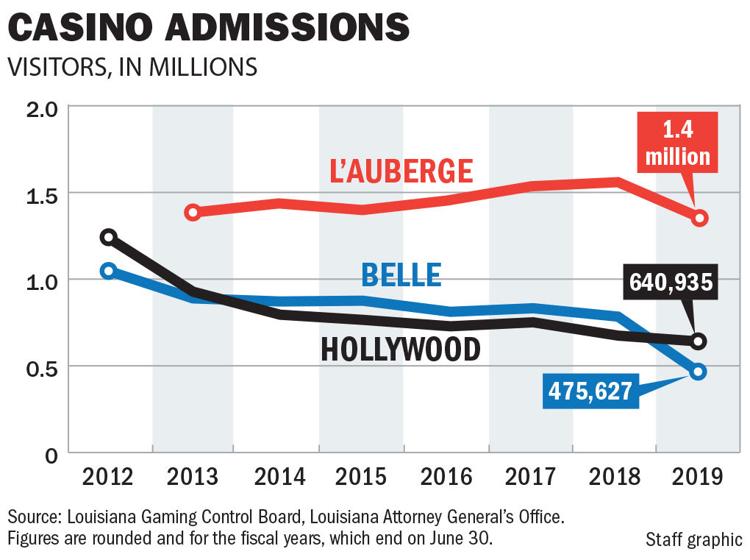 Most of the casino operators that have properties in Louisiana also operate gambling halls in Mississippi. For example, Penn National Gaming, which owns L'Auberge, owns Hollywood Casino Gulf Coast, Boomtown Casino Biloxi, Hollywood Casino Tunica, Ameristar Casino Vicksburg and 1st Jackpot in Robinsonville. Eldorado Resorts, which owns the Belle of Baton Rouge, owns Tropicana Casino Greenville, Isle of Capri Lula and Lady Luck Casino in Vicksburg. Those operators can make more money by encouraging good customers to gamble in Mississippi, where they get a bigger cut of the money that is lost and don't have to pay taxes on a free hotel room.
Because of the competition and declining business, there have been few upgrades in recent years to the Baton Rouge riverboats. According to the gaming control board's annual report, Belle and Hollywood spent $1.7 million each in fiscal 2018 on capital improvements. Only the Amelia Belle in Amelia, Boomtown Bossier and DiamondJacks in Bossier spent less improving their properties. L'Auberge spent $3.2 million, the same amount it spent on its Lake Charles casino.
While the state's other gambling markets rely heavily on nearby markets such as Houston or Dallas, Baton Rouge casinos mainly get their money from locals. Out-of-area visitors, which are defined as coming from another state or from more than 150 miles away, made up 17% of the gamblers at the Belle in fiscal 2018, 19% of the traffic at L'Auberge and 22% of the customers at Hollywood. 
In contrast, out-of-area visitors made up 85% of the gamblers at Golden Nugget in Lake Charles, 81% at L'Auberge Lake Charles, 78% at Sam's Town Shreveport and 47% at Eldorado Shreveport.
The lack of new amenities, such as restaurants, has caused legalized gambling to become another mix of things to do in Baton Rouge.
"It's not new anymore," Roob said. "To a certain extent, gambling has become like going to a movie. It's lost its novelty over time." This has caused the casinos to have to compete for limited entertainment dollars against splashy new attractions, such as Topgolf, the Main Event bowling alley and Red Stick Social.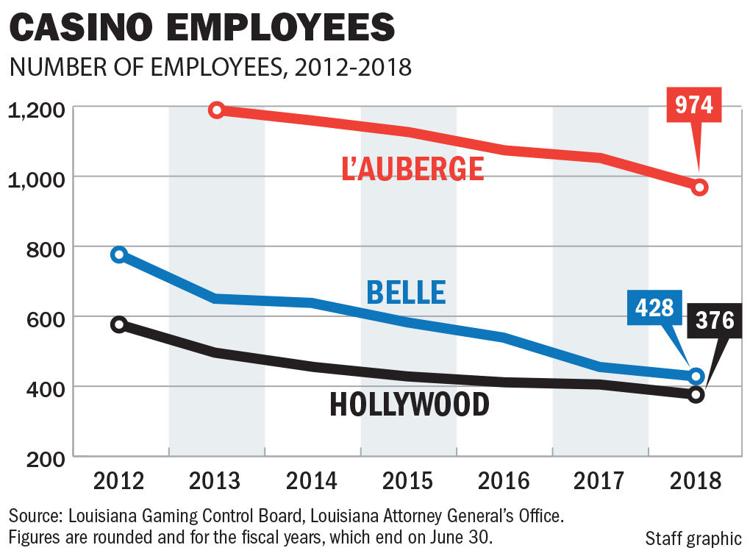 Jones said the Baton Rouge casinos need to offer something more than slot machines to get gamblers to return. He notes that Las Vegas casino resorts now make more of their revenue from non-gaming features, such as restaurants, golf courses, spas, entertainment and retail, than they do from gambling.
"I hope the legacy boats see the opportunity to move onto land," Jones said — an alternative the state Legislature approved in 2018.
Jones has said he wants the properties to do more than just move slot machines into a temporary building; he wants to see substantial amenities such as hotels, spas, nice restaurants and pools. "Hopefully, we can get gaming off of the riverboats," he said.
When the gaming control board approved plans for what would be L'Auberge in 2007, Pinnacle Entertainment, which owned the land at the time, proposed a multi-stage development that would include a residential development with more than 400 homes, additional hotels, a championship golf course, retail, full-service spa, tennis club and an equestrian center.
But 12 years later, none of these things have come to pass. Eric Schippers, a spokesman for Penn National Gaming, the parent company of L'Auberge, said nothing is on the horizon. "We will add as an expansion makes sense," he said.
The Belle of Baton Rouge has eyed moving its gambling operations onto land. It has an advantage over Hollywood Casino in that it already has an 80,000-square-foot atrium next to the riverboat. Officials with Tropicana Entertainment, the former owners of the Belle, discussed moving the casino onto land with local tourism officials while the Legislature was considering the measure.
But Tropicana was purchased by Eldorado in October 2018. While Eldorado officials initially expressed interest at moving the Belle onto land, they have gone back and forth on the issue.
Jim Rigot, general manager of the Belle, has been a supporter of moving the casino onto land. "If this does go land-based, it would be a home run," he said.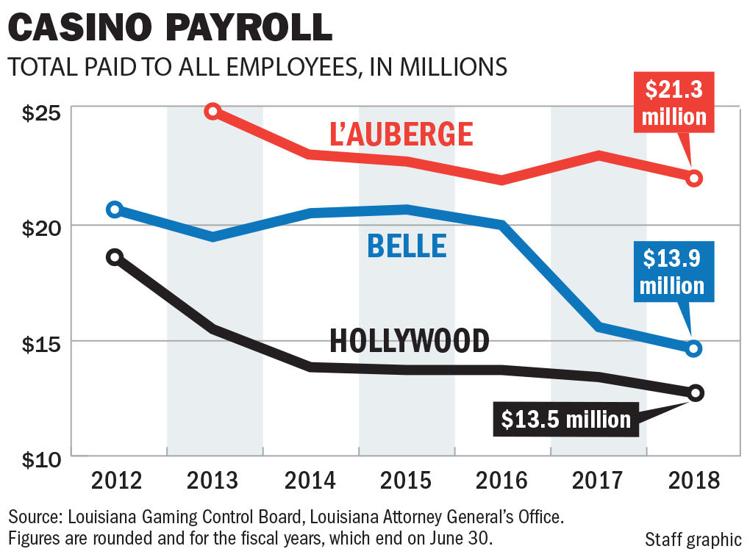 Rigot said Eldorado is still in an analyzing mode and considering "any and all options" for the Belle, including selling the property. At an event last week marking the casino's 25th birthday, he said he hopes Eldorado reaches a decision about the property "in the very, very near future."
Complicating matters is Eldorado's $17 billion merger with Caesars Entertainment, which should be completed in the first half of 2020. Caesars has several high-profile properties across the Gulf Coast, including Harrah's in New Orleans and Biloxi.
"They've got bigger fish to fry," said SunTrust's Jonas. He said Eldorado may use the Caesars acquisition as a chance to "prune" its portfolio and sell off less profitable casinos.
"I think a lot will determine how it comes down to working with the atrium and any sort of structural challenges that are there," he said.
Jeannie Magdefrau, general manager of Hollywood Casino, said while her property appreciates having an opportunity to move onto land, Baton Rouge isn't a "build-it-they-will-come market."
"We're not a destination market," she said. "To allow us to go onto land, we have to find the right fit, the right size and get a reasonable return."
Schippers said L'Auberge has no plans to move onto land, since the casino just opened in 2012. "It's nice to be the new kid on the block," he said.
In the meantime, L'Auberge will focus on things such as making sure it has the latest slot machines and table games. Earlier this year, the casino opened an area that allows gamblers to smoke while they play slot machines; Schippers said it may be expanded if there is enough customer demand. "We're very pleased with the performance at the property," he said.
The Baton Rouge smoking ban took effect on June 1, 2018, with Hollywood also putting in a smoking area. The Belle has not because its structure is not conducive to putting in a smoking area, and officials would rather put those funds toward relocating the casino on land if that decision is made. "We're saving our powder if we go land-based," Rigot said.
Gaming analysts are hopeful that since the market has been under the new smoking law for over a year, the market will begin to rebound. 
Both L'Auberge and Hollywood posted year-to-year gains in August winnings, the most recent month riverboat revenue figures were available. "I'm hoping they hit bottom in the Baton Rouge market," Jones said. "But I can't say with certainty."
Jonas said his sense after visiting Baton Rouge and talking to officials with the Belle and L'Auberge is that the Baton Rouge casino market is healthy in the long term, because of low unemployment and ongoing revitalization efforts in downtown Baton Rouge. "Most folks feel like there will be an adjustment for the smoking ban," he said.
Officials with all three local casinos also said they remain optimistic that the Baton Rouge casino market will begin to grow again. After all, there was widespread speculation that L'Auberge would put one or both of the downtown casinos out of business once it opened.
L'Auberge drew gamblers away from its competitors, but also helped grow the market to $274 million in revenue in fiscal 2013 from the $196 million in fiscal 2012 when just the Belle and Hollywood were operating. The market grew consistently until 2017 when the slump started.
"Competition is always great," said Hollywood's Magdefrau. "It makes us continue to be better operators. Providing great customer service, cleanliness, the simple stuff — we make sure to hit that out the park."