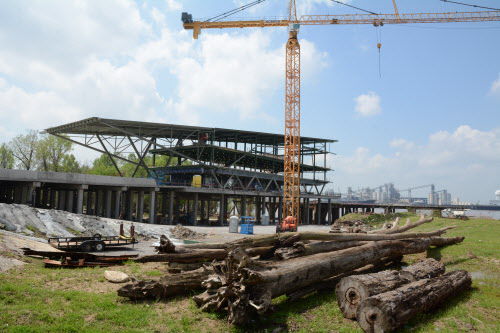 The Newtron Group and founder Newton B. Thomas have committed $1.5 million to the Water Campus, a 35-acre science campus on the riverfront downtown.
The Baton Rouge Area Foundation and its real estate division, Commercial Properties Realty Trust, are building the Water Campus where scientists and engineers can work together to find ways to adapt to climate change, rising seas and flooding coastlands.
To honor the contribution, the foundation will emboss company founder Thomas' name on the landing for the old city dock, which will connect to the campus's centerpiece, the headquarters of The Water Institute of the Gulf.
The Newtron Group and subsidiary Triad Electric & Controls are among the largest industrial contractors on the GulfCoast with offices in Baton Rouge, Lake Charles, Beaumont, Houston and Martinez, California.
"His company and his employees have quietly contributed millions over the decades to make lives better in their home city and across the southeast," said John G. Davies, president and CEO of the Baton Rouge Area Foundation. "Their commitment to the Water Campus will help us build a place that is as remarkable as the research that is taking place there."
Thomas understands the danger to coastal communities, Davies said. His father was born in Port Eads, a coastal Louisiana community that no longer exists because of coastal erosion and rising sea levels.
A current eyesore along Baton Rouge's waterfront will undergo a transformation in the next y…
The campus will be more than 1.5 million square feet when completed over a decade. The Coastal Protection and Restoration Authority and the LSU Center for River Studies are the first two tenants. The Water Institute will locate to the campus early next year. At least two more buildings are scheduled to begin construction next year.