Selling Louisiana-made products across the nation and in some cases the world can be rewarding, but getting there can be a challenge for young companies.
Local entrepreneurs suggested in recent Baton Rouge Entrepreneurship Week discussions that there are riches in niches if founders are willing to do the networking and trade shows to get attention. But they can face unexpected growing pains, even drown in their success if they expand too quickly or can't meet unforeseen demand. That can mean approaching growth carefully. 
Pass It Down, a technology startup founded in Tennessee with headquarters in Austin, is relocating the base of its operations to Baton Rouge a…
For weeks after a local television news affiliate carried the story of Baton Rouge startup Lubricity Labs nationwide, the hair care products maker was overwhelmed with orders, many of which fell through because of excessive demand that couldn't be met.
Consumers across the country thought that Lubricity was large enough for next-day orders. In reality, the emerging business was still making products in gumbo pots by hand. Orders were taking weeks, not days to fill. In some cases, it was the raw materials for making its products that took a long time to ship.
"Every cancellation was a stab in the heart," Boyce Clark, chief executive officer of Lubricity Labs, told Baton Rouge Entrepreneurship Week participants. "People thought we were a big company."
Business First Bank has officially changed its name to b1Bank, a move that reflects how the business has informally referred to itself for mor…
Instead of outsourcing the production, the company began posting its process on social media and explained that it was hand-manufacturing the product. Some customers understood the delay afterward, but it still stunted potential growth.
Having overcome the rush from that spotlight experience, Lubricity Labs, located at LSU Innovation Park, now has the capability to sell products online direct to consumers and through more than 1,100 professional salons in the Gulf South.
Meanwhile, investing in social media ads for new customers has changed significantly, Clark said. Returns on investment has dropped significantly since social media companies like Facebook changed its algorithm to downplay advertisements and push friends' posts. The startup ended up hiring consultants for its marketing efforts.
Another Baton Rouge-based business that's been navigating growth across the country is Walk-On's Bistreaux and Bar, a Louisiana sports bar chain whose CEO still attends every store opening.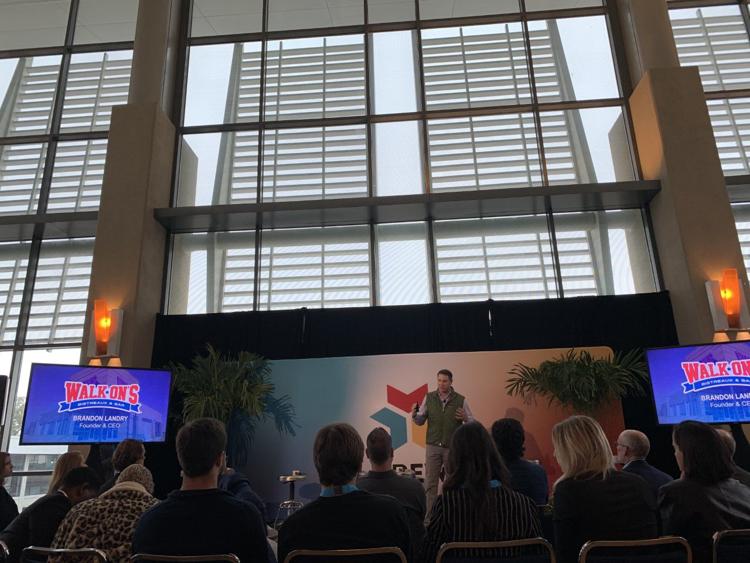 While the hardest expansion was growing from one restaurant to two, nationwide expansion has been a carefully orchestrated process. Walk-On's has been investing in its core infrastructure for years. 
Co-founder Brandon Landry, who was a walk-on during his LSU basketball career, spoke during the keynote at BREW.
The biggest lesson learned about scaling the business has been "to have an answer for everything," Landry said, essentially walk through every process in the business, even how the kitchen floors are swept.
Also, few states can export cuisine like Louisiana, he suggested.
"You can't say it's an Idaho food sports bar and people know what you're talking about," Landry said. 
So far, the most popular Walk-ons locations for fried alligator outside Louisiana has been North Carolina, while gumbo is a hot commodity in Texas markets, and Florida eaters go for the crawfish etouffee.
At the same time, the rollout has been slow intentionally to preserve process and quality. 
Mississippi-based BancorpSouth has purchased a former MidSouth Bank branch on Siegen Lane for $2.255 million.
"We're not a brand that can open 70, 80, 100 restaurants a year," he said. 
Even so, the company has sold the rights to 150 franchise locations. By the end of this year, it's expected to have 35 locations total open, most of them franchises.
It's also backed financially by New Orleans Saints quarterback Drew Brees, who owns about one-quarter of the enterprise. One aspect about the business that is scalable, Landry suggested, is culture. 
"People who say you can't scale culture, it's not true," he said, referring to fast-food chicken chain Chick-fil-A, which is closed on Sundays and known for financial support of religious organizations.
All Walk-On's locations must perform what's known as "The Rumble" twice a day, essentially a restaurantwide drumroll and pep rally-type ritual. 
Still, keeping true to the company culture sometimes means excluding those whose values don't line up with the business, as was the case recently when Walk-On's discontinued an agreement with a franchisee who expressed racist values on social media.
"We had a PR nightmare … but we got out ahead of it," he said.
Three businesses near LSU's campus have closed their doors within a one-week span. And VooDoo BBQ & Grill located on Nicholson Drive is th…
A new spin-off business, Smalls Sliders, that sells burger sliders with a streamlined, limited menu inspired by Baton Rouge-based Raising Cane's dedication to chicken fingers as a strategy, may be another scalable restaurant, Landry suggested, although he doesn't run those operations day-to-day. That was a purposeful decision, as well, because Landry didn't want Walk-On's employees to think he was splitting his time between competing enterprises. 
Even so, the co-founder said the most success the company has had stems from its atmosphere which he's been trying to keep fun and allow shift employees to provide input about how the company should be run. 
"We sell burgers and beers for a living; we can't take ourselves too seriously, all the way to the executive level," he said. "Once you build that team and you're marching on the same path, (those who don't fit) will kick themselves off."